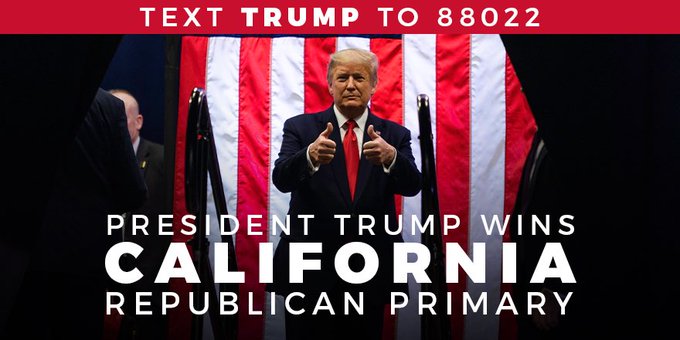 Donald John Trump is still our president.
ITEM 1
:
The Patch reported
, "Congressman John Garamendi's (D-CA) Merchant Mariners of World War II Congressional Gold Medal Act of 2020 (H.R.5671) passed Congress and is heading to the President's desk to be signed into law. Representatives Don Young (R-AK) and Susan W. Brooks (R-IN) joined the legislation as original cosponsors, and U.S. Senator Lisa Murkowski (R-AK) sponsored the companion legislation in the Senate. This bipartisan legislation will award a Congressional Gold Medal, one of the highest honors in the United States, to American Merchant Mariners who supplied our armed forces during World War II.
"'Throughout the Second World War, our armed forces relied on the Merchant Marine to ferry supplies, cargo and personnel into both theaters of operation, and they paid a heavy price in service to their country,' said Congressman Garamendi.
"'The Merchant Marine suffered the highest per capita casualty rate in the U.S. Armed Forces during World War II. An estimated 8,300 mariners lost their lives, and another 12,000 were wounded, to make sure our service members could keep fighting. Yet, these Mariners who put their lives on the line were not even given veteran status until 1988.'"
Frank Buckles, the last American survivor of World War I, was too old for the military in World War II but he was a Merchant Mariner who helped resupply the lines. Captured in the Philippines, he spent 3 years in a Japanese prison camp under inhumane conditions. Congress should have done this when he was alive, but many Merchant Mariners are still alive to enjoy this overdue recognition.
ITEM 2
:
Homeland Security Today reported
, "U.S. Customs and Border Protection, in partnership with the U.S. Army Corps of Engineers, has awarded a contract to construct approximately 15 miles of new border wall system within U.S. Border Patrol's Rio Grande Valley Sector located in Starr County, Texas.
"This project will include a 30 foot tall steel bollard wall, all-weather roads, lighting, enforcement cameras, and other related technology to create a complete enforcement zone. Construction is anticipated to begin in 2020, pending availability of real estate, in locations where no barriers currently exist.
"The contract was awarded to Southwest Valley Constructors Co. for a total contract value, including options, of $179,580,000. This project consists of four non-contiguous segments, which will connect to other new border wall segments, within Roma, Rio Grande City, Escobares, La Grulla and the census designated place of Salineño, Texas. This project is funded by CBP's Fiscal Year (FY) 2018 and 2019 appropriations."
Slowly but surely, the wall most Americans want rises.
ITEM 3
:
Reuters reported
, "Wall Street roared back to life on Wednesday, with both the Dow and the S&P 500 surging more than 4%, after former Vice President Joe Biden's strong showing in the Super Tuesday Democratic primary contests injected a dose of confidence.
"Biden's pack-leading results -- on course to win in 10 of the 14 states that held primaries on Tuesday -- powered a jump in healthcare stocks, and upbeat economic data soothed worries about the impact of the spreading corona virus outbreak.
"After the S&P 500 reached an all-time high on Feb. 19, the stock market slid into a correction as the rapidly spreading COVID-19 sparked recession fears."
Has Biden found a cure for Corona Virus?
No, he is the cure for Bernona Virus. Stocks tanked when Comrade Sanders appeared to have the Democrat nomination in his grasp. After South Carolina, stocks soared. After Super Tuesday, they soared again.
If you credit a Biden Bounce, you must acknowledge the Sanders Slump.
What will the stock market do today? I don't care. I am not a day trader.
ITEM 4
:
Accounting Today reported
, "The private sector added 183,000 jobs in February, according to payroll giant ADP, especially at large companies, although the figures mainly come from before the outbreak of the corona virus in the U.S."
A month ago,
ADP reported a net gain of 291,000 jobs in January
.
Friday, the government will roll out its employment numbers. The real test on the corona virus scare will be this month. We will not know if we panicked and tanked the economy until April 3.
ITEM 5
:
The New York Post reported
, "Republican Pierce Bush, a grandson of former President George H.W. Bush, failed to advance out of Tuesday's primary in his bid for a Houston congressional seat, becoming the first member of his family to lose a race in Texas in more than 40 years.
"Aside from the recognition of coming from America's most enduring Republican dynasty, Bush 34, was endorsed by the outgoing GOP incumbent, Rep. Pete Olson, and raised more money than many of the other 14 candidates in the field.
"Troy Nehls and Kathaleen Wall, staunch defenders of President Trump, advanced instead to the runoff. That raised questions about whether the Bush family's sharp personal clashes with the president in recent years turned off Republican voters."
I hope this ends his political ambitions. The last President Pierce we had was a big disappointment.
ITEM 6
:
Fox News reported
, "AOC-aligned progressive candidates fall flat in Super Tuesday contests."
That does not fit my narrative that Alexandria Ocasio-Cortez is the soul of the soulless Democrat Party.
The story said, "A favorite of progressives across the country, Texas congressional candidate Jessica Cisneros, an immigration lawyer, came just short of recreating the AOC primary upset of her own when she attempted to unseat nine-term incumbent Henry Cuellar, who represents the Texas 28th district south of San Antonio. She played strong to her progressive roots and often referred to Cuellar as 'Trump's favorite Democrat,' also receiving high profile endorsements from Democratic presidential candidates, including Bernie Sanders and Elizabeth Warren."
Maybe party voters are not as woke as its candidates are.
ITEM 7
:
LifeSiteNews reported
, "West Virginia Republican Gov. Jim Justice signed legislation Monday banning the killing of infants who survive attempted abortions, a state-level version of an effort which remains stalled nationally.
"The Born-Alive Abortion Survivors Protection Act requires abortionists to administer basic medical treatment to children delivered alive after failed abortions. Violators would face discipline from their medical licensing board, up to and including potential revocation of their license.
"The bill passed the state House in January, and unanimously cleared the state Senate last month. After returning to the House to reconcile lingering differences between the text of both versions, the bill was signed into law by the governor, ABC News reports."
We catch-and-release fish but if a baby survives abortion, we kill the baby anyway.
ITEM 8
:
National Review reported
, "Senate Minority Leader Chuck Schumer on Wednesday warned Supreme Court Justices Neil Gorsuch and Brett Kavanaugh that they will pay the price if they take a position he disagrees with in deciding a case that addresses the credentials required for doctors who perform abortions.
"'I want to tell you, Gorsuch. I want to tell you, Kavanaugh. You have released the whirlwind, and you will pay the price,' Schumer told a cheering crowd of abortion-rights advocates in front of the Supreme Court."
This is not criticism. This is a threat. Chief Justice Roberts objected.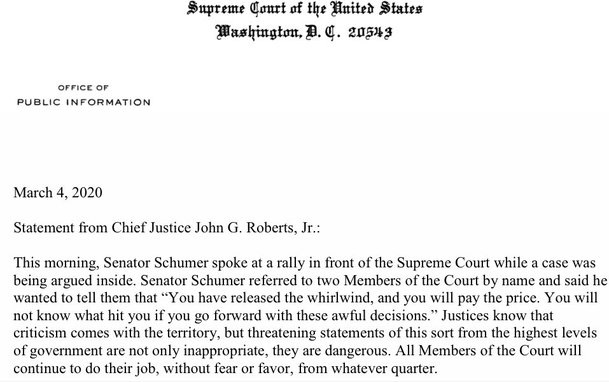 With the exception of Mitt Romney, liberals have refused to condemn Schumer's threat -- less than a week after demanding the president not criticize justices.
The case itself is whether the state can require doctors to have hospital privileges. We were told we legalized abortion to protect women from back-alley abortionists. It turned out, they were the only ones who wanted the job.
ITEM 9
:
Craig Bannister reported
, "Gaffe-prone Democrat presidential hopeful Joe Biden promises that, if he's elected, he'll cure Alzheimer's disease."
It's too late to save him.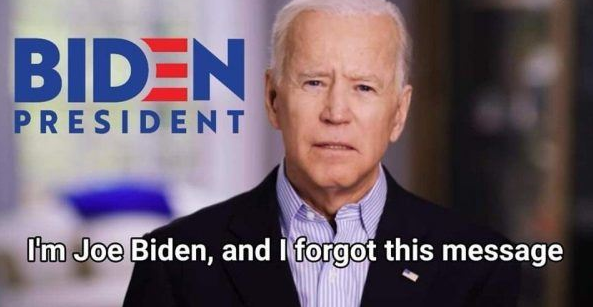 The story also said, "Biden, who has drawn scrutiny for his public mental lapses, made the promise during a Super Tuesday speech celebrating his primary wins last night – which he began by confusing his wife and sister when introducing then, following up on an on-air gaffe he made earlier in the week when he mistook Fox News Host Chris Wallace for NBC's Chuck Todd.
"After flubbing the introductions of his wife and sister in the opening of Tuesday's speech, Biden later vowed to spend billions of dollars to find cures for diseases like Alzheimer's, cancer and diabetes"
We already spend billions on this. It is called the CDC.
ITEM 10
:
Breitbart News reported
, "As Joe Biden swept Super Tuesday with the majority of delegates in the 2020 Democrat presidential primary, the open borders lobby is once again demanding the former Vice President commit to ending all deportations of criminal illegal aliens.
"Already, Biden has said he will not deport any illegal aliens from the United States until they commit a felony against an American citizen. Biden said he does not consider driving violations a felony, and thus illegal aliens who have killed Americans in car crashes would not be deported.
"Still, open borders activists with the United We Dream Action organization — which has endorsed Senators Bernie Sanders (I-VT) and Elizabeth Warren (D-MA) — have issued more demands to Biden after he won multiple states on Super Tuesday.
"'After pressure from immigrant rights groups, [Biden] agreed that he would stop *some* deportations. That is not enough,' the activists wrote online."
Biden may be a moderate but he will govern to the left of Bernie because his party is to the left of Bernie. Comrade Sanders has not backed gun confiscation. By naming Beto O'Rourke his gun czar, Biden has.
ITEM 11
:
ABC reported
, "Kim Kardashian West met with President Donald Trump and several women whose prison sentences he commuted at the White House on Wednesday, multiple administration officials confirmed to ABC News.
"She announced the visit on Twitter Wednesday morning saying the visit would not only bring 'light to these women' but open discussion for 'more change that our justice system desperately needs!'
West has worked with the White House on criminal justice reform issues since 2018, when she appealed to the president directly to secure the commutation of Alice Marie Johnson, who served 21 years for a nonviolent drug offense, and has stayed in touch with the president's son-in-law and adviser Jared Kushner -- who led the administration's push for prison reform legislation -- ever since."
Some liberals mock this as a Kardashian presidency.
If so, maybe we need more Reality TV presidents and fewer Fake News presidents because Kardashian and this president are getting criminal justice reform done.
ITEM 12
: Finally, someone willing to call Democrats out on their misogyny.
It's a shame that this country hasn't elected a woman president yet. The double standard and misogyny still runs deep.

https://t.co/J3MwvmYBp7

— Wajahat Ali (@WajahatAli) March 4, 2020
They also are homophobic in not nominating the gay mayor.
ITEM 13
: These are the same people who complained that Ivanka working for free was nepotism.
— Washington Examiner (@dcexaminer) March 4, 2020
Maybe "Doctor" Jill can lecture people to good health.
ITEM 14
: Common sense is not unconstitutional.
— John Solomon (@jsolomonReports) March 5, 2020
Donald John Trump could lock up the mom vote by endorsing this.
ITEM 15
: Finally, a little Trumpenfreude.
— Elizabeth Harrington (@LizRNC) March 5, 2020
Mini Mike spent a half-billion bucks to get 18 more delegates than Michael Avenatti.