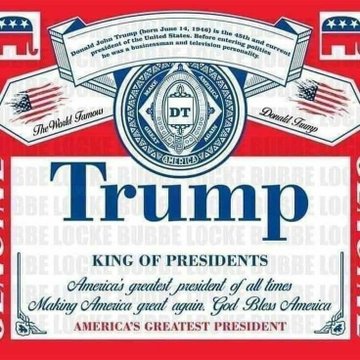 Donald John Trump is still our president.
ITEM 1
:
Mun Dong Hui reported
, "North Korea has ordered major provincial organizations, military-run factories and other facilities to prepare a months' worth of food, signalling that the state is unable to provide rations anymore."
The story also said, "North Korea's ration system has drastically weakened due to the country's economic troubles, but the country's elite, military-run factories, and other key institutions have continued to receive supplies from the government up until this point.
"Now, however, the shutdown of the Sino-North Korean border due to the COVID-19 outbreak along with the impact of international sanctions appear to have created difficulties for the central government to hand out rations to these organizations."
Kim Jong Un should have cut the deal when he had the chance. This is really bad news.
Meanwhile,
Colin Zwirko reported
, "Kim Jong Un guided 'strike drill' of two rocket launch systems on Monday: KCNA."
Kim is an idiot.
ITEM 2
: Forget all that brokered convention talk. The Democrat nomination will be decided today in Super Tuesday primaries in Alabama, Arkansas, California, Colorado, Maine, Massachusetts, Minnesota, North Carolina, Oklahoma, Tennessee, Texas, Utah, Vermont, and Virginia
Joe Biden's win in South Carolina on Saturday has winnowed the field to Quid Pro Joe, Breadline Bernie, Mini Mike, and Pocahontas. All are in their 70s. Buttigieg's departure means that for the first time since high school, Biden has beaten up a kid half his age.
A reader noted, "More people have dropped out of the Democrat presidential primaries than have died of the corona virus in the U.S."
Black voters in South Carolina saved Biden, just as they swung the vote for Hillary in 2016, and for Obama in 2008. Black people provide one-fourth of the Democrat votes. This gives Jim Clyburn and the rest of the black caucus power within the party. It has not translated into prosperity for their constituents but wait another 50 years and you'll see.
Black caucus > white liberals.
Gropey Joe is the Establishment Candidate at last, and by establishment I mean Obama. My guess is Comrade Sanders praising Comrade Castro was just too much for Comrade Obama. After Nevada I said the race was Old Breadline Bernie's to lose and that he was quite capable of doing just that.
Democrats hope Biden will keep them from losing the House. They hope to keep the Senate close and recapture it in 2022.
But President Donald John Trump has other plans. He has been courting black voters as well as Hispanic voters. He also is trying to divide Sanders supporters from the Democrat Party. If the president is able to flip enough seats in the House to have a net gain of 20 or more, he will become only the second president to lose the House in a midterm and win it back. Truman did it in 1948.
Democrats meanwhile have not courted a single supporter of President Donald John Trump. Instead Democrats have told us those jobs aren't coming back, learn to code, and farming is easy. Democrats are strange and getting stranger.
ITEM 3
:
Yahoo Finance reported
, "Dow jumps 1,290 points in biggest-ever point gain."
That's nice.
Stocks will go up or they will go down or they will be unchanged today. The long-term trend is growth. In 6 months, this correction and the Corona Flu will have long disappeared from Page One.
A reader said, "Hi Don,
"I see where the Dow Jones was up over 1,200 points today. All of the MSM analysts say it is because the Federal Reserve might cut interest rates to prop up the market from the coronavirus. I say wrong.
"On Friday the market originally was down 1,100 but several polls came out showing Sleepy Joe with a huge lead in South Carolina. For the rest of the day it regained 800 points of that drop. Now today, since Sleepy Joe crushed Sanders in South Carolina the market is surging again. I think Bernievirus is pushing the market into wild swings."
Who am I to disagree?
ITEM 4
:
The Daily Mail reported
, "A Mexican immigrant who was released by Chicago authorities despite ICE telling them not to 'went on to rape a three-year-old girl in a McDonald's bathroom as she cried 'daddy, daddy.'
"Christopher Puente, 34, is accused of sexually assaulting the girl at the restaurant on 600 N. Clark St. in the River North area of the city at around 8am on February 19.
"The alleged attack happened while the girl's father was in another stall with her brother, who had had an accident in the restaurant.
"However ICE had requested that police continue detaining the previously deported felon -- who had convictions for forced-entry burglary and forgery.
"Despite his background, Chicago declined ICE's June 2019 request to detain Puente. "
I don't want to hear about separating families. Shut the border down. Deport illegal aliens. Jail those who interfere.
ITEM 5
:
Hot Air reported
, "Chris Matthews announced his resignation from MSNBC Monday night after more than two decades at the network.
"The MSNBC mainstay made the stunning at the start of Monday's night edition of Hardball, a show that has for years been a staple of the network's politics programming. It also became a headache for MSNBC brass in recent weeks as Matthews came under fire for his often out-of-touch commentary."
Hahaha.
You can call President Donald John Trump Hitler until your lungs bleed, and management won't care. Imply that Democrats are the French army, and you resign or get fired. He should have made them fire him. Comcast fears fascism. Real fascism, not the tweets that President Donald John Trump sends.
The network knew he was a creep, but that was the excuse used to usher him out the door.
Five women were planning to come forward.

Matthews was a serial sexual harasser.

He also told one black woman, "In another time I'd have owned you."

https://t.co/sFSxoZ6lYc

— Mike Cernovich (@Cernovich) March 3, 2020
Mini Mike and President Donald John Trump are not laughing with Comcast. They are laughing at them as those NDAs come home to roost.
ITEM 6
: A Drudge headline said, "BEGALA: Trump will 'dump Pence' for Haley..."
Sigh.
I don't know which is dumber: the brokered convention stories or the dumping the veep stories.
Maybe MSNBC will hire Paul Begala to fill its sudden vacancy for Token White Male Moron. Must ogle female guests.
ITEM 7
:
Agence France Presse reported
, "Kanye West was at the center of a storm Monday after a Paris show by an acclaimed transgender performer was cancelled at the last minute to make way for one of his religious services.
"The mercurial singer took over the Bouffes du Nord theater in the French capital for one of his famous Sunday Service gospel hymn sessions during Paris fashion week.
"His wife Kim Kardashian turned up for the service in an almost sprayed-on latex brown suit, one of three figure-hugging Balmain looks she wore during the course of the day.
"But French trans performer Phia Menard was furious that her Maison Mere (Mother Ship) show was pulled at just one day's notice to make way for the golden couple of American pop culture, claiming the audience was told it was cancelled for 'technical reasons.'"
The technical reasons are money and Kanye and company are bigger box office draws.
ITEM 8
:
The Jerusalem Post reported
, "Prime Minister Benjamin Netanyahu succeeded in winning 60 seats for his bloc of right-wing and religious parties in Monday's election, one less than he needed for a majority in the Knesset, according to exit polls on the three television networks. The first polls indicated that Netanyahu's Likud won 36-37 seats. Its allies in Shas, UTJ and Yamina won 9, 7-8 and 6-7 respectively. The polls showed Blue and White with 33 seats, its ally Labor-Gesher-Meretz 6-7, the Joint List 14-15 and Yisrael Beytenu 6-8.
"When Channel 13 updated its numbers at around 1 a.m. Israel time, Gantz gained one seat to 34 and the blocs shifted slightly, leaving the right-wing with only 59 seats.
"Channel 12 also updated its numbers, giving Likud 37 seats, Blue and White 32, Arab Joint List 15, Shas 9, Yisrael Beytenu 7, UTJ 7, Labor-Gesher-Meretz 7 and Yamina 6. The numbers are expected to change overnight. The votes of soldiers, who tend to lean to the right, have not yet been counted and the Joint List tends to go down a seat when the soldiers' votes are added. But, if the Right does not obtain its 61st seat, it could end up being because the far-right Otzma Yehudit refused Netanyahu's repeated requests to quit the race.
"Netanyahu immediately tweeted 'thank you.' The outright victory in the third election in under a year is expected to enable Netanyahu to quickly form a right-wing coalition after having headed a caretaker government since December 2018. Netanyahu spoke to the heads of the parties in his camp immediately after the exit polls were announced and agreed to form a strong nationalist government as soon as possible."
Third election in less than a year?
Sounds like those school levy elections after voters turn one down. The school board keeps making them vote until voters get it right.
Bibi must be doing something right. Obama loathes him.
ITEM 9
:
CNS reported
, "As the number of people testing positive for the corona virus in Europe continued to grow, the French Shrine of Our Lady of Lourdes announced that pilgrims were still welcome, but the pools the sick bathe in hoping for healing would be closed temporarily.
"'Our first concern will always be the safety and health of the pilgrims and the shrine's working community,' said a note posted Feb. 28 on the shrine's website. 'As a precaution, the pools have been closed until further notice.'"
I am no expert on theology or medicine, but shouldn't healing baths be the place to go if you have the corona virus? It is not as if a virus can flummox The Lord.
ITEM 10
:
Christian Headlines reported
, "A new bill in the California state assembly would ban stores from separating their toys, clothing and childcare items into boys' and girls' sections and would fine them $1,000 if they did so.
"The bill, sponsored by Democratic Assemblymember Evan Low (Silicon Valley), says each 'retail department store shall maintain one, undivided area of its sales floor where, if it sells toys, all toys, regardless of whether a particular item has traditionally been marketed for either girls or for boys, shall be displayed.'
"The bill, AB2826, includes similar language for clothing and childcare articles such as pacifiers. It would apply only to retail chains with 500 or more employees, with each violation costing $1,000."
The war on sexist pacifiers has begun.
ITEM 11
:
Rod Thomson reported
, "Top Former Obama Official Praises Trump. Twice."
The official is former Ambassador Wendy Sherman, who served as undersecretary of state for political affairs in the State Department. She praised ending the war in Afghanistan.
The story said, "On the second point of praise, Sherman said that the controversial missile strike ordered by the President to kill Iranian terrorist leader General Qasem Soleimani while in Iraq would probably act as a deterrent to Iranian aggression in the region. She called the move risky in moving the U.S. and Iran to the brink of war, but considering how it has played out, the attack was probably a good action.
"It's highly improbable that the killing actually moved the two countries to the brink of war as Iran's leaders have everything to lose in a direct war with the U.S. military — and they know it well. No traditional army has been able to stand against the U.S. military for more than a couple of weeks. The Mullahs prefer to work through their network of terrorist proxies in Iraq, Syria, Lebanon and Yemen."
Well, there goes her chance of replacing Chris Matthews.
ITEM 12
:
Fox News reported
, "Baltimore sees more than 50 homicides so far in 2020, activists say city 'was never like this.'"
Oh.
The story said, "'This city was never like this, even when it was at its worst,' activist Tyree Moorehead told FOX45 on Sunday. 'That's scary because there's people whose family members haven't been shot yet that have a bullet with their name on it and don't even know it.'"
Five years ago, the Democrat mayor ordered police to stand down and let people riot after Freddie Gray's death. The local prosecutor prosecuted six police officers for their roles in the death, despite having no case.
Police got the message.
Thugs got the message too.
It's time well meaning people like Tyree Moorehead got the message and moved.
ITEM 13
:
Damon Root reported
, "Justice Neil Gorsuch threw a little shade at the Trump administration for unilaterally rewriting federal gun laws. 'The agency used to tell everyone that bump stocks don't qualify as 'machineguns.' Now it says the opposite. The law hasn't changed, only an agency's interpretation of it,' Gorsuch wrote. 'How, in all of this, can ordinary citizens be expected to keep up — required not only to conform their conduct to the fairest reading of the law they might expect from a neutral judge, but forced to guess whether the statute will be declared ambiguous….And why should courts, charged with the independent and neutral interpretation of the laws Congress has enacted, defer to such bureaucratic pirouetting?'
"Gorsuch's statement came attached to the Supreme Court's denial of certiorari in Guedes v. Bureau of Alcohol, Tobacco, Firearms and Explosives. Damien Guedes, who challenged the legality of Trump's bump stock ban, recently lost before the U.S. Court of Appeals for the District of Columbia Circuit, which said the ban was entitled to judicial deference under the Chevron precedent. The Supreme Court today declined to hear Guedes' case."
Sounds like someone is to the right of the president on guns. Good.
However, the other justices did not agree and refused to hear the case, and upheld the ban.
QUOTE OF THE DAY
:
Via Sara Carter
, Joe Biden said, "We hold these truths to be self evident. All men and women created by the, you know, you know, the thing."
His wife and son need to pull the plug on this campaign. Have they no compassion?