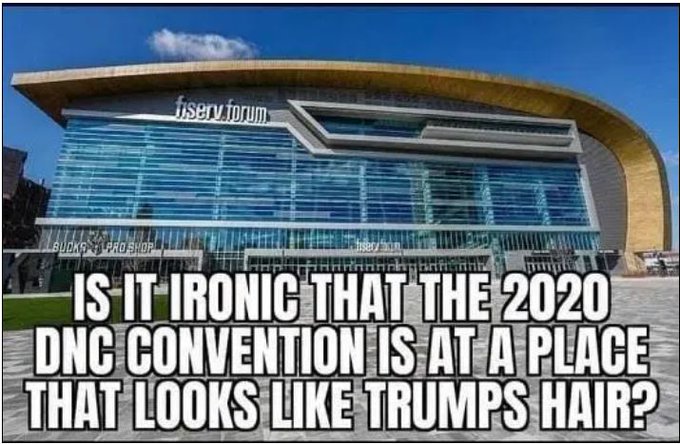 Donald John Trump is still our president.
ITEM 1
:
The CDC estimates
that from October 1 through February 22, the flu has caused between 18,000 and 46,000 deaths in America. Between 32 million and 45 million people have had the flu so far this flu season.
The
Corona Virus death toll in the USA is 11
. The only thing this OMG Pandemic is killing is the stock market
WJLA reported
, "3 test positive for coronavirus in Maryland, Gov. Hogan declares State of Emergency."
We are beyond parody.
WATCH: "The best estimates now of the overall mortality rate for COVID-19 is somewhere between 0.1% and 1%," Adm. Brett Giroir, assistant secretary for health at HHS, says. "That's lower than you heard probably in many reports ... it's not likely in the range of 2 to 3%"

pic.twitter.com/ATnMRBLXVy

— NBC News (@NBCNews) March 6, 2020
As I said,
call it the Corona Flu, and watch the panic fade
.
ITEM 2
:
CNBC reported
, "Senate passes $8.3 billion emergency coronavirus package, sending bill to Trump's desk."
The story said the bill includes:
More than $3 billion dedicated to the research and development of vaccines, as well as therapeutics and diagnostics;
$2.2 billion in public health funding to aid in prevention, preparedness and response efforts — including $950 million to support state and local agencies;
Nearly $1 billion to go toward medical supplies, health-care preparedness, Community Health Centers and medical surge capacity, and
$1.25 billion to address the coronavirus overseas.
That adds up to a little over $7.3 billion.
Where will the missing billion go?
ITEM 3
:
The Daily Caller reported
, "Hunter Biden touted his political connections in 2019 while unsuccessfully pitching the UCLA School of Law on letting him teach a course on drug policy, emails obtained by the Daily Caller News Foundation show.
"In his pitch, Biden listed off a number of possible guest speakers, most of whom had ties to his father, Democratic front-runner and former Vice President Joe Biden."
Daddy's connections, he said, would bring in Louis Freeh, former President Pastrana of Colombia, and Obama administration notables to guest lecture with him.
Some people ask why someone in his family doesn't pull the plug on Doddering Joe's campaign and spare him the humiliation of a public mental meltdown. This is why. Sonny boy can still use Daddy to shake down money for hookers and blow.
ITEM 4
:
The New York Times reported
, "Rosalind P. Walter grew up in a wealthy and genteel Long Island, New York home. Yet when the United States entered World War II, she chose to join millions of other women in the homefront crusade to arm the troops with munitions, warships and aircraft.
"She worked the night shift driving rivets into the metal bodies of Corsair fighter planes at a plant in Connecticut — a job that had almost always been reserved for men. A newspaper column about her inspired a morale-boosting 1942 song that turned her into the legendary Rosie the Riveter, the archetype of the hardworking women in overalls and bandanna-wrapped hair who kept the military factories humming."
She passed up going to Smith College or Vassar. Her friends called her Roz. A grateful nation called her Rosie.
ITEM 5
:
Fox News reported
, "Newly released statistics show a big jump in crime last month compared to a year ago.
"The NYPD says major crimes grew 22.5% in February compared to the same month last year including a 7.1% increase in shootings. Robbery, assault, burglary, grand larceny, and grand larceny auto all saw increases.
"The only positive statistic related to murders, which were down 20%. Only 20 people were killed in New York City in February.
"Police officials blame criminal justice reforms for the uptick in crime.
"The NYPD says that in the first 58 days of 2020, 482 individuals who had already been arrested for committing a felony such as robbery or burglary were rearrested for committing an additional 846 crimes.
"35%, or 299, were for arrests in the seven major crime categories – murder, rape, robbery, felony assault, burglary, grand larceny, and grand larceny auto – that is nearly triple the amount of those crimes committed in the same 58 days in 2019."
Democrats are determined to make every city in America unlivable.
ITEM 6
:
WUSA reported
, " A whistleblower from the D.C. Police Department is talking openly about the crime underreporting she says she's witnessed inside the Metropolitan Police Department.
"'I was surprised,' said MPD Sergeant Charlotte Djossou. 'I didn't want to believe it.'
"Djossou, a 15-year MPD veteran previously honored for her service by Police Chief Peter Newsham, is going public with stunning allegations about what she says is going on in her own department."
Has DC ever had a Republican mayor?
ITEM 7
: Elizabeth Warren dropped out nearly 18 months after she flunked her DNA test and wound up with a 1/1,024th chance of becoming president. She tried to be Hillary 2.0.
Ladies, I have news for you. Americans will not elect a woman president who acts as if she is entitled to the job as some sort of affirmative action appointment. She will have to earn the job by being better than the men. I know that is difficult for Professor Warren to understand because she used her fake Indian heritage to get her job at Harvard. But no: Americans do not owe women the presidency -- especially liars like Hillary and Warren.
Instead of using Hillary as a role model, little girls who want to be president should emulate Golda Meir and Margaret Thatcher, neither of whom tried to use their sex to attain higher office.
But the odds are stiff for men as well. There were 80 million Baby Boomers, about half of them were male. There have been four Baby Boomer presidents (Obama falls into the grouping of people born from 1946 to 1964). That put the odds of a male Baby Boomer becoming president at 1 in 10 million.
ITEM 8
: The Boston Globe endorsed Warren.
She subsequently finished third in the Massachusetts primary -- a rebuke by liberals not only of their senator but their state's largest newspaper.
Newspapers were important in the 19th century. They are impotent in the 21st. Just give readers the facts. They can figure the rest out for themselves.
ITEM 9
:
National Review reported
, "The Trump Administration's National Security Council launched a review this week of what military and intelligence assets will be withdrawn from Great Britain if the U.K. goes ahead with its 5G deal with Chinese telecom giant Huawei.
"U.S. officials told Bloomberg's Eli Lake that the assessment is being conducted in response to Huawei 'putting smart antennas and computers run by the Chinese Communist Party all over our closest ally.'
"In January, Boris Johnson's government announced that the U.K. would allow Huawei — which is charged in the U.S. with racketeering, fraud, and intellectual property theft — to help build the country's 5G network, despite intense diplomatic pressure from the Trump administration to resist the Chinese.
"President Trump reportedly tore into Johnson in a phone call over the deal, as the U.S. has warned allies in the past that there would be consequences for dealing with Huawei, but has struggled to come up with 5G alternatives to the Chinese giant."
That is some NATO ally. From Brexit to Chentrance?
ITEM 10
:
National Review reported
, "The chief judge on the Foreign Intelligence Surveillance Court has barred Justice Department and FBI officials under review for wiretapping former Trump-campaign adviser Carter Page from appearing before the Court.
"In a 19-page opinion, Judge James E. Boasberg ordered that 'FBI personnel under disciplinary review in relation to their work on FISA applications accordingly should not participate in drafting, verifying, reviewing, or submitting such application to the Court while the review is pending.' He added that any 'DOJ or FBI personnel under disciplinary or criminal review' are also prohibited from working on FISA applications."
Criminal review. One can hope.
ITEM 11
:
The Fiscal Times reported
, "Joe Biden's tax proposals would generate about $4 trillion in new revenue over 10 years, with high-income households paying the lion's share of the increase, according to a new analysis by the nonpartisan Tax Policy Center.
"TPC's revenue projection is higher than the Biden campaign's own estimate of $3.2 trillion over a decade, and even more so than the Penn Wharton Budget Model's estimate of $2.3 trillion."
How about we start with a 100% tax on the politically connected earnings of children and siblings of politicians? After all, paying taxes is patriotic.
ITEM 12
:
The Hill reported
, "The Bureau of Land Management has lost more than half of its Washington-based employees who were slated to move out West as the agency pushes ahead with a controversial plan to relocate staff.
"New internal numbers from the Interior Department obtained by The Hill show 69 employees have left the agency rather than accept the new assignment. Another 18 left after the plans were announced but before they could be reassigned.
"Those 87 employees outnumber the 80 who have agreed to the move."
How about we move the State Department to Point Barrow, Alaska?
ITEM 13
:
The Hill reported
, "Judge Thomas Griffith on Thursday announced plans to retire from the U.S. Court of Appeals for the D.C. Circuit, handing President Trump his third vacancy on the influential bench.
"Griffith is set to retire in September, just two months ahead of the 2020 election, as politics intensify the focus on Trump's conservative makeover of the federal courts.
"The judge, a George W. Bush appointee and 15-year veteran of the D.C. Circuit, made headlines last week when he ruled against House Democratic lawmakers who sought to enforce a subpoena against a former Trump aide. In a 2-1 opinion, Griffith ruled that courts were powerless to intervene in a House lawsuit to compel testimony from former White House counsel Don McGahn over Trump's objections. If his ruling stands, it would establish a favorable precedent for future White House efforts to avoid congressional oversight.
"However, Griffith also cast a vote against Trump when the president asked the court to reconsider a ruling that paved the way for Democrats to obtain his financial records.
"The 65 year-old judge's pending departure will mark the third vacancy for Trump to fill on the D.C. Circuit, which is sometimes referred to as the second most important court after the U.S. Supreme Court — where a disproportionate number of D.C. Circuit judges eventually land."
Once again, I thank those who held their noses and voted for Donald John Trump despite their misgivings. It was an article of faith that has been richly rewarded in restoring sanity in the federal courts.
ITEM 14
:
100% Fed Up reported
, "Fox News hosts Martha MacCallum and Bret Baier moderated a President Trump townhall in Scranton, Pennsylvania, a state that flipped for Trump in 2016 after 30 years of voting for Democrats for president.
"Martha called on David, a Fox News townhall audience member, calling him a typical voter, explaining that he was a lifelong Democrat who crossed over and voted for a President Trump in 2016. MacCallum pointed out that Democrat presidential candidates Bernie Sanders and Joe Biden are going to try to convince him to vote for them.
"MacCallum asked, 'I'm curious, is there anything, or any issue that they could answer for you that would change your mind, do you think?'
"'I'm focused on the economy and regulation and deregulation. And I like what's happened in the country in the last 4 years.' Trump interrupted to thank him. He continued, 'And I thank you for your efforts, sir. And I hope we can continue on that.'
"'So, no. The answer would be no. Nothing could change your mind?' MacCallum asked. 'No, nothing could change your mind,' she clarified."
They called us deplorable (Hillary), despicable (Booker) and the dregs of society (Biden).
And now they want our votes?
I am WWL -- writing while laughing.
ITEM 15
:
The New York Post reported
, "Bill Clinton claims the affair with Monica Lewinsky that almost destroyed his presidency was one of the 'things I did to manage my anxieties.'
"Likening life in the White House to being a boxer staggering after a 30-round fight, Clinton, 73, says in the new documentary, Hillary, that his affair was 'something that will take your mind off it for a while.'"
Sadly, dear readers, all my possible punchlines range from lewd to obscene to salacious, and cannot be posted. Let's just say, he's the one who blew it.
ITEM 16
:
Just the News reported
, "Kimberly Gardner made history in 2016, roaring to an election victory as St. Louis city's first African-American chief prosecutor on a campaign funded heavily by the liberal mega-donor George Soros. Four years later, she finds herself under investigation and her chief investigator already indicted for a prosecution gone bad, one that forced Missouri's Republican governor to resign in what some now believe may have been a political attack.
"Gardner, a Democrat and the city's circuit attorney, was forced in 2018 to withdraw her indictment accusing Gov. Eric Greitens of felony invasion of privacy for allegedly taking a picture of his scantily clad girlfriend and threatening to release it if she talked about their affair. Gardner's office dropped the charge after admitting she did not have proof of the photo or its transmission."
If a candidate makes history merely by getting elected, chances are he (or she) will fail in that office.
It's the Obama Rule.
ITEM 17
:
MEL magazine reported
, "Meet the 'Twink of Death' Cursing Every Democrat's 2020 Campaign."
He's gay. He endorsed Beto till he dropped out. Then Kamala. Then the gay mayor.
Can we get the Twink of Death to endorse Joe Biden please?

— Brad (@BradGTweets) March 2, 2020