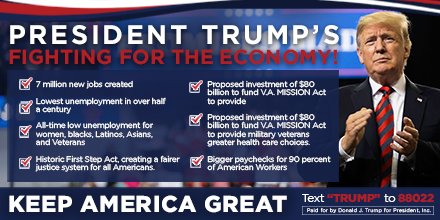 Two weeks ago, Our Beloved President Donald John Trump had his best week ever. Everyone said so.
The Atlantic said
, "This Is Donald Trump's Best Week."
Pollster John Zogby said
, "Best week yet for President Trump."
Bill Maher said
, "I thought it was his best week ever, and the most depressing week for me, as someone who is not a fan of Donald Trump and what he's doing to this country. It was chilling."
It was. Democrats held a caucus in Iowa and couldn't figure out how many votes anyone got.
Then Our Beloved President Donald John Trump gave a State of the Union address so good that Nancy Pelosi couldn't stand it, so she tore her copy up.
The Senate exonerated Our Beloved President Donald John Trump and overwhelmingly rejected the unconstitutional impeachment because you must include at least one allegation of a crime. Three years of investigation upon investigation found none. Not one.
Then the employment report came in. Unemployment remains well below the full employment rate of 4% unemployment after adding another 225,000 jobs in January.
Whew, boy.
What a week.
This week was better. President Trump was the grand marshal of the Daytona 500 on Sunday. Instead of a pace car, he rode in the presidential Beast. Best of all, Maggie Haberman of the New York Times sniveled on Twitter about the cost.
He rallied in Phoenix on Wednesday, drawing another capacity crowd. Ditto Colorado Springs on Thursday. Tonight he takes his show to Las Vegas. People love him, and he loves people.
But the big news was Mini Mike's debut in the Democrat Debates on Wednesday. It was so disastrous for him that Mini Mike said, "The real winner last night was Donald Trump."
Billionaire Bloomberg is the best last hope for the Democrat Establishment to stop Breadline Bernie. Mini Mike is Jeb! v2.0. What he lacks in charisma, he hopes to make up in TV ads saturating the airwaves. His ads are better because he is seen but not heard.
Mini Mike said, "I don't think there's any chance whatsoever of Senator Sanders defeating President Trump."
Hmm. Both Breadline Bernie and Our Beloved President Donald John Trump have loyal supporters. The difference is only one beat Hillary.
The first three years of his presidency were difficult because the media and Obama's administration-in-exile hounded him mercilessly. Obama threw civility out the window. Obama rejected the norms that have governed our nation since the end of the Civil War. He sicced his henchmen John Brennan, Jimmy Comey, and Andy McCabe on the president.
But the good guy has defeated the villains. All of them. I hope they are punished, but I know better,
We have 4 years of Our Beloved President Donald John Trump to enjoy. And week by week, the odds rise that we will get 4 more years after that.