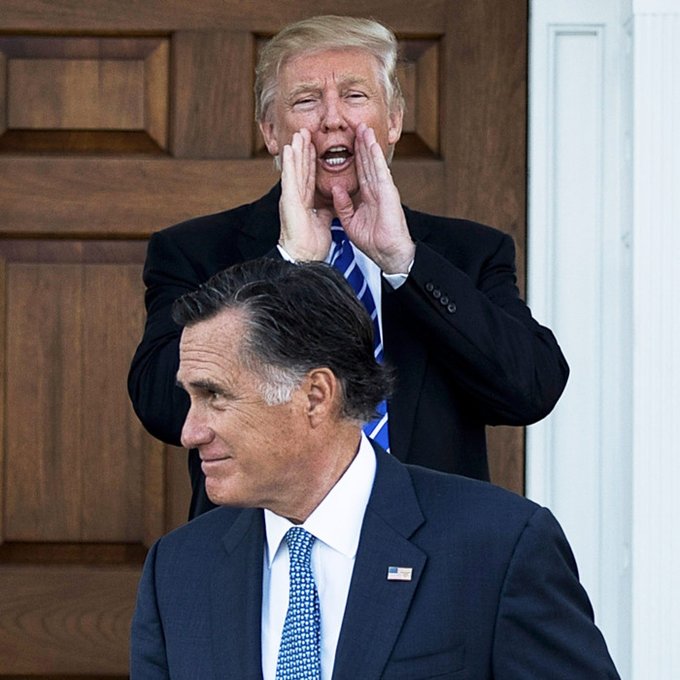 Drama queen Mitt Romney decided to vote to remove Donald John Trump as president and whined to
Chris Wallace at Fox
, "I understand there's going to be enormous consequence."
If you believe in your heart that a president violated the Constitution, then why would you want to work with him? Why would you seek him out for a favor? Why would you not shred his speech, stick your tongue out, and blow raspberries at him?
Romney has been nasty to Donald John Trump all along. The only reason Romney ran for the Senate was to vote to convict him in an impeachment.
On March 3, 2016, the native of Michigan who was once governor of Massachusetts went to Utah to use his Mormonism to denounce Donald John Trump.
Romney said, "Here's what I know: Donald Trump is a phony, a fraud. His promises are as worthless as a degree from Trump University. He's playing members of the American public for suckers: He gets a free ride to the White House, and all we get is a lousy hat."
Thus the 2012 Republican nominee worked against the 2016 Republican nominee. Despite that backstabbing treachery, Donald John Trump won.
The CNN story on Romney's Utah speech noted
, "There's irony in Romney's speech: Just four years ago, he courted Trump's endorsement -- even after Trump had led the birther controversy against President Barack Obama, insisting that Obama release his birth certificate to prove he is an American citizen."
It gets better.
After President Trump schlonged Romney's candidate 30 states to 19 1/2 (Maine was split),Mitt Romney came begging for a job.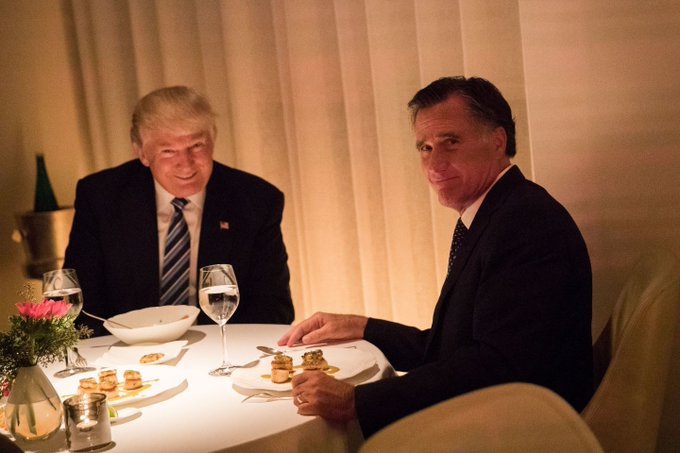 Vanity Fair reported at the time, "Sitting in plain view of diners at the three-star Michelin restaurant Jean-Georges, Reince Priebus and Donald Trump broke bread during a four-course dinner with Mitt Romney, one of their finalists to lead the State Department, supping on frog legs, diver scallops, and a special course prepared specifically for the former Massachusetts governor: crow.
"Romney's appetite, apparently, was limitless. Afterward, the former Trump antagonist swallowed his pride before a gaggle of journalists waiting outside the Trump International Hotel in New York, calling the dinner 'wonderful' and their conversation about global affairs 'enlightening.'
"'It's not easy winning. I know that myself,' Romney, who lost to President Barack Obama in 2012, admitted. '[Trump] did something I tried to do and was unsuccessful in accomplishing. He won the general election, and he continues with a message of inclusion and bringing people together, and his vision is something which obviously connected with the American people in a very powerful way.'"
Scallops? Romney ate crow.
After that very public humiliation, President Trump said No. Not even ambassador to Liechtenstein.
Romney ran for the Senate, and discovered that being a freshman senator at 72 sucks. You have no seniority and you must display party loyalty to get ahead. Biden at 30 could do his time and suck up to the Democrat segregationists who ran the Senate in the 1970s. Mitt doesn't have 44 years left.
So now he has crossed his party and the people of Utah. And it made no difference.
BREAKING

The U.S. Senate has voted to acquit

@realDonaldTrump

in his impeachment trial, 52-48 on Count 1, Abuse of Power and 53-47 on Count 2, Obstruction of Congress.

The votes to convict fell far short of the 2/3 majority needed to remove President Trump from office.

— Kennie Bass (@KennieBassWCHS) February 5, 2020
Merry Acquitmas. Ho ho ho.
Romney wants out. Ultimately, that is what this vote is about. Look for him to leave the Senate early because his career is through. I doubt he could get a post office named for the beloved Orrin Hatch.
Thank you Obama for sparing us President
Pierre Delecto
."