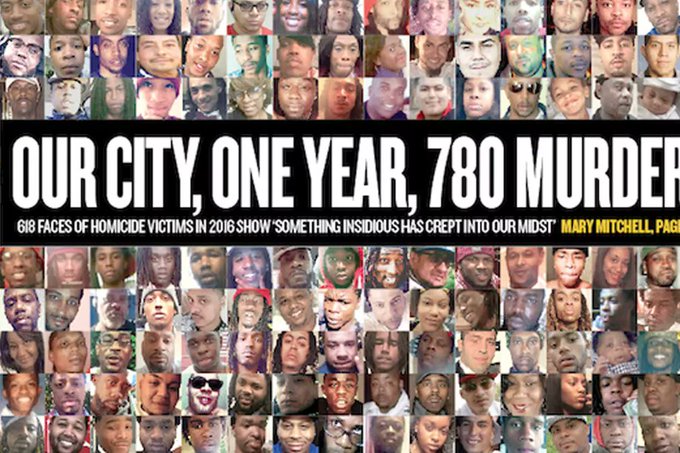 The New York Times asked
, "Black Families Came to Chicago by the Thousands. Why Are They Leaving?"
Chicago historically was a haven for black people escaping the South. But the Times reported, "more than 200,000 African Americans who have moved out of Chicago in the past two decades."
The Times blamed racism.
It reported, "They have been driven out of the city by segregation, gun violence, discriminatory policing, racial disparities in employment, the uneven quality of public schools and frustration at life in neighborhoods whose once-humming commercial districts have gone quiet, as well as more universal urban complaints like rising rents and taxes. At the same time, white, Latino and Asian residents are flowing in, and Chicago's wealthier, whiter downtown, West Loop and North Side have been booming. Lori Lightfoot, the city's first black mayor in decades, has vowed to stem the loss of longtime residents, and the city has collectively grasped for solutions."
Segregation?
Black people are not allowed to eat at Woolworth's in Chicago?
Maybe that is why poor old Justin Smollett had to go to Subway in the early morning hours in zero-degree weather just to eat a sandwich. Then those darned white boys from Nigeria in MAGA hats attacked him and threw a loop of clothesline around his neck.
Crime is mentioned only once in the story, in Paragraph 66: "Tshena said that for the first time since she can remember, gun violence is declining. In 2016, shootings spiked in Chicago. Since then, police have shifted tactics, intensifying their presence in certain neighborhoods, and relying on increasingly sophisticated technology for detecting crime. The last few years have felt quieter, Tshena said, and 2019 was the most peaceful of all."
Homicide is mentioned once, again well down in the story, and then to state that they have fallen. They have. They peaked at 756 in Obama's final year in office, and declined in each year under President Donald John Trump,
dropping to 490 last year
.
That's a 35% drop in just three years.
For all his blather, black lives did not matter to Obama.
Still, Escape Here said Chicago ranked Number 11 in big city crime last year.
It said
, "Chicago has a notorious reputation when it comes to crime, but it's actually not as bad as some smaller cities on this list like New Orleans, Newark, and Detroit. Chicago is the third largest city in the country and while it does have a higher murder rate than the two larger cities, Los Angeles and New York City, it's still not the most dangerous city in the country. The latest data from 2017 shows that the murder rate in Chicago was 24 per 100,000 residents."
New York's rate was 7 murders per 100,000 residents.
But the murders and the crime in Chicago are mainly confined to the poor black sections of the town. It is mainly black-on-black crime. Police solve only 1 in 6 murders. No one protests. It's not murder; it's gun violence. The New York Times said so.
Chicago is the Democrat Model For Cities where the rich get The Magnificent Mile -- North Michigan Avenue -- with its shops, hotels, restaurants, and museums, and the poor get the slums, and the middle class get to leave.