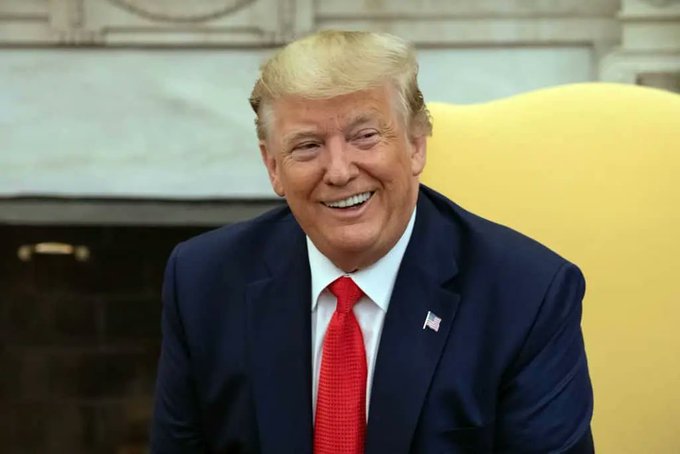 Donald John Trump is still our president.
ITEM 1
: The acquittal of President Donald John Trump reminded me of the saying that people go to NASCAR races for two reasons: to see who won and who crashed. (Joe Manchin's yes vote surprised me but not so much that I will waste a post on him.)
The big winner is President Trump. Impeachment improved his polling numbers because it was a stupid hill for Democrats to die upon. But there they are.
However, the biggest loser in this is not the Democrat Party, Turncoat Mitt Romney, or even Joe Biden, whose presidential candidacy was collateral damage in this failure by the
coup klutz clan
.
The biggest loser was Matt Drudge. He lost conservatives by turning Never Trumper, and liberals will never accept him. The Clinton impeachment brought him fame, this impeachment cost him customers.
The Internet changed in 22 years. There are too many better and reliable news sites to bother with Drudge. My list includes
Instapundit
.
Lucianne.com
.
Whatfinger
.
Ace of Spades
.
Breitbart News
.
FreeRepublic
.
TheDonald.win
.
Pro Trump News
.
Rantingly
.
Citizen Free Press
.
The Liberty Daily
.
Knewz
.
BonginoReport.com
.
Rantburg
.
Real Clear Politics
.
Clip and save -- and visit them.
UPDATE: A reader said to add
Real Clear Politics
to the list. I agreed and added it.
ITEM 2
:
Glenn Reynolds reported
, "An observation from a friend on Facebook: 'A caller to Rush's show made an excellent point: If Romney believed just a week ago that there was not enough evidence to convict Trump without additional witnesses, how can he vote to convict today when there have been no additional witnesses?'
"There's nothing sadder than people who talk about standards and principles while engaging in transparently self-serving doubletalk."
Ace pointed out Never Trumpers who said they repented
-- Eric Erickson, Rich Lowry and Ben Shapiro -- are now defending Romney.
They say his vote is wrong but he must vote his conscience. That is a load of road apples. Romney wants Congress to overturn the 2016 election because like Erickson, Lowry, and Shapiro, HE didn't get HIS way at the RNC in 2016.
I would kick him out of the caucus so fast, both his faces would spin.
How's that joke go again? Next time tie Mitt to the top of the station wagon and let the dog drive.
ITEM 3
:
Paul Bedard reported
, "The politics of Utah Sen. Mitt Romney's 11th-hour mystery on how he will vote on President Trump's impeachment has become sticky now that a new survey finds that the president is more popular in Utah.
"The Utah Policy survey showed that for the first time since his election, a majority of Utah voters approve of Trump's job performance, echoing his surge in national surveys."
In response, Mitt decided to stab the president in the back only once, not twice.
ITEM 4
:
CNBC reported
, "The jobs market kicked off 2020 in grand fashion, adding 291,000 in private payrolls for the best monthly gain since May 2015, according to a report Wednesday from ADP and Moody's Analytics.
"That was well above the 150,000 estimate from economists surveyed by Dow Jones and more evidence that the U.S. still is a good distance from full employment even with the jobless rate at its lowest point in more than 50 years. The total also was a sharp gain from the 199,000 in December, which was revised down 3,000 from the initial count."
Twice as many jobs added than expected.
The best is yet to come.
ITEM 5
:
The Washington Examiner reported
, "Economic optimism has reached a 44-year high and economic gloom a record low under President Trump in the latest survey that shows people in the United States are cheering their best personal economy in decades.
"For the first time in its history, the Gallup Mood of the Nation economic survey found that 59% of people believe that they are better off, a trend that has soared under Trump.
"It is higher than when President Ronald Reagan made his economy a campaign rallying cry and better than the so-called dot-com bubble under President Bill Clinton.
"And Gallup found that those who feel that they are worse off are down to 20%, the lowest ever."
This is our moment in the sun.
ITEM 6
: The Wall Street Journal (no links to pay sites) reported, "Despite a weak outlook for residential real estate, the number of building permits issued in New York City for new homes surged last year to the highest pace since 2015. It was the second-highest total since the end of the last big building boom in 2008.
"Permits for 26,547 units of housing were issued in 2019, about 27% more than the year before, according to tabulation of preliminary data from the U.S. Census Bureau. Permits surged during the housing boom between 2006 and 2008."
Everybody is getting rich under President Trump except him.
ITEM 7
:
Van Jones of CNN said
, "I think the last 24 hours have been a big wake up call for Democrats. That's what I think. The Iowa caucus was a debacle. And this was a very strong speech. And it shows what he thinks he needs to do to win. I think I should be very clinical about this. You're exactly right. He knows he's got to give a lot of red meat to his base, and he gave it. Religious liberty, abortion, all of it, the military, et cetera.
"But he's doing something else. And it has to do with how he's going to manage race in this thing and there seems to be a tradeoff between the Latinos and the African-Americans, that's what you see. he went hard on the sanctuary city stuff. That is very, very disturbing. It turns out sanctuary cities are safer than non-sanctuary cities. The Cato Institute, which is libertarian, have come out and said immigrants are committing less crime. So, for some reason he thinks that doubling down on the anti-immigrant piece is a big part of this thing.
"At the same time, warning the Democrats. What he was saying to African-Americans can be effective. You may not like it but he mentioned HBCUs, black colleges have been struggling for a long time, a bunch of them have gone under, he threw a lifeline to them in real life in his budget. He talked about that. He talked about criminal justice reform. He talked about opportunity zones...
"The thing about it is, and we've got to wake up, folks, there's a whole bubble thing that goes on, he said s-hole nations, therefore all black people are going to hate him forever. That ain't necessarily so. I think what you're going to see him do, you may not like my rhetoric, but look at my results and my record to black people, if he narrow casts that, it's going to be effective. Which means, as we move through this primary process, we've got to pay a lot more attention both to what's going on with the Latino vote. Are we going to get a benefit in terms of having them respond and with the black vote. It it going to be a split off, especially for black male voters? We've got to be clinical about this stuff. We get so emotional about it. That was a warning to us. That was a warning shot across the bow to us Democrats that he's going after enough black votes to cause us problems. It's not just suburban votes, he's going after black votes."
Donald Trump is playing the long game on minority votes.
He is not changing the Republican Party to pander to them. Instead, he is proving to them that Republican policies will work for them.
Mike Pence (or whoever is the 2024 nominee) should thank him -- and then follow through for the next nominee.
ITEM 8
:
The Independent reported
, "Homes and businesses that use smart light bulbs are at risk of being hacked and even spied on, new research has revealed.
"The vulnerability, which affects the market-leading Philip Hue smart bulb, was discovered by researchers at security firm Check Point, who claim cyber criminals could use it to plant spyware or ransomware on home networks.
"It works by exploiting a flaw with the popular ZigBee protocol, which is commonly used within wireless networks."
Beware of anything that is marked smart -- and that Sirius XM radio tracks your car too. We need an alternative to having a computer chip in everything.
ITEM 9
:
The Washington Times reported
, "Orange County in California is seeing a recidivism rate of more than 25% for illegal immigrants it has released under the state's sanctuary law, according to new data the sheriff's department released and ICE highlighted this week.
"Migrants who were released then rearrested for new crimes had charges of rape, domestic violence, DUI and child sex offenses.
"In 2019, Orange County said it got requests from U.S. Immigration and Customs Enforcement to turn over 1,507 inmates. It did release 492 of them to ICE after they'd completed their sentences, but 1,105 were put back on the streets under the terms of the state's sanctuary law, known as SB54."
When Democrats brag about Orange County (or anywhere else) turning blue, this is what they mean.
And turning blue also is slang for dying.
ITEM 10
:
PJ Media reported
, "In a fiery speech to the Congressional Black Caucus on Tuesday, Rev. William Barber — the black North Carolina pastor behind the Poor People's Campaign — compared the likely impeachment acquittal of President Donald Trump to Jim Crow-style southern justice.
"He championed the impeachment of President Andrew Johnson, suggesting that this precedent should give hope to Democrats impeaching Trump in an election year.
"'The coordinated cover up we are witnessing as senators conspire to facilitate Trump's obstruction of Congress is deeply troubling to anyone who knows the history of Southern courthouses, where district attorneys openly coordinated with all-white juries and corrupt judges to cover up acts of racial terror,' Barber declared."
Jim Crow is what liberal blacks call anything they don't like.
It dishonors the 3,446 black men lynched between 1882 and 1968
. Barber and the rest don't care.
ITEM 11
:
The Washington Examiner reported
, "Touting the death of ISIS's leader under his watch and the beginning of a new round of talks with the Taliban, President Trump pledged in his State of the Union address 'to end America's wars in the Middle East,' and in Afghanistan 'to finally end America's longest war and bring our troops back home.'
"'It is also not our function to serve other nations as law enforcement agencies,' Trump said, in a speech in which he paid tribute to fallen heroes as well as the sacrifice made by the families of troops who have been repeatedly sent into combat year after year."
Hallelujah.
ITEM 12
:
Yahoo Finance reported
, "Peloton announced fiscal second-quarter earnings Wednesday and it had more wins than losses, but the stock plunged more than 12% in after-hours trading.
"Net-net, the quarter is likely to be supportive of the recent gains in the stock for several reasons.
"Net sales: $466.3 million vs. $423.7 million estimates."
Wait a second. The experts told me that sexist ad would kill sales but sales rose. I saw the ad as appealing to people who are obsessed with fitness to the point where they will spend $2,000 for a bike and then pay a fee on top of that. The critics weren't buying the bike anyway.
There is something going on. Stocks don't beat earnings expectations and then tank. My point is don't blame the ad.
ITEM 13
:
The Associated Press reported
, "A federal judge has stripped a terrorist of his naturalized U.S. citizenship, siding with the government in the case of a Pakistan-born man convicted more than 15 years ago of plotting to destroy New York's Brooklyn Bridge.
"Defendant Iyman Faris, once a truck driver in Columbus, Ohio, was sentenced in 2003 for aiding and abetting al-Qaida by scoping out the bridge as part of a plot to cut through cables that support it. His case was among the first and highest-profile terrorism cases after the Sept. 11 attacks.
"Faris met with Osama bin Laden in Afghanistan and worked with Sept. 11 architect Khalid Sheikh Mohammed, although some critics questioned how realistic the plot was, given post-Sept. 11 security in New York."
2 years ago the judge, Staci Michelle Yandle, an Obama appointee, turned down the request to strip his citizenship. Glad to see her get it right this time.
ITEM 14
:
Vulture reported
, "Prosecutors on Tuesday showed jurors in Harvey Weinstein's rape and sexual-assault trial five photos of him, and at least one of them showed the disgraced movie producer in full-frontal nudity, courtroom sketches indicate."
Sadly, the Constitution does not protect jurors from cruel and unusual punishment.
ITEM 15
:
The Architectural Record reported
, "While the country was riveted by the President's impeachment trial, a Washington rumor was quietly bubbling about a potential executive order that, if implemented, would profoundly affect the future of federal architecture.
"Record has obtained what appears to be a preliminary draft of the order, under which the White House would require rewriting the Guiding Principles for Federal Architecture, issued in 1962, to ensure that 'the classical architectural style shall be the preferred and default style' for new and upgraded federal buildings. Entitled Making Federal Buildings Beautiful Again, the draft order argues that the founding fathers embraced the classical models of democratic Athens and republican Rome for the capital's early buildings because the style symbolized the new nation's self-governing ideals (never mind, of course, that it was the prevailing style of the day)."
Never mind that it was the prevailing style because self-governance was the prevailing ideal.
The American Institute of Architects protested. Of course. How dare the elected head of state have any say in how our buildings look.
ITEM 16
: The hunt for Hunter nears its end.
Breaking: from their press office -

"Good afternoon, Senators Grassley and Johnson today requested Hunter Biden's official travel records from the U.S. Secret Service as a part of their ongoing probe into potential conflicts of interest.

A full news release is forthcoming"

— Catherine Herridge (@CBS_Herridge) February 5, 2020
Secret Service protection may prove for him the old adage that free stuff comes at a price.
ITEM 17
:
Fox News reported
, "Acting Homeland Security Secretary Chad Wolf exclusively told Fox News' Tucker Carlson Tonight Wednesday that DHS was immediately suspending Global Entry and several other Trusted Traveler Programs (TTP) for all New York state residents -- a dramatic move in response to the liberal state's recently enacted sanctuary Green Light Law.
"The sweeping order came a day after President Trump, in his State of the Union address, condemned left-wing states and local governments that 'release dangerous criminal aliens to prey upon the public,' and called on Congress to pass a law establishing civil liability for sanctuary cities.
"In a letter to top New York state officials obtained exclusively by Fox News, Wolf noted that the New York law prohibited state DMVs from sharing criminal records with Customs and Border Protection (CBP) and Immigration and Customs Enforcement (ICE)."
If New York won't cooperate, why should we?
ITEM 18
:
The Hill reported
, "With the weeks-long impeachment trial ending Wednesday, Senate Majority Leader Mitch McConnell (R-Ky.) is wasting no time turning the chamber's focus back to his self-professed top priority: confirming judicial nominations.
McConnell teed up five judicial nominations for votes on the Senate floor as the chamber wrapped up its work for the week.
The Senate is expected to take its first procedural vote on the slate Monday evening, when Republicans will need a simple majority to end the debate on Andrew Brasher's nomination to be a judge on the Eleventh Circuit.
Once Brasher is confirmed, the Senate will turn to the nominations of Joshua Kindred, Matthew Schelp, Joshua Kness and Philip Halpern, all of whom have been picked to be U.S. district judges."
Brasher will be the 51st appeals court judge appointed by President Trump to win confirmation. In a little more than 3 years, 28% of the nation's 179 appellate court justices will be Trump judges.
ITEM 19
:
Paul Bedard reported
, "Illegal immigrants in growing numbers are flooding into so-called sanctuary cities and states where they are consuming up to $6,500 in taxpayer-funded services, according to a new review of costs in 10 small states.
"The surge is having an outsized effect on smaller states and is cutting funds for services to veterans, children, and disabled Americans, according to the report provided exclusively to Secrets from the Federation for American Immigration Reform.
"The report said illegal immigration costs the 10 states $454 million. 'To put that figure into context, that $454 million expenditure is more than 200 times what the state of Montana budgets for its entire Veterans Affairs program, and it is 2.5 times the total sum that West Virginia invests in its state university,' said the report.
"And, it added, illegal immigrants cost between $4,000 and $6,500 annually above any tax benefit they provide."
For every million illegal aliens the wall keeps out, taxpayers save $6.5 billion.
A year.
ITEM 20
:
Paul Bedard reported
, "The 2020 presidential race is already weighing on the minds of gun owners who flocked to gun stores to load up in January.
"The FBI reported today that January saw a record of 2,702,702 background checks, which closely track gun sales and requests for concealed carry permits.
"That broke the last January record of 2,545,802, set in 2016, when Democrat Hillary Clinton, who advocated a gun ban, was starting her march to White House, only to be foiled by NRA-endorsed Donald Trump."
West Virginians perform those background checks. I thank gun buyers for their business. Remember, you are not just buying a gun. You are keeping some guy in Clarksburg employed.