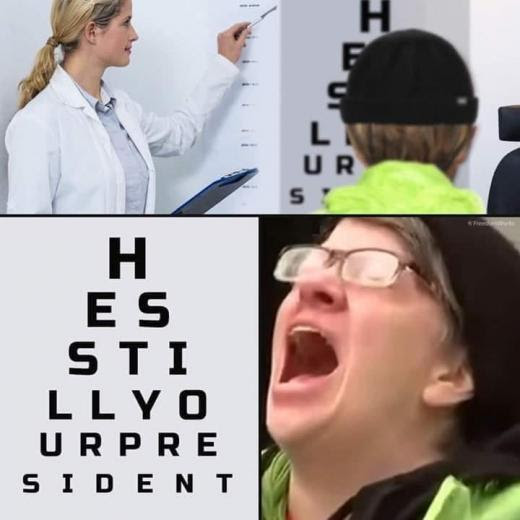 Donald John Trump is still your president.
ITEM 1
:
The Daily Mail reported
, "Donald Trump's re-election campaign was celebrated with a posh party at Mar-a-Lago Saturday night featuring a caricature of the president as a football player, buffed up in a Number 45 jersey holding a 2020 football, as cheerleaders dressed in red, white, and blue welcomed with the crowd.
"The president made a surprise drop by in the room, the event organizer, told DailyMail.com, and addressed the crowd, who cheered him with 'four more years.'
"First lady Melania Trump also was there. Also spotted were Don Jr. Trump and Kimberly Guilfoyle and singer Lee Greenwood, whose 'Proud to Be An American' is Trump's entrance song at his campaign rallies.
"Sean Hannity, who taped an interview with the president that will air during the Super Bowl pre-game show on Fox, was there. As was actor Stephen Baldwin.
"The event was hosted by the Trumpettes, a group of woman who formed to support Trump's 2016 campaign.
"Photos and video posted on social media show a packed event with the first lady in a black cocktail dress and Trump in a suit and blue tie, while cheerleaders dressed in white cutoffs and tube tops featuring the stars and stripes of the American flag cheered guests inside the private club with sparkling red pom-poms waving."
The Nancy Impeachment sure has him scared.
Roseanne Barr was a no show due to the flu. Bummer.
ITEM 2
:
Jason Orestes, a former Wall Street financial analyst, wrote
, "Post-World War II, tariffs took on the negative connotation you see today. The West largely eschewed them in favor of free trade and established organizations such as the World Trade Organization (at the time known as the General Agreement on Tariffs and Trade) to seek to remove barriers to commerce.
"While presidents have implemented them since, the degree to which President Trump has deployed them drew near universal rejection. Pundits disparaged them as economically illiterate, and the same class of expert that predicted Trump will lay waste to the economy claimed these tariffs would usher in recession and global malaise. Even members of Trump's own staff resigned because they carried such ideological opposition to even the notion of tariffs."
Tariffs worked.
Orestes ended his column, "Trump has fundamentally recalibrated how tariffs can and should be assessed and applied in the face of bad actors in the global trade landscape. Superficial economics lessons that operate in a naive vacuum while informing you that all that matters is the end price of a widget should be viewed as the supine policy that it is.
"There is nuance to the modern tariff that transcends just an import price, and the holistic view Trump took when using them to facilitate better terms for the country should be applauded."
It is the Art of the Deal. President Trump needed leverage. Tariffs provided them.
Always assume that Donald Trump knows what he is doing. You will live better and be happier.
ITEM 3
:
The Daily Mail reported
, "Mark Zuckerberg has declared that Facebook is 'going to stand up for free expression' in spite of the fact it will 'piss off a lot of people.' The controversial CEO, 35, made the claim during a fiery appearance at the Silicon Slopes Tech Summit in Utah on Friday.
"Zuckerberg told the audience that Facebook had previously tried to resist moves that would be branded as 'too offensive' - but says he now believes he is being asked to partake in 'excessive censorship.'
"'Increasingly we're getting called to censor a lot of different kinds of content that makes me really uncomfortable,' he claimed. 'We're going to take down the content that's really harmful, but the line needs to be held at some point.'"
He gets it.
Caving in to social justice warriors never works. Give them an inch, and they want a foot. Give them a foot, and they want the other one and both legs.
ITEM 4
:
Quartz reported
, "When Wei Sun, a 48-year-old engineer at Raytheon Missile Systems, left for an overseas trip last year, he told the company he planned to bring his company-issued HP EliteBook 840 laptop along.
"Sun, a Chinese-born American citizen, had been working at Raytheon, the fourth-largest US defense contractor, for a decade. He held a secret-level security clearance and worked on highly sensitive missile programs used by the US military.
"Since Sun's computer contained large amounts of classified data, Raytheon officials told him that taking it abroad would not only be a violation of company policy, but a serious violation of federal law, as well."
It is sinophobic to believe Red China is spying on us, destroying our economy, and giving us the flu.
ITEM 5
:
The Hill reported
, "CNN and the Des Moines Register have scrapped the planned release of a key poll on Saturday, less than two days before the Iowa caucuses after concerns that an apparent coding error left one of the leading contenders out of at least one survey.
"The media outlets decided to nix a planned live televised release of the survey after a supporter of former Mayor Pete Buttigieg received a call from the pollsters — and Buttigieg's name was not one of the options offered."
The DNC must not have liked the results.
But readers know who dropped like an Iron Butterfly in the polls. Inna Garbage Can Biden.
ITEM 6
:
The New York Post reported
, "The 'Never Bernie' apocalypse is coming, Dem insiders warn."
What did I tell you on Tuesday
?
The story said, "A new Iowa State University poll found 24% of Iowa voters behind him, with Massachusetts Sen. Elizabeth Warren at 19%; former South Bend, Ind. Mayor Buttigieg at 17% and former VP Biden at 15%. In New Hampshire, another recent poll gave Sanders a 15-point lead.
"This has led to alarm bells among establishment Democrats, one of whom said Jeremy Corbyn's Labour Party blowout in England to Boris Johnson was a warning shot."
This is an Anybody But Bernie campaign. Bear this in mind: none of these Anybody But campaigns work. They signal that an insurgent has clinched the nomination, and the Establishment fears he will take over their party.
ITEM 7
:
The Associated Press reported
, "Billionaire Democratic presidential candidate Mike Bloomberg is unveiling a tax plan that would target the wealthy — increasing rates on capital gains and corporate gains as well as introducing a new 5% surtax on incomes above $5 million."
Mini Mike said, "I'm a wealthy guy, I didn't need a tax cut and so we're going to have to put a little of that back. We need money for infrastructure in this country."
Let him put his money where his big fat mouth is. Let him donate a billion dollars to the U.S. Treasury before he dares tell mere millionaires they must pay more.
Hey, if he can blow a billion on his fantasy camp presidential campaign, he can donate a billion to Uncle Sam. Otherwise his claim that he is undertaxed is horse manure he thinks the gullible believe is candy.
ITEM 8
: The New York Times (pay sites are not linked) reported, "Former Mayor Michael R. Bloomberg of New York unveiled a plan on Saturday that would raise an estimated $5 trillion in new tax revenue from high earners and corporations, a proposal that would almost certainly raise his personal tax bill but is less aggressive than those from his most liberal rivals for the Democratic presidential nomination."
The story said, "All told, Mr. Bloomberg's advisers estimate his increases would add up to $5 trillion of new taxes spread over the course of a decade, in order to finance new spending on health care, housing, infrastructure and other initiatives. That amount is nearly 50 percent larger than the tax increases proposed by the most fiscally moderate front-runner in the race, former Vice President Joseph R. Biden Jr."
Democrats are in a bidding war over how much money to confiscate from Americans. We need to dunk the Democrats in Boston Bay.
ITEM 9
:
Breitbart News reported
, "Swiss Air Lines has cut ties with chocolate manufacturer Läderach following left-wing protests of the owner's membership in a pro-life, pro-family Christian group.
"Despite Swiss Air's ten-year affiliation with Läderach, the airline dropped the chocolatier after protests and extensive vandalism by left-wing activists, homosexuals, and young socialists, according to a report by LifeSite News.
"Jürg Läderach, who owns the high-end chocolate company, is also the president of Christianity for Today, a Swiss evangelical organization that sponsors Switzerland's March for Life and emphasizes the importance of the family based on a marriage between a man and a woman."
The war on normal continues.
Pray.
ITEM 10
:
Professor Glenn C. Altschuler wrote
, "On Jan. 24, Secretary of State Mike Pompeo abruptly ended an interview with NPR reporter Mary Louise Kelly after she asked him a series of pointed questions about Ukraine and — following his statement that he has defended all State Department personnel — if he could point to his remarks defending Marie Yovanovitch, former U.S. Ambassador to Ukraine. A few minutes later, a State Department official asked Kelly to accompany her (without a recorder) to Pompeo's private living room. Inside the room, according to Kelly, Pompeo berated her, frequently using the f-word. 'Do you think Americans care about Ukraine?' he asked, and challenged her to identify the country on an unmarked map.
"The following day, Pompeo issued a statement claiming Kelly had violated 'the basic rules of journalism and decency,' saying she lied to him about the subject of the interview and broke a promise to keep their subsequent exchange off the record (Kelly disputes both). Other than implying that Kelly (who has an advanced degree in European Studies from Cambridge University) mistook Bangladesh for Ukraine, he did not dispute Kelly's account of his post-interview comments.
"A few days later, the State Department barred NPR reporter Michele Kelemen from accompanying Pompeo on a trip to the United Kingdom, Ukraine, Belarus, Kazakhstan and Uzbekistan. The Department did not give a reason for its decision.
"Americans across the political spectrum should be denouncing the intimidation of a journalist. They aren't."
They aren't because Americans know the press sold out to the DNC.
The press pushed the Russian Hoax that cost American $24 million and prestige in the world. NPR's reporting on the subject was just as terrible as CNN, the New York Times, and the Washington Post.
Kelly lied to Pompeo. Let her fly commercial.
ITEM 11
:
Breitbart News reported
, "John Kerry endorsed Democrat presidential hopeful Joe Biden on Saturday, praising him for being willing to do something about an 'AR-16 with a long clip.'"
What the devil?
The story said, "Kerry said, 'You heard from Joe about the things he did with the NRA, that took courage, Delaware's a tough state. I'm a hunter, I'm a gun owner, been that all my life.' But he stressed he is the last person who would 'take an AR-16 with a long clip out to go out and shoot a deer or to shoot anything. But now we have a crowd that was willing to bring them back, and we saw what happened in Las Vegas and other places.'"
AR-16s with long clips are nothing.
I am waiting for the AR-17 with tall clips to come out, followed by AR-18s with fat clips, to add to my collection of imaginary guns.
ITEM 12
:
Playbill reported
, "As the new revival of West Side Story continues preview performances ahead of its February 20 opening, protests have begun to take place outside the Broadway Theatre calling for the dismissal of actor Amar Ramasar.
"A principal dancer at New York City Ballet, Ramasar plays Bernardo in the contemporary staging from director Ivo van Hove. His casting was announced in July, three months after arbitration found that New York City Ballet had overstepped in dismissing Ramasar and fellow New York City Ballet dancer Zachary Catazaro following an investigation into sexual harassment allegations. Catazaro declined to rejoin, though Ramasar is back on NYCB's roster after receiving mandatory counseling."
Tonight, tonight.
We will protest and fight
Tonight, there will be no dancing star.
ITEM 13
: Punxsutawney Phil did not see his shadow. Repeat. Punxsutawney Phil did not see his shadow.
That means an early spring.
This is more newsworthy than the impeachment, and more likely to be true than anything Adam Schiff says.
ITEM 14
:
Via Breitbart News, this exchange on Fox News
:
ALAN DERSHOWITZ: Of course, you can be acquitted if you don't have a trial. If they don't charge you with a legitimate crime. It's the fault of Nancy Pelosi and others for failing to charge an impeachable offense.
CHRIS WALLACE: But they're going to say — they say he's never going to be truly acquitted because you didn't have witnesses. You didn't have new evidence. You dismissed it before you even really got to hear what the facts were.
ALAN DERSHOWITZ: Well, if — in the criminal context that would be called a victory, a great victory. Here, if they haven't charged an offense, then maybe he hasn't been acquitted, but he also hasn't been charged. He's in exactly the same situation he should have been in had they done the right thing and not impeached him at all.
***
The Mueller Report also exonerated the president. These numbskulls are too stupid to understand that the American people get it.
Boy howdy.
ITEM 15
: The Lord gave Man intelligence.
Wow, this is incredible: A guy controlling a robotic arm with his mind at a distance 😮

Ten years ago, this would have been science fiction; now it's science fact. Wonder where we'll be in another ten years...

pic.twitter.com/fWJFkPhfUz

— Steve Stewart-Williams (@SteveStuWill) February 1, 2020
Some men put it to good use.
ITEM 16
: We sent too many good men to Vietnam.
— Complex (@Complex) January 30, 2020
Nice to see a survivor break the bank.
ITEM 17
: Just a reminder:
I met Osiris, a homeless American living on the streets of San Francisco,

& he has a message for our politicians:

Take care of us, not illegal immigrants.

Please share this with the world.

pic.twitter.com/E2oik44sbh

— #ThePersistence (@ScottPresler) February 1, 2020
Americans made America great.
ITEM 18
: The Donald and Brad Parscale are going after the Bernie Bro vote.
Many of the ads you are watching were paid for by Mini Mike Bloomberg. He is going nowhere, just wasting his money, but he is getting the DNC to rig the election against Crazy Bernie, something they wouldn't do for

@CoryBooker

and others. They are doing it to Bernie again, 2016.

— Donald J. Trump (@realDonaldTrump) February 2, 2020
What the hell do they have to lose?
ITEM 19
: The taller candidate usually wins.
Mini Mike is now negotiating both to get on the Democrat Primary debate stage, and to have the right to stand on boxes, or a lift, during the debates. This is sometimes done, but really not fair!

— Donald J. Trump (@realDonaldTrump) February 2, 2020
Maybe Mini Mike can sit on The Donald's knee during the debates in the fall.
ITEM 20
: Kim Kardashian West got the president to do this.
Two Super Bowls ago I was sitting in a prison cell.

Today I am a free woman and my story was featured in a Super Bowl Ad.

I will spend the rest of my life fighting for the wrongly and unjustly convicted!

God Bless America!

pic.twitter.com/CGSyk54O37

— Alice Marie Johnson (@AliceMarieFree) February 3, 2020
She did her time. She paid her debt to society. She won't get to vote for President Trump. You do.
FINALLY
: The Super Bowl was marred by too many over-the-top commercials overloaded with sights and sounds. I turned the sound off. A few commercials were good because they were quiet. The Google ad was particularly moving. But the snack food ads were just like their products. Junk.
They were almost as trashy as the halftime show.
But it was a great game for the Chiefs who once again came back. Great coach, very good young quarterback. The Hunt family is class. Kansas City waited a long time.
OK, a little taste of Trumpenfreude to start the week.
— Jack Posobiec🇺🇸 (@JackPosobiec) February 3, 2020
Enjoy two scoops today.
February 3, 2020
OK, I third one from a reader who wrote, "Correct me if I'm wrong but isn't the guy who sacked the quarterback on San Francisco's last play, the same guy who wore the MAGA gear to the pre-game interview."
Indeed it was Frank Clark!