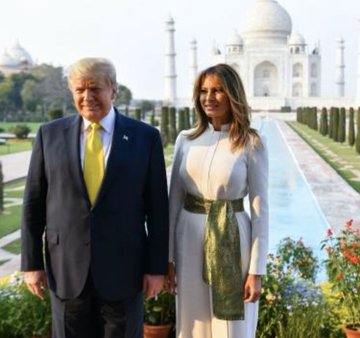 Donald John Trump is still our president. (No, he did not say my Taj Mahal is better.)
ITEM 1
: President Trump is taking Comrade Sanders seriously.
The Washington Examiner reported
, "Speaking to reporters during his flight to see the Taj Mahal in Agra, India, he said Sanders would offer the stiffest test.
"'I actually think he would be tougher than most of the other candidates because he is like me, but I have a much bigger base,' he said.
"Sanders is leading polls in the race for the nomination. He also has proven more adept at attracting followers on social media than his rivals, a strength he shares with Trump.
"Supporters say he is bringing new and infrequent voters into the political process. And his energetic followers also turn out in numbers for his rallies — another feature of Trump's success."
Obama screwed Democrats. The RNC screwed Republicans. Hence BS versus The Donald in 2020. It won't be as easy as they say it will be. Unlike Hillary, Breadline Bernie is likable.
ITEM 2
:
Breitbart News reported
, "President Donald Trump addressed an enormous cheering crowd with Indian Prime Minister Narendra Modi in India on Monday, praising his host country's progress and economic success.
"'America loves India, America respects India, and America will always be faithful and loyal friends to the Indian people,' Trump said to a crowd of more than 100,000 people at India's Sardar Patel Gujarat Stadium in Ahmedabad.
"The president delivered a speech flattering India's rise to prosperity under Modi as the largest democracy in the world and a friend to the United States.
"'The story of the Indian nation is a tale of astounding progress, a miracle of democracy, extraordinary diversity, and above all, a strong and noble people,' Trump said.
"The president acknowledged the strength of India's democracy and the economic progress achieved under the leadership of Modi, whom Trump described as his 'true friend and praised his rise to power beginning as a poor tea-seller in India.'"
India is more pro-American than the Democrat Party. An Indo-American trade pact will be more leverage in negotiations with Chairman Xi and Red China.
ITEM 3
: President Trump just won the India primary.
I am serious.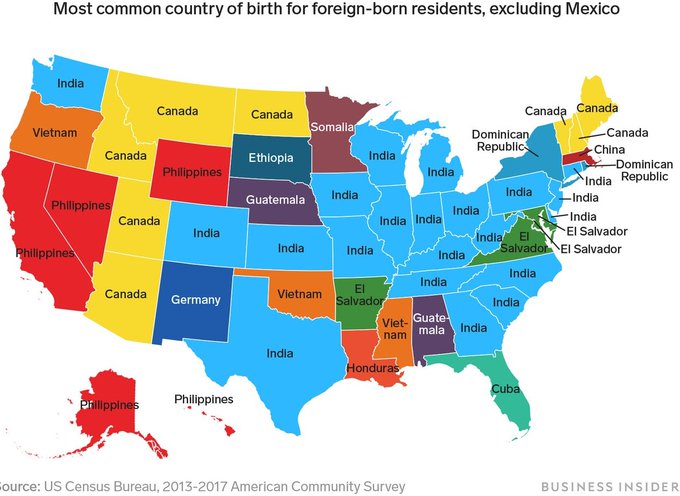 They not only vote, they donate. And they have the money.
India Today reported
, "Indian-Americans have the highest median annual household income at $100,000 and the U.S. Asian population that includes Indian-Americans, overall does well on measures of economic well-being compared with the U.S. population as a whole, according to a new report from Pew Research."
Modi knows this visit and huge rally help Donald Trump. He met Obama. Modi was not impressed. He would rather work with a capitalist, and he is now. His countrymen are pleased.
And of course, this is where the Peshwa Warrior Trump video goes.
ITEM 4
:
CNN reported
, "Former New York City Mayor Mike Bloomberg said at a private event in 2016 that his presidential campaign platform would have been to defend the banks and also labeled the progressive movement and Massachusetts Sen. Elizabeth Warren, now a rival for the 2020 Democratic presidential nomination, as scary.
"'When asked his views on the rise of the far right in Europe, Bloomberg warned about the rise of progressive politicians in the US, citing Warren.
"'The left is arising. The progressive movement is just as scary,' he says. 'Elizabeth Warren on one side. And whoever you want to pick on the Republicans on the right side?"
"Bloomberg, who was elected mayor as a Republican and as an independent, also criticized President Barack Obama, saying that his 2012 endorsement of Obama was backhanded and that he thought Republican Mitt Romney could have done a better job if he'd been elected.
"In the remarks, Bloomberg also spoke of the need for America to solve the problem of income equality before society blows up. 'Well, to start, my first campaign platform would be to defend the banks, and you know how well that's gonna sell in this country,' Bloomberg said in his remarks.
"'But seriously,' he went on, 'somebody's gotta stand up and do what we need. A healthy banking system that's going to take risks because that's what creates the jobs for everybody. And nobody's willing to say that. The trouble is, these campaigns in this day and age, really are about slogans and not about issues anymore. And in this election you're going to see people are voting and they either love or hate, mostly hate both, but who you hate the least. That's what they're going to vote for. And they're not going to vote on issues.'"
His contempt for the voters -- "Well, to start, my first campaign platform would be to defend the banks, and you know how well that's gonna sell in this country" -- shows yep, he's a Democrat.
Of course, that was 4 years ago, so maybe he has changed his principles again. You know how Democrats love to "evolve."
ITEM 5
: This is why N8 Ag gets elections wrong. Too many spreadsheets.
This seems right. Biden and Warren directly compete for parts of Sanders's coalition; maybe not his ~20% base, but certainly the voters he'd need to get to 30%, 35%, 40% and beyond. Not much overlap between Buttiegieg or Bloomberg and Sanders.

https://t.co/KhTytXxkcG

— Nate Silver (@NateSilver538) February 25, 2020
Look, at this point Biden and Warren are going nowhere but home. They are not eating into his base. He dines on their voters. Yes, "
all their base are belong to him now
."
ITEM 6
:
Bizpac Review reported
, "Every Democrat in the Virginia state legislature voted against a pay raise for members of Sheriff's Departments apparently as payback for their defense of the Second Amendment.
"Virginia State Senator Bill Stanley slammed the hypocrisy of Democratic legislators after his attempt to amend the state budget last week to include the pay raise failed and told WTVR he was absolutely shocked."
So much for any concern about public safety by Democrats.
They just want your guns.
ITEM 7
:
Breitbart News reported
, "At least 30 people were injured when a car crashed into a lenten parade in a German town on Monday, with the driver arrested at the scene.
"A silver BMW estate car mounted the curb and crashed into a Rose Monday parade in the town of Volkmarsen on Monday afternoon, with dozens — including children — injured. While there is no official indication yet of why the driver may have done this, a police spokesman reported by local newspaper Frankfurter Rundschau states the act was deliberate, but stopping short of calling it an attack."
Well, we know it wasn't a right-wing group because the article did not name the suspect or otherwise identify him except as a local man.
Is Shep Smith now editor of the Frankfurter Rundschau?
ITEM 8
:
The Washington Free Beacon reported
, "Dem Megadonor, Gun-Control Activist Harvey Weinstein Convicted on Rape Charges."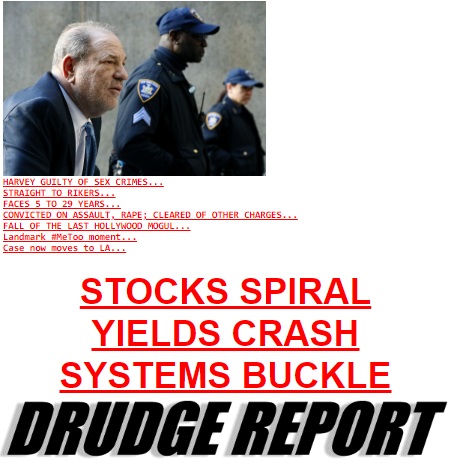 Apparently he took the stock market down with him.
ITEM 9
:
Breibart News reported
, "A White House Council of Economic Advisors (CEA) report released this week found that drug prices fell by more than 11% under President Donald Trump.
"A White House CEA report found that President Trump's actions have reduced prescription drug prices. The CEA detailed that, under former President Barack Obama, drug prices continued to increase and only started to fall after Trump took the oath of office.
"The CEA wrote that prescription drug prices fell more than 11% and well below general inflation.
"'In 2018, prescription drug prices even declined in nominal terms over the calendar year for the first time since 1972,' the White House council wrote.
"The CEA attributed much of this to the president's signing of the 2017 Drug Competition Action Plan and the 2018 Strategic Policy Roadmap."
First drop in drug prices in 46 years. With all those patents expiring over the years, how could drug prices soar past inflation for so long? It is almost as if Big Pharma bought off all our politicians.
ITEM 10
: Breadline Bernie will ban satire.
— The Babylon Bee (@TheBabylonBee) February 24, 2020
Snopes is on board.
ITEM 11
:
The Washington Examiner reported
, "Joe Biden on Monday unveiled a $640 billion housing plan that includes a $15,000 tax credit for all first-time homebuyers.
"The Democratic presidential candidate's plan includes six "Biden principles for housing": affordability, stability, safety and health, accessibility, energy efficiency and resilience, and closeness to good schools and jobs.
"The $15,000 home tax credit would be accessible to an individual at the time of a home purchase and is aimed at reducing the wealth gap experienced by black and Hispanic communities due to their lower rates of home ownership.
"The former vice president also wants to end redlining, the practice of banks denying services to people in a particular area that historically has been used to discriminate against minorities; roll back Trump administration policies that he says are gutting fair lending and fair housing protections for homeowners; and increase the supply of housing by lessening local zoning and land use regulations.
"The plan would be paid for by raising taxes on corporations and large financial institutions, including a specific fee on certain liabilities of firms with over $50 billion in assets."
First-time homeowners triggered the 2008-2009 recession when a Democrat Congress and the Bush administration pushed loans to NINJAs -- people with no income and no jobs or assets.
This time it will be different.
ITEM 12
: Dear Associated Press,
Immigrants who fear getting kicked out of the U.S. are dropping social services they're entitled to as Trump administration rules take effect, advocates say. The government says the limits on public benefits will make them more self-sufficient.

https://t.co/OI8F8yQoHf

— The Associated Press (@AP) February 25, 2020
How are you entitled to anything when you are not supposed to be here?
ITEM 13
: Journolista Saagar Enjeti tweeted, "I asked Sanders senior advisor Chuck Rocha about Bernie's comments on Fidel and its impact on Florida. He noted that those likely to be offended were unlikely to vote for Sanders anyway."
That is a pretty Trumpy answer. Never shout at a brick wall because it won't hear you at any volume.
ITEM 14
:
CBS reported
, "The Major League Baseball Players Association is reportedly pushing to add a designated hitter to National League rosters as soon as this season, one of several eye-opening changes being batted around by the union, and MLB."
They should sign the rule change at Appomattox, where all American civil wars end.
ITEM 15
:
John Solomon reported
, "House Republicans have found evidence that Russia Special Counsel Robert Mueller's team may have misled the courts and Congress and are considering making criminal referrals asking the Justice Department to investigate those prosecutors, a key lawmaker says.
"Rep. Devin Nunes, R-Calif., the former chairman of the House Intelligence Committee, told Just the News that his team has been scouring recent documents released by the FBI, including witness reports known as 302s, and found glaring evidence that contradicts claims the Mueller team made to courts and Congress."
1. Get rid of FISA.
2. Get rid of special prosecutors.
3. Get rid of every person hired in the Obama years.