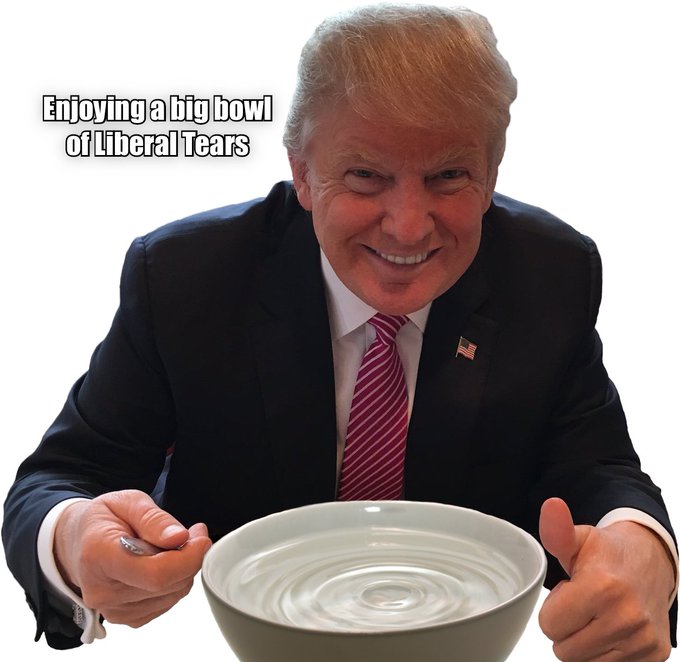 Donald John Trump is still our president.
ITEM 1
:
Via Instapundit
.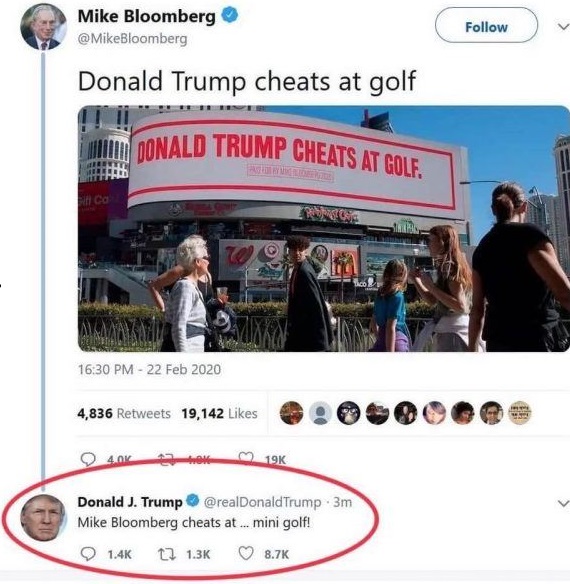 It's the Lincoln-Douglas debates as interpreted by Margaret Dumont and Groucho Marx,
except she was an inch taller than the mayor
.
Oh and
Politico reported
, "Mike Bloomberg, who is running for the Democratic presidential nomination, owns a condominium unit in President Donald Trump's Park Avenue tower."
Everyone hates their landlord. He should join the Rent Is Too Damn High Party.
ITEM 2
:
CNN reported
, "Some top intelligence officials are looking to leave following the recent upheaval at the office that oversees the 17 intelligence agencies of the US government, including the controversial appointment of Richard Grenell as the nation's top intelligence official, a US official told CNN.
"Grenell has said he is only temporarily filling the position of acting director of American spy agencies, but he is already making his mark. Grenell, a President Donald Trump loyalist, is also still serving as the US ambassador to Germany. After his appointment to the intelligence post this week, officials at the office of the director of national intelligence (ODNI) made calls to US diplomats in Germany inquiring about Grenell's leadership style, two sources familiar with the matter told CNN.
"Earlier this week, Grenell quickly forced out the No. 2 intelligence official in the US government, Andrew Hallman, a source with knowledge of the situation confirmed to CNN. Hallman was an intelligence veteran and well respected in the intelligence community."
They are leaving one step ahead of the law.
Compare and contrast to Chris Wray caving in to the bureaucracy at the FBI.
ITEM 3
: Breadline Bernie soundly beat every challenger in the Nevada Caucus because socialism is now the center of the Democrat Party. It stands for state-run universities, health care, and any other thing that captures its fancy. Moderate Democrats are called Republicans.
History shows that having won New Hampshire and tying for first in Iowa, he is the presumptive nominee. The press ignores history because it wants to milk this story for all it is worth.
His expected win was not the big news. Turnout among Hispanics and blacks was. Democrats touted Nevada as the first "diverse" state on the primary/caucus road trip.
awful results for democrats

dem caucus electorate

2016: 19% latino / 13% black

2020: 17% latino / 10% black

this is despite the state becoming more diverse

it's consistent with other data showing both falling support and enthusiasm for democrats among non-whites (esp latinos)

https://t.co/9czkg0ZUXT

— Thao Nguyen (@helloitsthao) February 22, 2020
Minority voters may be taking the first of the two steps in switching parties. First, you stop voting Democrat. Then you start voting Republican. Missing an election or two (or more) in between is normal. We shall see how this plays out.
ITEM 4
: The Washington Post said, "As Bernie Sanders's momentum builds, down-ballot Democrats move to distance themselves."
They said the same thing 4 years ago about Republicans distancing themselves from Donald Trump.
Josh Kraushaar tweeted, "Bernie only leads Trump by 2 with col-educated white women. Every other Dem leading by double digits."
Again, the same tired anti-Trump trope is being retrofitted for Breadline Bernie. In 2016, they said anyone could beat Hillary except The Donald. These dullards insult us with their lack of imagination.
— Don Surber (@donsurber) February 23, 2020
ITEM 5
:
The New York Post reported
, "Bernie Sanders went ballistic at NBC and MSNBC execs ahead of the Democratic debate this week — jabbing one top TV exec repeatedly in the face with his finger and accusing the networks of offensive negative coverage.
"Surging Sanders stormed through the walk-through for the Las Vegas debate, singling out one top producer at the end and aggressively sticking his finger in his face. One shocked witness said, 'Bernie marched right up to NBC and MSNBC's head of creative production and began jabbing his finger right in his face, yelling, 'Your coverage of my campaign is not fair . . . Your questions tonight are not going to be fair to me.' 
"Sanders did not hold back as he continued to rant about MSNBC coverage. According to the witness, 'The NBC exec told Sanders he would be treated fairly.'"
Elizabeth Warren and Donald Trump also have called out MSNBC. In 2016, CNBC's John Harwood (now with CNN) was so dismissive of the candidates in CNBC's debate that the Republican Party canceled a debate with NBC, its parent subsidiary of Comcast.
If you are taking it from all sides, maybe you are doing something wrong.
The press of course never admits it is wrong.
ITEM 6
: Three billionaires seek the presidency in 2020. They are mike, TOM, and TRUMP.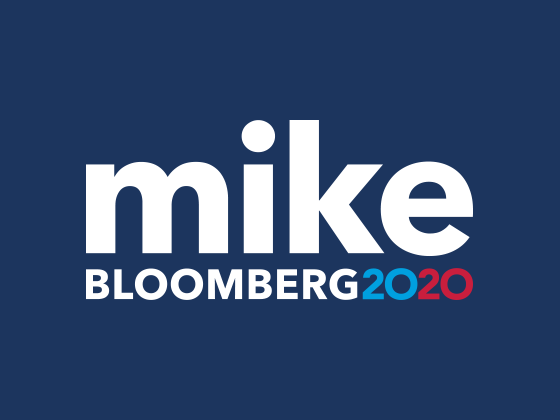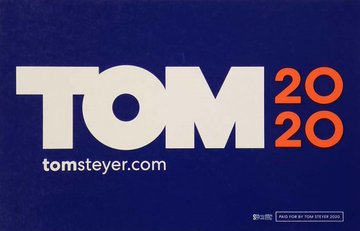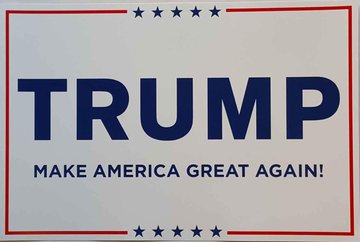 mike and TOM want to be your friend. TRUMP wants to be your president. And it is Donald. Not Don, not Donnie, but Donald. Actually, it is The Donald. He is not trying to be one of us. As Obama said in 1991, we want to be Donald Trump.
If history has any sense of humor, it will mock mike and TOM mercilessly.
ITEM 7
:
CNBC reported
, "Antibiotics, which turn life-threatening infections into minor nuisances, are considered the biggest advance in modern medicine.
"But imagine if the supply of antibiotics to the United States was suddenly cut off.
"American national security officials are worried about that scenario as they come to grips with this little-understood fact: The vast majority of key ingredients for drugs that many Americans rely on are manufactured abroad, mostly in China.
"As the U.S. defense establishment grows increasingly concerned about China's potentially hostile ambitions, the pharmaceutical supply chain is receiving new scrutiny."
This is the Red China Syndrome. The effete elitists exported our factories to Red China, and then mocked our concerns by saying those jobs are not coming back, ha ha ha. The politicians also sold our youths on the fairy tale that a college degree is the magic key to the kingdom of wealth. This turned a generation of adults into debtors who owe a combined $1.6 trillion in student loans.
I am not knocking college. I have a degree, but as a nation we still need factories and factory workers to keep us self-reliant and independent. We will need a few more President Trumps to get out of this mess we allowed the politicians to make of our economy.
ITEM 8
:
Fox News reported
, "Philip Haney, a Department of Homeland Security (DHS) whistle blower who was an outspoken critic of the administration of former President Barack Obama, was found dead Friday, about 40 miles east of Sacramento, Calif., local authorities said.
"Haney, 66, 'appeared to have suffered a single, self-inflicted gunshot wound,' the Amador County Sheriff's Office said in a release. Sheriff and coroner Martin A. Ryan shared the initial details of the case.
Arkancide, it's not just for Clintons anymore.
Which reminds me, Mardi Gras began in New Orleans.
— Paul Blair (@gopaulblair) February 22, 2020
ITEM 9
:
The Hill reported
, "The Supreme Court ruled in favor of the Trump administration on Friday night in a case that contested the president's public charge rule, which critics have called a wealth test for legal immigrants.
"The policy in question, the Immigration and Nationality Act, would make it harder for immigrants who are 'likely at any time to become a public charge' to obtain green cards. The policy discourages legal immigrants in the process of obtaining permanent legal status or citizenship from using public assistance, including Medicaid, housing vouchers and food stamps.
"The case heard by the court, Wolf v. Cook County, sought to reject the policy's effect in Illinois. The district court filed a preliminary injunction, which temporarily halted the policy in the state and sent the case to the Supreme Court. On Friday, the five conservative justices ruled in favor of the stay, while the liberal justices opposed it."
Most media accounts led with Sonia Sotomayor's dissent in which she complained that the other justices were ruling in the administration's favor. But justices do not set policy because they are not elected. Presidents are.
ITEM 10
:
Frank Miele wrote
, "Liberalism is the Corona Virus of Fox News."
In his column, he said, "Fox has veered left in its choice of commentators such as former Democratic national chairperson Donna Brazille and impeachment monger Eric Swalwell, and in its abject whoring in its bid to host lovefest town halls with Democratic presidential candidates such as Pete Buttigieg and Amy Klobuchar (if she makes it to Feb. 27!).
"Frankly, it's hard to watch Fox any more except for its prime time lineup of Tucker Carlson, Sean Hannity and Laura Ingraham. Whether it's Bret Baier or Martha McCallum, most of the daytime hosts seem to have let their inner liberal come out. You can call it a virus or an infection, but it's certainly gotten worse since Paul Ryan arrived on the scene, so I am calling him Patient Zero of the liberal pandemic that has struck at Fox."
Perhaps it is the nature of television to promote liberalism with its simpleton solutions that like Anacin offer fast, fast relief.
ITEM 11
:
CNN reported
, "The US intelligence community's top election security official appears to have overstated the intelligence community's formal assessment of Russian interference in the 2020 election, omitting important nuance during a briefing with lawmakers earlier this month, three national security officials told CNN.
"The official, Shelby Pierson, told lawmakers on the House Intelligence Committee that Russia is interfering in the 2020 election with the goal of helping President Donald Trump get re-elected.
"The US intelligence community has assessed that Russia is interfering in the 2020 election and has separately assessed that Russia views Trump as a leader they can work with. But the US does not have evidence that Russia's interference this cycle is aimed at reelecting Trump, the officials said."
The public sees this as Russian Collusion Hoax v2.0 because it is.
ITEM 12
: D.J. Jaffe is executive director of Mental Illness Policy Organization. He wrote in the Wall Street Journal, "Trump Takes a Stand for the Mentally Ill. His budget proposes to end a 55-year ban on Medicaid funding for institutional care."
His column said, "Hundreds of thousands of Americans with serious mental illness sleep in jails, shelters and prisons on any given night. Fewer than 40,000 are in state psychiatric hospitals. This is largely due to a federal policy, the Institutions for Mental Disease Exclusion, which created a financial incentive for states to kick the mentally ill out of hospitals. The White House's new budget proposes easing the exclusion. It's the most important thing federal government could do to improve care for the seriously mentally ill.
"The IMD Exclusion, part of the 1965 law that established Medicaid, prevents the program from funding care for mentally ill adults while they live in hospitals or even adult homes with more than 16 beds. It was intended to prevent the federal government from taking on care of the mentally ill, which had historically been a state responsibility. Many mistakenly believed that newly developed anti-psychotic drugs and community mental-health centers would obviate the need for institutions.
"It's been a disaster. Before Medicaid was enacted, states paid for psychiatric hospitalization, and it was readily available. But states soon realized that if they kicked patients out of hospitals, Medicaid would kick in and pay half the cost of care. This deinstitutionalization continues. The country has lost more than 450,000 mental-hospital beds since the 1950s, 12,000 of them since 2005."
I realize throwing people in state hospitals by the score was wrong. Throwing thousands of people on the streets as homeless is worse. Maybe we can come up with a solution that works.
ITEM 13
:
The New York Post reported
, "Kirk Douglas snubs Michael, leaves most of his $61 million fortune to charity."
The story said, "Hollywood legend Kirk Douglas proved to be a charitable guy — unless you're his famous son.
"The Hollywood icon, who died Feb. 5 at 103, left the bulk of his $61 million fortune to the Douglas Foundation — snubbing thespian son Michael Douglas, the Mirror reported Sunday."
The story said, "It is unclear who gets the remaining money — about $10 million — but Douglas is survived by his second wife, Anne, and his three sons, Joel, Peter, and Michael, the Mirror said."
The story is a nothing burger. Michael Douglas has a net worth of about $300 million. His father was a devoted family man, first to his sisters and later to his sons. He took care of his family. In death, he wants to continue to help others. I wish journalists would show a little heart — and brains.
ITEM 14
: The Wall Street Journal reported, "Senior White House officials are discussing an overhaul of the government's surveillance program for people in the U.S. suspected of posing a national-security risk, spurred in part by President Trump's grievances about an investigation of a 2016 campaign adviser, according to people familiar with the matter.
"The effort seeks to take advantage of the looming expiration of some spying powers next month, including portions of the Foreign Intelligence Surveillance Act, a Watergate-era law that Mr. Trump believes was improperly used to target his campaign, these people said.
"Overhauling FISA has become a rallying cry for conservatives and allies of the president in the aftermath of a watchdog report detailing several errors made by the Federal Bureau of Investigation in its applications for surveillance of Mr. Trump's campaign adviser, Carter Page. Some Republicans have called for upending FISA, prompting pushback from some in the administration, including Attorney General William Barr.
"The plan, which is being spearheaded by officials within the White House Domestic Policy Council, is in the early stages and could face resistance from other parts of the Trump administration, including the National Security Council, which has generally advocated maintaining or expanding surveillance powers during Mr. Trump's presidency."
FISA allowed Obama to do what Nixon could not do: spy on political opponents. The Obama White House had the FBI spy on people — not just on Donald Trump. If we continue the program, then make sure FBI agents who lie to get permission to spy go to prison.
ITEM 15
:
WTTW reported
, "An inmate at Illinois' largest women's prison says she was raped by a transgender inmate who was transferred into her housing unit last year, and claims Illinois Department of Corrections officials conducted a sham investigation to help cover up the incident.
"In a federal lawsuit filed last week, a Jane Doe inmate at the Logan Correctional Center in central Illinois said that after being sexually assaulted in June 2019, she was coerced by a supervisory officer into denying the attack took place and then punished for filing a false complaint under the Prison Rape Elimination Act.
"The suit names Logan's acting warden Beatrice Calhoun as a defendant, along with officers Brent Keeler and Todd Sexton."
The court forced officials to transfer Andre Patterson, now known as Janiah Monroe, to the women's prison, which has led to several rape allegations.
The Illinois Times reported
, "Monroe, 30, has been locked up since 2005, when she was charged with shooting two people outside a barbershop. After being transferred from a juvenile facility in 2006, she strangled her cellmate in the Cook County jail. Department of Corrections records show she's serving time for 11 felonies, including second degree murder, attempted murder, aggravated battery, aggravated battery involving a government employee, three counts of aggravated battery involving a peace officer, two counts of aggravated attempted arson, damage to government property and bringing contraband into a penal institution. She is due for parole in 2051."
The courts need to stop this politically correct nonsense. If you have a penis, you are male. If not, you are female.
ITEM 16
:
Life Site News reported
, "Chelsea Clinton Complains Her Grandmother Did Not Have Access to Planned Parenthood."
Everybody hates Hillary.
ITEM 17
:
Fox Business News reported
, "President Trump departed the White House Sunday for Ahmedabad, India, where he said he'll be talking trade with Indian Prime Minister Narendra Modi.
"Hundreds of thousands of people in the northwestern city are expected to greet Trump on Monday for a road show leading to a massive rally at what has been touted as the world's largest cricket stadium. First lady Melania Trump will accompany the president."
The story also said, "The U.S. took India off its list of designated low-tariff countries last year in retaliation for the country's poor treatment of U.S. companies."
Meanwhile,
Business Today reported
, "Westinghouse set to ink pact with Nuclear Power Corp of India for nuclear reactors during Trump visit. The United States has been discussing the sale of nuclear reactors to India since a 2008 landmark civil nuclear energy pact and last year the two governments announced they were committed to the establishment of the six reactors."
I am interested to see how the bonehead American press will screw up this visit.
ITEM 18
:
Chris Matthews said
, "I don't think so. But this is the way we're picking this one. I'm with Carville of the dangers of what lies ahead in November, they're sitting on so much research on Bernie, what he said in the past about world affairs. How far left he is. They're going to make the most of it, I think it's too late to stop him.
"If you look at the pattern, it's dynamic. He won the popular vote in Iowa, New Hampshire, looks like he's going to win it here. Bernie's been winning consistently, and I think it's understandable, every time we poll, Steve and everybody polls, two thirds of the democratic vote, two thirds of the people who call themselves Democrats are liberal or very liberal.
"All Bernie ever had to do is get a majority of that, and he's up to the mid-30s, if you get half of 67 you're into the mid-30s. Biden's only prayer was to consolidate a third of the vote, and he got nowhere near clearing that field. That's split up four ways now.
"As new people come in, Bloomberg is in, he's going to survive a bit longer because of his money, that field wasn't clear. The only way Biden could win was to sweep it, he got nowhere near. Bernie got more than a majority of the 67%. That is the name of the game.
"I was reading last night about the fall of France in the summer of 1940. And the general calls up Churchill and says, it's over. And Churchill says how can it be, you got the greatest army in Europe. How could it be over? It's over. I had that suppressed feeling."
For some reason, liberals are upset. They want MSNBC to fire Matthews. But I thought it was OK to call your opponents Hitler.
ITEM 19
:
Fox News reported
, "Sen. Bernie Sanders, the frontrunner for the Democrats' presidential nomination, doubled down on his support for some of Cuban dictator Fidel Castro's policies, saying in an interview that aired Sunday, "it's unfair to simply say everything is bad."
"Speaking to CBS News' 60 Minutes, Sanders, a self-proclaimed democratic socialist, pointed to social welfare programs introduced under Castro's regime that he described as redeeming, despite the communist dictator's often repressive human-rights violations against Cubans."
He said, "He was O.K. at the beginning. He rebuilt all the roads, honey. You know that, right? He just went too far."
Oh wait. I got my notes mixed up. That was what Marge Schott said of Hitler.
Moscow Honeymooner Sanders said, "We're very opposed to the authoritarian nature of Cuba but you know, it's unfair to simply say everything is bad. You know? When Fidel Castro came into office, you know what he did? He had a massive literacy program. Is that a bad thing? Even though Fidel Castro did it?"
This is mainstream Democrat thinking. This is what they truly believe.