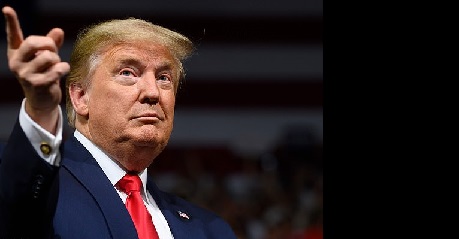 Donald John Trump is still our president.
ITEM 1
:
WLNE reported
, "A sweet moment of a young boy running up to a man delivering pizza and hugging him was captured on a doorbell camera of a West Warwick family. The boy's mother, Lindsey Sheely, decided to share the cute moment on social media.
"At the time she did not know what that moment would mean for the man behind the pizza box, Ryan Catterson.
"'After losing my daughter this past week, it touched me because it was like she was there,' Ryan Catterson said. 'It really just meant a lot to me.'"
That is a reminder to be kind to strangers. You never know what private hell they may be going through.
ITEM 2
:
The Daily Mail reported
, "Ilhan Omar DID marry her brother and said she would 'do what she had to do to get him papers to keep him in U.S.', reveals Somali community leader."
The story said, "Abdihakim Osman is the first person to go on record to speak of how Omar said she wanted to get her brother papers so he could stay in the United States, at a time when she was married to her first husband Ahmed Hirsi.
"But hardly anyone realized that meant marrying him.
"'No one knew there had been a wedding until the media turned up the marriage certificate years later,' Osman, 40, exclusively told DailyMail.com.
"Osman's revelations are sure to renew calls for an investigation into the Minnesota freshman representative who has repeatedly refused to answer questions on her marriage to Elmi.
"She originally said the idea that the spouses were also siblings were 'baseless, absurd rumors', accusing journalists of Islamophobia, but has since stayed quiet."
We shall see if the Department of Justice has ended its Democrat Privilege.
ITEM 3
:
Stu Cvrk reported
, "Trumpenfreude for McClatchy Publishing."
The story gave the background, "McClatchy Publishing Company owns 30 newspapers in 14 states, including the Miami Herald, the Kansas City Star, Fort Worth Star-Telegram, and The Sacramento Bee. Over the past three years, McClatchy newspapers have been at the forefront in publishing anti-Trump stories, many of which were related first to the now thoroughly debunked Russia hoax and the Mueller witch hunt.
"In addition, the newspapers ferociously attacked President Trump's most formidable allies who were dangerous to Democrat political interests, most notably Rep. Devin Nunes (R-CA). Nunes finally initiated a lawsuit against McClatchy Co. in April 2019."
Going on an Orange Man Bad crusade must have been good for business. Right?
The story said, "Newspaper chain McClatchy, owner of publications such as the Miami Herald and Kansas City Star, filed for Chapter 11 bankruptcy protection [on February 13] after grappling with a pension crisis and the news industry's financial challenges."
I dinged 'em in highlights last week but he gave greater detail. There's always room for a second serving of Trumpenfreude-O.
He ended his column, "Trumpenfreude: coming to an unhinged anti-Trump entity or person near you. I love it!"
ITEM 4
:
Nicholas Cummins asked and answered the question
, "What's Happening To All The Widebodies Not Flying To China?"
That is a lot of capital to leave on the ground.
He wrote of one airline, "This is a capacity difference of around 350 seats vs. 166 seats, essentially doubling the number of seats available on some routes. Likely this will cause a price drop (as United tries to book as many as possible to make the flight profitable), and competitors will also try to match. A win for customers looking to fly domestically.
"United might also send one or two of these aircraft in for a new paint job as it rolls out its new livery. However, it appears that most of the widebody fleet has already been painted (if only they knew in advance then it would have been great timing)."
I am guessing cruise lines will drop prices as well. I do not think that will help.
ITEM 5
: Fox News (won't link) reported, "A former consultant for Bernie Sanders' 2016 presidential campaign was arrested after he allegedly planted loaded weapons and ammunition inside a Tennessee corrections facility that was under construction in an attempt to carry out a future jailbreak, authorities said.
"Criminal justice reform advocate Alex Friedmann, who was not an inmate but allegedly was plotting to help prisoners escape when the facility opened, was arrested Tuesday on one count of felony vandalism, but Davidson County Sheriff Daron Hall said during a press conference Wednesday that the allegations go far beyond that.
"The opening of the Nashville detention center, which was slated for April, was indefinitely postponed after his arrest, according to the Tennessean."
The story also said, "Friedmann worked with the 2016 presidential campaign of Sen. Bernie Sanders, I-Vt., as one of several consultants who educated him on criminal justice issues. It resulted in Sanders introducing a bill aimed at eliminating private prisons. Friedmann told The Atlantic in 2015 that the bill did not go far enough to achieve that goal."
I don't expect Friedmann to be a free man for a long while.
ITEM 6
: Here is how you do prison reform.
It was my great honor to deliver the commencement address at the

@LVMPD

's Hope for Prisoners Graduation Ceremony today, where we reaffirmed that America is a nation that believes in REDEMPTION!

pic.twitter.com/WwJ5eHjTzl

— Donald J. Trump (@realDonaldTrump) February 20, 2020
Donald Trump frames it as redemption, not prison reform. That works because its source is religion.
ITEM 7
: This is cold.
— Steve Scalise (@SteveScalise) February 20, 2020
Colder than Hillary's smile.
ITEM 8
:
Fox Business News reported
, "Officials in Malibu, California, are considering relocating dozens of homeless residents who are staying in RVs along Malibu's coastline.
"Officials say more people are moving to public beaches, using public parking spots and staying for days and weeks at a time. This movement has caused many problems, beyond just denying other residents beach access and parking spots."
How odd. Barbra Streisand's town made a big deal about becoming a sanctuary city for illegal aliens, but now want to kick out Real Americans.
Hey, maybe if they were wiling to nanny and landscape for two bucks an hour, Streisand and her neighbors would welcome them.
ITEM 9
:
The Washington Examiner reported
, "The National Republican Senatorial Committee raised more than $10 million in January, besting its Democratic counterpart as the Senate was adjudicating two articles of impeachment against President Trump.The Democratic Senatorial Campaign Committee raised $8.5 million in the first month of the election year, finishing the period with $19.75 million in cash on hand.
"The NRSC's haul stemmed from robust online fundraising from grassroots donors that surpassed what the committee accumulated digitally during the first five months of 2018. The Senate GOP campaign arm had its best January ever and closed the month with a $25.2 million war chest to spend on the fall campaign."
President Donald John Trump is singing that old Engelbert Humperdinck song that goes, "Please impeach me, I need dough."
ITEM 10
:
BizPac Review reported
, "The Republican Party of Wisconsin appears to be dealing with vandals, as someone reportedly splashed paint on the windows of the 2200 block of North King Drive field office. The word 'scum' was also allegedly painted onto the back door.
"The Milwaukee police were contacted and responded to the vandalism call on Wednesday morning, and are still looking for the suspect. They have not yet established an official motive for the crime, but it's safe to say it was probably politically motivated. Video of the marred facade was posted on Twitter, showing the extent of the damage."
I sure hope this is not a hoax. Let's not go the Jussie Smollett route.
ITEM 11
:
Clintonista Mark Penn wrote
, "Attorney General William Barr is right that presidential tweets on Department of Justice (DOJ) cases make his job difficult in today's super-charged political environment. But President Trump is also right that the case of his associate, Roger Stone, is nothing but a political prosecution that, until the president tweeted about it, got little attention or examination."
He also wrote, "Both Democratic and Republican presidents pardoned numerous figures caught in the penumbra of those probes, especially those prosecuted for process crimes."
And he wrote, "Just untangling what the Stone case is about can be a mindbender."
President Donald John Trump should pardon him. The House should impeach the Obama judge who aided and abetted this abomination. The jury foreman was a prominent Democrat.
ITEM 12
:
National Interest reported
, "With the primary season in full swing, the media's attention is focused on the presidential campaign. Lost amid this coverage is a key change in how Republicans are campaigning for Congress.
"In contrast to the 2018 midterm elections in which many GOP candidates in competitive districts ran away from Donald Trump, a new cohort of Republicans is embracing the president to win back House seats or shift the Senate to a more activist posture.
"For example, Matt Mowers, 30, is running for the U.S. House in New Hampshire's 1st district, a swing seat that runs from Manchester to Portsmouth. No incumbent member of Congress has been re-elected since 2008 but it's been in Democrat hands since Trump won, even though Trump beat Hillary Clinton by a single point in the district.
"Bucking conventional wisdom from political consultants, Mowers has embraced Trump, for whom he worked on the 2016 campaign and subsequently in his administration. Mowers also vows to fight radical socialism, reflecting Trump's pugnacious and unapologetic style of taking on opponents."
Bucking conventional wisdom?
That strategy cost Republicans the House in 2018. It would folly to try that again.
ITEM 13
:
CNBC reported
, "64% of small business owners approve of the way Donald Trump is handling his job as president, the highest approval rating for Trump among entrepreneurs since CNBC and SurveyMonkey began conducting a quarterly survey in 2017.
"The spike in approval among small business owners follows a pivotal period for Trump.
"This CNBC|SurveyMonkey Small Business Survey for the first quarter 2020 — which includes responses from more than 2,100 small business owners — was conducted the same week (Feb. 3–Feb. 10) as Trump's third State of the Union address, his impeachment acquittal and the Iowa caucuses. The percentage of small business owners who say they strongly approve of how Trump is handling his job reached 47%, also a new high; it had never been above 40% in previous surveys."
But wait. There's more.
CNBC reported
, "Small business sentiment is on the rise to kick off 2020, with confidence nearing all-time highs, according to data from CNBC and SurveyMonkey. The CNBC/SurveyMonkey Small Business Confidence Index climbed two points in the first quarter, from 59 to 61, as concerns over trade policy impacts lessened, thanks to a trade deal with China and the signing of the USMCA. This is a sharp turnaround from the lows seen last summer as trade turmoil weighed on Main Street's outlook."
Every big business began as a small one, did it not?
ITEM 14
:
Ed Driscoll reported
, "Larry Tesler, pioneer who invented 'cut, copy and paste' for computers, dies at 74. Larry Tesler, pioneer who invented 'cut, copy and paste' for computers, dies at 74. Larry Tesler, pioneer who invented 'cut, copy and paste' for computers, dies at 74."
I think Ed is trying to tell us something.
RIP, Tesler. I could not do this without your invention.
ITEM 15
:
The Independent reported
, "Mike Bloomberg boasted about sending his 'tall and busty and blonde' teenage daughter on dates he arranged during a business trip in China, according to a newly-resurfaced report on the billionaire presidential hopeful from 1999.
"The quotes were published in a Wired magazine profile on Mr Bloomberg -- despite his demands for them to remain off the record after he made the comments to a table of Boston College graduates.
"'My daughter is tall and busty and blonde,' Mr Bloomberg told the graduates, Wired reported. 'We went to China together. And what's a 16-year-old going to do on a business trip?'
"According to the story, Mr Bloomberg popped 'another carefully buttered piece of bread in his mouth' before adding: 'So I got her dates in every city in China.'"
Eww.
He talked with his mouth full.
ITEM 16
:
Vanity Fair reported
, "The logic of the current Democratic primary contest dictates that Michael Bloomberg portray himself as Barack Obama's true heir. And so, with Bloomberg's vast resources, it has come to pass. A 30-second spot began circulating earlier this month that portrays Bloomberg and Obama as close allies. The spot pairs photos of the two together with encomiums from the former president. 'I want to thank the mayor of this great city, Mayor Bloomberg, for his extraordinary leadership,' Obama intones at one point.
"Obamaworld, with its long memory, was not happy. 'I was triggered by the ad,' a former Obama official said. 'The ubiquity of the ads is what bothers me," Dan Pfeiffer, Obama's former communications director told me. 'Bloomberg didn't endorse Obama in 2008, and in 2012 he offered a tepid endorsement that included parts that read like an RNC attack ad.'"
Yes, they actually say triggered.
Fortunately, no one was literally shaking.
The story said, "The chasm between Bloomberg and Obama first opened when Obama ran in 2007. Bloomberg seriously toyed with the idea of running for president, a longtime dream of his chief political adviser Kevin Sheekey. When Bloomberg didn't get into the race, he backed fellow Republican John McCain. At a dinner party during the 2008 election, a source remembers Bloomberg's longtime girlfriend, Diana Taylor, getting into an argument with Sheekey's wife, who was supporting Obama. 'How can you be so stupid to be for someone like Obama?' Taylor asked, the person told me. 'Diana was repeating what Mike would say about Obama, except it was louder,' the source recalled. (The Bloomberg campaign did not respond to a request for comment.)"
The reader who sent me this said the price of Obama's endorsement just skyrocketed.
Stop Biden. Stop Bernie. Now, Stop Mini Mike. Just whom do they want?
ITEM 17
: Democrats are excited that so many people watched their debate.
HUGE #'s for the

#DemDebate

last night. Looks like 19.7 million on NBC and MSNBC combined. Final # may fluctuate a bit, but it's a new record high for a Dem debate, beating last June's.

— Brian Stelter (@brianstelter) February 20, 2020
So am I. Their audience for their February 25 debate will show why.
ITEM 18
:
MarketWatch reported
, "Michael Bloomberg says it's not so 'simple' to produce his tax returns — here's what most high-income tax returns have in common."
Oh sure. When it was Donald Trump, the media demanded the tax returns now, now, now. But this time it's a media mogul, so things are different.
Because.
Frankly, I oppose this release of tax returns because even presidential candidates are entitled to a little privacy. We know Mini Mike and President Donald John Trump are rich and make a lot of money. That's all we need to know.