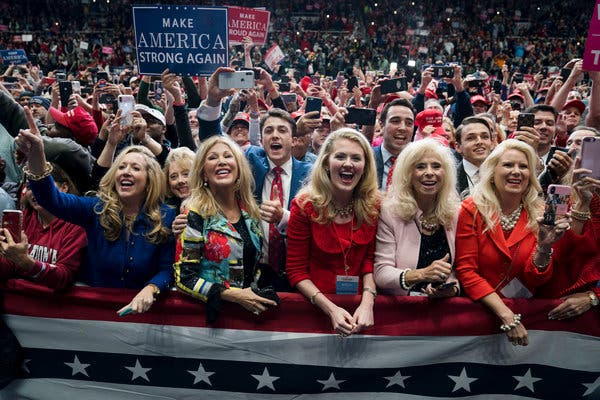 Donald John Trump is still our president.
ITEM 1
:
Apple announced
, "Our quarterly guidance issued on January 28, 2020 reflected the best information available at the time as well as our best estimates about the pace of return to work following the end of the extended Chinese New Year holiday on February 10. Work is starting to resume around the country, but we are experiencing a slower return to normal conditions than we had anticipated. As a result, we do not expect to meet the revenue guidance we provided for the March quarter due to two main factors.
"The first is that worldwide iPhone supply will be temporarily constrained. While our iPhone manufacturing partner sites are located outside the Hubei province — and while all of these facilities have reopened — they are ramping up more slowly than we had anticipated. The health and well-being of every person who helps make these products possible is our paramount priority, and we are working in close consultation with our suppliers and public health experts as this ramp continues. These iPhone supply shortages will temporarily affect revenues worldwide.
"The second is that demand for our products within China has been affected. All of our stores in China and many of our partner stores have been closed. Additionally, stores that are open have been operating at reduced hours and with very low customer traffic. We are gradually reopening our retail stores and will continue to do so as steadily and safely as we can. Our corporate offices and contact centers in China are open, and our online stores have remained open throughout."
This should spook the stock market.
Apple's woes reflect how American businesses became overly dependent on Communist China. CEOs thought they could dodge environmental and labor laws by shipping jobs to Red China. It was a trap. They may have to gnaw a leg off to escape.
ITEM 2
:
Mollie Hemingway reported
, "Sen. Chris Murphy of Connecticut and other Democratic senators had a secret meeting with Iranian Foreign Minister Mohammad Javad Zarif during the Munich Security Conference last week, according to a source briefed by the French delegation to the conference. Murphy's office did not respond to repeated requests for comment by press time.
"Such a meeting would mean Murphy had done the type of secret coordination with foreign leaders to potentially undermine the U.S. government that he accused Trump officials of doing as they prepared for Trump's administration. In February 2017, Murphy demanded investigations of National Security Advisor Mike Flynn because he had a phone call with his counterpart-to-be in Russia."
Expel the traitor from the Senate.
Then prosecute if he failed to file as a foreign agent.
He had absolutely no reason to meet with a leader of a nation that seeks Death to America (their words, not mine) other than to aid and abet him.
ITEM 3
:
CNN Business reported
, "Japan's economy is flirting with recession, and the novel corona virus could push it over the edge.
"The world's third-largest economy shrank 1.6% in the fourth quarter of 2019, according to a government estimate released Monday. The decline from the third quarter is the biggest contraction since 2014.
"The drop was even more severe — a 6.3% plunge — when measured as an annualized rate.
"The fact that growth slowed in the three months to December wasn't a surprise. Analysts had been expecting as much as the country absorbed a sales tax hike and grappled with the aftermath of Typhoon Hagibis, a powerful storm that hit the country last fall."
A tax hike triggered this.
It figures.
ITEM 4
:
The Associated Press reported
, "Virginia Gov. Ralph Northam's push to ban the sale of assault weapons failed on Monday after some of his fellow Democrats balked at the proposal.
"Senators voted to shelve the bill for the year and ask the state crime commission to study the issue, an outcome that drew cheers from a committee room packed with gun advocates.
"Four moderate Democrats joined Republicans in Monday's committee vote, rejecting legislation that would have prohibited the sale of certain semiautomatic firearms, including popular AR-15 style rifles, and banned the possession of magazines that hold more than 12 rounds.
"The bill was a top priority for Northam, who has campaigned heavily for a broad package of gun-control measures. The governor's spokeswoman, Alena Yarmosky, said he's disappointed with the result but determined to continue to press for the measure."
Sanity arrives but it is too little too late to save Democrats in 2020. Look for Donald Trump to pick up the state and three congressional races.
ITEM 5
:
The New York Post reported
, "Just when you thought they were washed up, the notorious squeegee men are streaking back to Big Apple streets.
"The panhandling window-washers, who became the face of former Mayor Rudy Giuliani's quality-of-life crackdown in the 1990s, were back peddling their spotty services in Manhattan over the weekend.
"A trio of the in-your-face glass swabbers were spotted plying their trade on 40th Street and Ninth Avenue on Sunday — figures from the annals of New York City history that some folks weren't in the mood for.".
New Yorkers elected DeBlasio and then re-elected him. This is the life they chose. End their federal aid. Let them live with the mess they made.
ITEM 6
:
New York magazine reported
, "The truth of Obama's silence on the 2020 primary is that it's not just about his obvious wish to stay out of the spotlight, but it also reflects a choreographed strategy.
"With the race looking more and more likely to grow bitter and messy, and maybe even wind up in a contested convention, the former president and those around him are increasingly sure he will need to play a prominent role in bringing the party back together and calming its tensions later this summer, including perhaps in Milwaukee, where the party's meeting is scheduled to be held in July.
"So he is committed to not allowing his personal thoughts to dribble out in the meantime, directly or via leaks, conscious of how any sense that he's taking sides in intraparty disputes could rock the primary in the short run and potentially undermine his ability to play this larger role in the months ahead."
Or maybe he is resigned to President Trump's re-election and could not be bothered with this nonsense.
ITEM 7
:
Rasha Abou Jalal reported
, "Egypt builds a wall on border with Gaza."
The story said, "They explained that the 6-meter-high barrier is made of reinforced concrete and goes 5 meters under the ground. It consists of a second barrier parallel to the old rock barrier built in early 2008 on the border with the Gaza Strip, separated by a distance not exceeding 10 meters. The barrier is designed to block the entry of gunmen from the Gaza Strip into Sinai and shut down the remaining Palestinian cross-border tunnels.
The sources said the second and last phase involves building the barrier along unspecified segments of the border that Egyptian armed forces appraise as vulnerable or where underground tunnels are suspected. The sources anticipate completion of the barrier would drag out until mid-2020."
18 feet high, 15 feet deep.
The Palestinians have no pals.
ITEM 8
:
The Washington Times reported
, "Border arrests dropped for the eighth straight month in January as the Trump administration's new policies continue to discourage new people from coming, according to Homeland Security officials -- though they're warning numbers are likely to go up as spring approaches.
"The Border Patrol's 29,200 apprehensions along the southwestern border is at its lowest in nearly two years, and the number of children and families -- the toughest cases -- is at its lowest since 2017.
"Another 7,479 migrants were encountered at ports of entry, showing up without permission to enter.
"Both the border and port numbers are not only lower than December, but are massive improvements over the peak of the migrant surge last year, when more than 140,000 migrants were arrested or encountered."
Tariffs did this.
President Trump gave Mexico a choice between stopping the caravans or paying a tariff. Mexico chose wisely.
ITEM 9
:
The Daily Mail reported
, "Rosario Dawson has confirmed that she is bisexual after hinting at her orientation in 2018 — but she admits she has never had ' a relationship in that space.'
"The 40-year-old actress, who has been dating former presidential candidate Cory Booker since late 2018, opened up about her sexuality in an interview with Bustle, explaining that many people thought she had come out when she shared an Instagram post celebrating Pride Month nearly two years ago.
"'People kept saying that I [came out]... I didn't do that. I mean, it's not inaccurate, but I never did come out come out. I mean, I guess I am now,' she said."
Spartacus lost his beard.
ITEM 10
: As President Trump erases the legacy of Obama, the Big Zero tweeted, "Eleven years ago today, near the bottom of the worst recession in generations, I signed the Recovery Act, paving the way for more than a decade of economic growth and the longest streak of job creation in American history."
He cannot even troll.
We had 12,713,000 manufacturing jobs when Obama took office, and 12,341,000 when he left -- for a net loss of 372,000. He told America tough cookies. Those jobs are not coming back.
President Donald John Trump brought back those jobs and more as he added 479,000 manufacturing jobs in his first 34 months in office.
Obama is like Hoover taking credit for 100 million jobs being added since he left office.
ITEM 11
:
Richard Moorhead reported
, "More Americans now identify as Republicans than they do as Democrats, according to new polling regarding party affiliation conducted by Gallup.
"According to the polling, conducted on January 16th-19th, 30% of American identify as Republicans. 27% identify as Democrats. The largest category consists of independents, who form 42% of registered voters. Independents have consistently made up the largest category of American voters for decades.
"The development represents a rarity in American politics, as generally Democrats have a numerical advantage in terms of party registration throughout recent political history. The last two times that more Americans were registered as Republicans than they were as Democrats was in May 2016 and December 2011, an oddity that only lasted for a month both times."
Obama soured them on his party.
President Donald John Trump sold them on his.
February 17, 2020
ITEM 12
: Move over, President Trump. There is a new troller in chief in town.
— Mike Pence (@Mike_Pence) February 17, 2020
Suddenly, 2024 is looking brighter.
ITEM 13
: Obama was a POTUS...
— Andrew Malcolm (@AHMalcolm) February 17, 2020
...minus the T and the U.
ITEM 14
: It isn't that he fights.
You want a US that doesn't pressure you to pay your NATO obligation, looks the other way when you buy too much Russian gas, doesn't demand you take back your Nazi prison guard living in NYC, accepts your higher car tariffs and still sends 50,000 troops to your country.

https://t.co/d7lze5TISc

— Richard Grenell (@RichardGrenell) February 17, 2020
It is that he wins.
ITEM 15
: The Guardian interviewed singer/John Kerry friend James Taylor.
The story said
, "Heroin and other opiates were very available and very cheap in London at the time. 'I picked up pretty soon after I got here,' he says. 'I started by …' he pauses. 'I shouldn't go into this kind of stuff. It's not an AA meeting.' Then he continues. 'But you used to be able to buy something called Collis Browne's Chlorodyne, which was an old-fashioned medication. Essentially, it was a tincture of opium, so you'd drink a couple of bottles and you could take the edge off.' Was it hard to kick the habit, given the circles he was moving in? 'Well, I was a bad influence to be around the Beatles at that time, too.' Why? 'Because I gave John opiates.' Did you introduce him to them? 'I don't know,' he says. Lennon, by many accounts, picked up a heroin habit in 1968 that contributed to an unhealable rift in the band."
Everyone blames Yoko but it was James Taylor who broke up the Beatles.
What a jerk. They gave him a record deal, and he destroyed the band.
How big a jerk is he? He makes John "Do You Know Who
I
Am?" Kerry seem like a nice guy.
ITEM 16
:
Breitbart News reported
, "A man in Peachtree City, Georgia, stepped in to assist an officer who was chasing an alleged shoplifter through a parking lot recently.
"Surveillance footage showed the moment when a Walmart shopper used his grocery cart to stop the suspect from evading police, according to WBTV."
It's Georgia. They don't have grocery carts. They have buggies.
The video at Breitbart will make you laugh.
ITEM 17
:
The Washington Times reported
, "Justice Department employees overwhelmingly contribute to Democrats, a trend that has become even more lopsided since Barack Obama's presidential inauguration, according to a campaign finance research organization.
"In the 2016 election cycle, Justice employees gave $438,077 to Hillary Clinton's Democratic presidential campaign, nearly 20 times the $23,874 they gave to Republican Donald Trump, according to OpenSecrets.org, an arm of the Center for Responsive Politics that crunched the numbers based on Federal Election Commission reports.
"Overall, Justice workers gave $819,454 to Democrats and $126,929 to Republicans in that cycle. And in the 2018 midterm-election cycle, Justice employees donated $474,690 to Democrats and $126,902 to Republicans."
When Democrats and the media say President Trump is a threat to democratic institutions they mean Democrat institutions. Time to RIF the DOJ.
ITEM 18
:
WGEM reported
, "A state Senate bill in Illinois would ban the use or sale of gas-powered leaf blowers in the state.
"Illinois Senator Laura Fine (D) SB3313 filed last week by Senator Laura Fine (D) of the 9th Senate District amends the Environmental Protection Act. It states that 'a person may not operate or sell at retail a gas-powered leaf blower in the State. Provides that a person who violates the act's provisions shall be subject to a civil penalty not to exceed $500."
"The bill lists environmental and noise pollution as the reasons for the ban.
"It states that two-stroke and four-stroke engines used in gas-powered leaf blowers emit exceedingly high rates of pollutants, including carbon monoxide, nitrous oxides, and hydrocarbons.
"These emissions, the bill states, are a contributing factor to smog formation and acid rain.
"The bill also claims that leaf blowers generate noise at a decibel level capable of causing hearing loss in a short amount of time."
They also lead to impotence, give you cancer, and make hair grow on the palms of your hand.
This is the Democrat war on normal. Poop on the street, but don't you dare clean up your yard.
ITEM 19
: I don't know why they call them progressives when they are hellbent to return to the caveman days of the world.
Why are idiots being allowed to wantonly damage the green at Trinity College, Cambridge?

What if a bunch of football lads tried this stunt. Or Brexit supporters tried randomly digging for victory

Why are lefties permitted to be hooligans & thugs?

pic.twitter.com/hkSZqr9EVd

— Katie Hopkins (@KTHopkins) February 17, 2020
ITEM 20
: So how did having gay Scout leaders work out?
— Andrew Malcolm (@AHMalcolm) February 18, 2020
I see. Get woke, go broke.