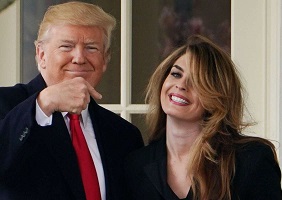 Donald John Trump is still our president.
ITEM 1
:
The Associated Press reported
, "The United States and the Taliban have agreed to a temporary truce that, if successful, would open the way for a deal that would bring American troops home from Afghanistan and end 18 years of war.
"The peace deal would call for negotiations between Afghans on both sides of the conflict to start next month, an eventual countrywide cease-fire and a commitment from the Taliban not to harbor terrorist groups like al Qaida, while setting a timetable for the withdrawal of U.S. troops.
"The truce marks a milestone in efforts to end America's longest-running conflict and fulfill President Donald Trump's campaign pledge to bring U.S. troops home from foreign conflicts. But prospects for a real and lasting peace remain unclear."
Peace-mongering Donald John Trump strikes again.
ITEM 2
:
The U.S. Department of Education announced
, "it is launching investigations into both Harvard and Yale Universities after it appears both Ivy League higher education institutions potentially failed to report hundreds of millions of dollars in foreign gifts and contracts.
"In recent weeks, the Department discovered Yale University may have failed to report at least $375 million in foreign gifts and contracts, choosing not to report any gifts and contracts over the last four years.
"The Department is also concerned Harvard University may lack appropriate institutional controls over foreign money and has failed to report fully all foreign gifts and contracts as required by law. This comes after Dr. Charles Lieber, chair of Harvard University's Chemistry and Chemical Biology Department, was indicted for lying about his involvement with the Chinese government's Thousand Talents Plan and admitting that Harvard lacks adequate institutional controls for effective oversight and tracking of very large donations."
Now you know why the Education Industry opposed the appointment of Betsy DeVos. She actually regulates them.
RICO Harvard and Yale. Pocket their endowment funds. Uncle Sam could use another $70 billion.
ITEM 3
: The New York Times reported, "The Trump administration is deploying law enforcement tactical units from the southern border as part of a supercharged arrest operation in sanctuary cities across the country, an escalation in the president's battle against localities that refuse to participate in immigration enforcement.
"The specially trained officers are being sent to cities including Chicago and New York to boost the enforcement power of local Immigration and Customs Enforcement officers, according to two officials who are familiar with the secret operation. Additional agents are expected to be sent to San Francisco, Los Angeles, Atlanta, Houston, Boston, New Orleans, Detroit and Newark, N.J.
"The move reflects President Trump's persistence in cracking down on so-called sanctuary cities, localities that have refused to cooperate in handing over immigrants targeted for deportation to federal authorities. It comes soon after the Justice Department and Department of Homeland Security announced a series of measures that will affect both American citizens and immigrants living in those places."
Don't let any Democrat complain.
ITEM 4
:
News Busters reported
, "The left went bonkers on Twitter when news broke that Big Tech billionaire Larry Ellison was hosting a pro-Trump fundraiser.
"Lefty outlet Vox Recode characterized the billionaire founder of Oracle Corporation's decision to support President Donald Trump as 'unthinkable for a tech titan' and 'a major coup for the Trump team.'
"Recode continued: 'Ellison is, after all, the country's fifth-richest person, with a net worth of almost $70 billion.' Vox Recode also issued a harbinger in its Feb. 12 report: 'the fundraiser [to be held in Ellison's estate] is sure to expose the flamboyant 75-year-old billionaire [Ellison] to a new wave of political and corporate scrutiny.'"
Mmm, mmm, good. That's what lefty tears are. Mmm, mmm, good.
ITEM 5
: The Washington Post report, "There were two views Thursday night on Attorney General William Barr's complaints about President Donald Trump's tweets targeting the Justice Department and they couldn't have been more distinct: Supporters of the Trump administration took Barr at face value and praised him. Critics thought he was faking it."
The media is beginning to believe that turning tweets into news trapped them. And they had so much fun mocking him. Being assigned to the tweet beat is not as fun now.
Covefefe, baby. Covefefe.
ITEM 6
:
NBC reported
, "A federal appeals court rejected a Trump administration rule that allowed Arkansas and other states to impose work requirements on its low-income residents who received Medicaid benefits, further blocking a marquee issue for the president.
"The U.S. Court of Appeals for the District of Columbia Circuit ruled Friday that the White House had acted unlawfully and that Health Secretary Alex Azar's approval of the program, known as Arkansas Works, was 'arbitrary and capricious.'"
The decision is arbitrary and capricious. Arkansas has a right to say how its money is spent. Medicaid is not fully funded by Congress. Rather, states have to match 25% to 50% of this expense. This has wrecked state budgets. Money that should go to roads, schools, and prisons instead goes to a federal program. This is a pretty sneaky way to finance a federal program. Congress does not have to raise taxes, states do.
The judiciary stripped Arkansas of one way to control costs by limiting the program to the truly poor.
ITEM 7
:
CNBC reported
, "As part of a forthcoming package of proposed tax cuts, the White House is considering ways to incentivize U.S. households to invest in the stock market, according to four senior administration officials familiar with the discussions.
"The proposal, one of many new tax cuts under consideration, would see a portion of household income treated as tax-free for the purposes of investing outside a traditional 401(k). Under one hypothetical scenario described by multiple officials, a household earning up to $200,000 could invest $10,000 of that income on a tax-free basis, although officials noted these numbers are fluid."
While that is nice, is it really the federal government's job "to incentivize U.S. households to invest in the stock market"? Households that have 10 grand to invest already have an incentive to invest.
If President Trump wants Americans to save, he should raise the interest rates on savings bonds from 0.10% (not a typo) to 3%.
ITEM 8
:
CNBC reported
, "House Speaker Nancy Pelosi on Friday warned nations against doing business with Chinese telecom giant Huawei and called on other nations to work with the U.S. as the globe races to develop 5G networks.
"Her comments come after the Justice Department brought new charges against Huawei, accusing it of racketeering and plotting to steal trade secrets from U.S. companies."
Whoa. Red China's last check must have bounced.
Seriously, that was a good thing to do and she said this at the Munich Security Conference.
ITEM 9
:
WSAZ reported
, "An Alabama state representative has proposed a bill that would require a man to undergo a vasectomy at age 50 or after he has fathered a specific number of children.
"HB 238, filed by Rep. Rolanda Hollis (D-Birmingham), would require a man to undergo a vasectomy after the birth of his third biological child or within one month of his 50th birthday. The bill also says the procedure would be done at the man's own expense.
"'Under existing law, there are no restrictions on the reproductive rights of men,' the bill states."
This is another lame attempt by some dumb liberal to try to apply a ban on abortion to males. The real equivalent would be to make men pay child support regardless if they wanted a child.
Oh wait. The law already does that.
ITEM 10
:
Trending Politics reported
, "After voting to convict President Donald Trump in the Senate impeachment trial last week, the Alabama Senate race has tightened.
"A new poll from Mason-Dixon Polling and Strategy published in the Alabama Daily News on Wednesday shows former Attorney General Jeff Sessions narrowly leading current Democratic Sen. Doug Jones. The poll shows Sessions at 31% followed by former Auburn football coach Tommy Tuberville at 29% and Rep. Bradley Byrne at 17% on the Republican side."
The story also said, "In the hypothetical general election match-ups, Sessions beats Jones by 13 percentage points, while Tuberville and Byrne outpace Jones by 8 points and 9 points, respectively."
Don't worry about Dougie. Democrats will take care of him after he goes down with his ship.
ITEM 11
:
Trending Politics reported
, "John Durham, the U.S attorney selected by AG Barr to look into the origins of the FBI's counterintelligence investigation against President Trump, has reportedly begun scrutinizing John Brennan's handling of a secret source close to the Kremlin.
"Durham was selected in 2019 to examine early actions by intelligence officials, and he is now looking into whether or not agencies were kept in the dark to create a negative preconceived notion about Trump and Russia regarding election interference in 2016."
No excitement without an indictment. See McCabe, Andy.
ITEM 12
:
Lifezette reported
, "Fox News reports that three Democratic members of the House Judiciary Committee who voted against President Trump on impeachment are now under suspicion for unethical activities of their own.
"Rep. Madeline Dean of Pennsylvania, Rep. Pramila Jayapal of Washington, and Rep. Lucy McBath of Georgia all had ethics complaints filed against them by a watchdog nonprofit group on Wednesday. Americans for Public Trust asked for investigations as to whether the trio violated House rules and federal law."
Democrats all, proving women can be just as unethical as men.
ITEM 13
:
The Babylon Bee reported
, "Vote For Bloomberg! This Article Was Definitely Not Paid For By Mike Bloomberg (He's The Best)."
That's the joke that should sink his presidential hopes. He is the Romeo of the brothel bragging about how many women he bought. A real stud.
ITEM 14
:
The Associated Press reported
, "Facebook has decided to let political campaigns pay online influencers to spread their messages, a practice that had sidestepped many of the social network's rules governing political ads. Friday's policy reversal highlights difficulties tech companies and regulators have in keeping up with the changing nature of paid political messages.
"The change comes days after Democratic presidential candidate Mike Bloomberg exploited a loophole to run humorous messages promoting his campaign on the accounts of popular Instagram personalities followed by millions of younger people."
Nothing to see here. Move along.
Then again, it was a dumb rule. (That'll be $50, Mini Mike.)
ITEM 15
:
Conrad Black wrote
, "The great question is whether Amy Klobuchar, whose share of the vote jumped by more than 50 percent in New Hampshire from Iowa the week before, can keep rising before Super Tuesday.
"The senator from Minnesota is the candidate who, if she could get her story out widely and quickly enough, the Democratic establishment and moderate rank and file would prefer to employ to stop Sanders. And if Klobuchar became a contender, she would be much more acceptable to Sanders and his followers than Bloomberg."
Baron Black of Crossharbour may be on to something. She has that new car smell. People like shiny and new.
ITEM 16
: The answer is yes.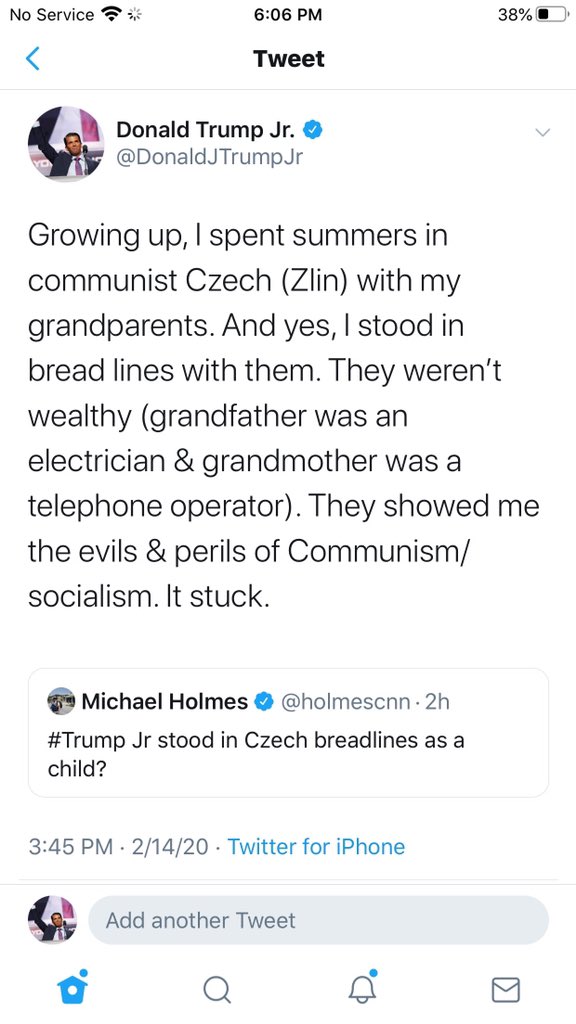 The media in Washington knows so little about Donald John Trump that it should be ashamed. I want to tweet this dude and explain that the presidents's first wife, Ivana, was from Czechoslovakia, a country now divided in two. Ivana is Junior's mom.
But why waste pixels?
ITEM 17
: Oof.
Robert Mueller gave

Jeffrey Epstein 13 months in jail

Wants

Roger Stone to serve 9 years

This is their value system

— An Open Secret (@AnOpenSecret) February 15, 2020
Fact check: We live in Wonderland, even those of us not named Alice.
ITEM 18
: Socialism dies in sunlight.
She pushed Trump to exit the Paris climate agreement and roll back environmental rules. And she's returning to EPA as chief of staff.

https://t.co/yrGsv2PCeO

— Bo Snerdley (@BoSnerdley) February 15, 2020
Fact check: Elections matter.