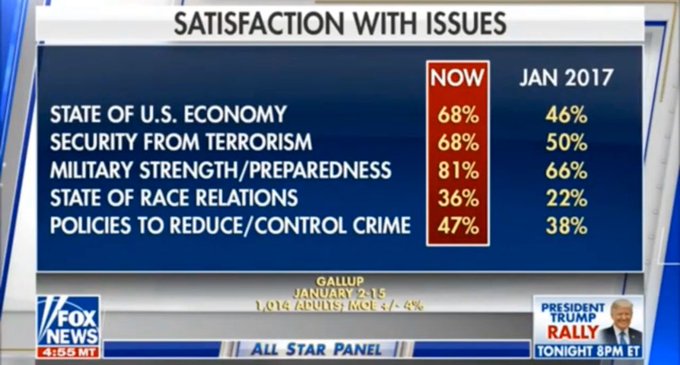 If he played nice and were deferential to liberals, we would not have elected Donald John Trump president.
ITEM 1
:
The Telegraph reported
, "Eight North Korean government officials have escaped over the border into China, including a typist who handled important documents for the ruling party and a number of communications experts.
"A Radio Free Asia report claims that a further seven officials from Pyongyang were caught by state security officers in a village close to the border before they could defect.
"It appears that the officials took advantage of the New Year holiday period to leave Pyongyang in groups of three or four and head north towards the border. The report suggested that the government employees may have been carrying secret information, perhaps to barter for their passage to South Korea."
I so hoped there would be a peace agreement by now.
ITEM 2
:
100%FedUp reported
, "The State Department has just issued a Level 4 warning 'Do Not Travel' to China due to the spreading coronavirus. The Level 4 is the highest warning for the State Department to issue."
USA Today reported
, "The Donald Trump administration declared the coronavirus outbreak to be a public health emergency in the United States on Friday, setting quarantines of Americans who have recently been to certain parts of China.
"Centers for Disease Control and Prevention officials said it was the first quarantine order issued by the federal government in over 50 years. Marty Cetron, director of CDC's Division of Global Migration and Quarantine, said the last time a quarantine was used was in the 1960s for smallpox."
It may be overhyped, but why take chances?
If Reagan had done this with AIDS, who knows how many lives would be saved.
ITEM 3
: The Times of London (no links to pay sites) reported, "How do you respond when placard-waving students occupy your 15th-century quadrangle and refuse to leave until you sell the college's shares in oil companies? As this is Oxford, naturally you present them with a philosophical dilemma.
"Two students at St John's College wrote to Andrew Parker, the principal bursar, this week requesting a meeting to discuss the protesters' demands, which are that the college 'declares a climate emergency and immediately divests from fossil fuels.' They say that the college, the richest in Oxford, has £8 million of its £551 million endowment fund invested in BP and Shell.
"Professor Parker responded with a provocative offer. 'I am not able to arrange any divestment at short notice,' he wrote. 'But I can arrange for the gas central heating in college to be switched off.'"
Touche.
Let them freeze to death in the dark.
ITEM 4
:
The Canberra Times reported
, "Wikileaks founder Julian Assange has been moved out of solitary confinement in a British prison after a series of petitions by his legal team and fellow inmates, his organisation says.
"The Australian has been held almost incommunicado with severe restrictions on his access to visitors in Belmarsh prison near London since April as he awaits his US extradition trial set to start on February 24.
"Wikileaks ambassador Joseph Farrell says the 48-year-old was moved out of solitary in the medical wing into a different wing with 40 other inmates on Friday.
"He says the breakthrough occurred after his legal team and three separate petitions by inmates to the prison governor that his treatment was unjust and unfair. After meetings between the prison authorities, Assange's legal team and inmates, he was transferred."
Nothing scares totalitarian regimes quite like facts.
President Trump should tell the DoJ to lay off Assange.
ITEM 5
:
The Telegraph reported
, "Boris Johnson will hail 'the dawn of a new era' for Britain as he celebrates Brexit day with a tax cut for 31 million people."
The story also said, "To give workers the feeling of an immediate Brexit bounce, Mr Johnson approved an increase in the threshold at which workers start paying National Insurance from £8,628 to £9,500, resulting in a tax cut of £104 for a typical employee."
That £104 a year works out to £2 a week, which is under $3 a week. He should dig a little deeper.
ITEM 6
:
The Hill reported
, "The European Union's decision to accept Brexit, the United Kingdom's exit from the EU, has not left House Speaker Nancy Pelosi (D-Calif.) ready to support a potential trade deal between the United States and U.K."
Hahaha. The decision to accept? As if it had a choice.
Don't worry about Nancy. Mexico got her to sign off on the USMCA. Boris Johnson should find out how much they paid and sign the check. Surely one of her idiot kids needs a six-figure job.
ITEM 7
:
Fox News reported
, "The Republican National Committee reported its best-ever non-presidential year on Thursday -- the latest signal that the party is outpacing Democrats as they race towards the 2020 elections and battle over impeachment.
"Data provided to Fox News showed that Republicans collected $26.5 million in December, a record for the month and a roughly $6 million increase from November. While the party has repeatedly surpassed fundraising records under Trump, December's numbers indicated that Republican donor enthusiasm was undeterred by Democrats pushing an impeachment inquiry."
That's nice but Republicans need to field good candidates in the House races to fill open seats and to run against Democrats.
Make electing Kevin McCarthy House speaker the penalty for impeachment.
ITEM 8
:
Market Watch reported
, "It is going to get worse before it gets better for the stock market, says prominent technical analyst Ralph Acampora.
"A pioneer in the field of price chart-based trading, Acampora told MarketWatch during a Friday interview that he thinks that the coronavirus fears are a catalyst for a market that had gotten too pricey and was due for a substantial pullback."
He predicted a correction of 10% or more. I concur. The steep rise in stocks since the election of President Trump requires some balancing. The correction in November and Decenber 2018 was overdue, and stocks quickly recovered.
2019 saw a 28% rise in stocks. A correction should follow. And a recovery and new records will follow that. Fasten your seatbelts, it's going to be a bumpy night.
ITEM 9
:
The Washington Free Beacon reported
, "Rep. Ilhan Omar (D., Minn.) continues to push campaign cash to a firm run by her alleged boyfriend, filings show.
"Omar's new committee filings submitted Friday morning show that between Oct. 1 and Dec. 31, 2019, her committee made $215,000 in additional payments to the E Street Group, a firm run by political consultant Tim Mynett, Omar's alleged boyfriend. The payments were reported as going toward consulting, direct mail, research services, travel expenses, advertisements, and graphic design.
"The new payments mark another increase in money funneled to the firm. Mynett's group is yet again the highest-paid vendor from Omar's campaign.
"The committee reported hauling in $403,000 in individual contributions while disbursing $404,000 over the last three months of 2019. The $215,000 paid to Mynett's group for its services accounts for 53 percent of the total disbursements from the campaign during this time.
"Over the first three quarters of 2019, Omar's campaign paid out a total of $310,000 to the E Street Group. Accounting for the fourth-quarter payments, Mynett's firm collected a total of $525,000 from Omar's campaign in 2019.
"Omar's campaign did not immediately respond to a request for comment on the payments."
Money laundering.
People in 30 states voted to drain the swamp. Minnesota voted to add swamp water.
ITEM 10
:
Cybercast News Service reported
, "High School Basketball Game Outdraws Senate Impeachment Trial."
The story said, "The varsity basketball game between the Gonzaga Eagles and the Good Counsel Falcons that was played in the Gonzaga gym — about a one-mile walk from the U.S. Capitol — drew a larger crowd on Thursday evening than the Senate impeachment trial did.
"That was the case even though the Gonzaga-Good Counsel game drew a modest crowd -- as Gonzaga won 79-55.
"According to Gonzaga Athletic Director Joe Reyda, there was a crowd of about 200 at the varsity basketball match that started at 7:30 p.m. on Thursday.
"A count of the people in the Senate galleries, taken between 7:46 p.m. and 7:50 p.m. by this writer, indicated there was a total of approximately 131 people in the galleries at that time.
"This included Capitol staff and security personnel as well as reporters and visitors."
Why do those 131 people hate basketball?
ITEM 11
:
Zero Hedge reported
, "Trump Acquittal Scheduled For Wednesday After Senate Blocks Witnesses In Impeachment Trial."
Good. Gonzaga High does not have a game that night.
ITEM 12
:
MarketWatch reported
, "Schumer warns of reckoning for Republican senators who vote against witnesses in impeachment trial."
Isn't threatening jurors with retaliation against the law?
ITEM 13
: America's choice.
— Mr. Jones™️🇺🇸 (@MrJones_tm) January 31, 2020
Biden's
appeal is becoming more selective
.
ITEM 14
: Mitt Romney was my first choice.
January 31, 2020
Fact check: Cold, but true.
ITEM 15
: I agree.
Any virus named after a beer can't be all bad.

You gunna run and hide over PabstBlueRibbonanomia?

— John Ocasio-Nolte (@NolteNC) January 31, 2020
How much did Corona pay for naming rights?
ITEM 16
: Senator Lisa Murkowski heads to the elevator.
January 31, 2020
They spent four years in college to become human pink flamingos.
ITEM 17
: Democrats are not a serious people.
Chuck Schumer is not having it when Kamala Harris and Sherrod Brown mess around during his impeachment press conference.

Reminder: impeachment is supposed to be sad and somber.

pic.twitter.com/B19hUIQGgr

— Steve Guest (@SteveGuest) January 31, 2020
Thank goodness Schumer is not the majority leader.
ITEM 18
: Anybody But Bernie will be as effective as Anybody But Carter.
Democratic Party leaders are considering a mid-election rule change to reintroduce first round superdelegates in order to stop Bernie Sanders, who party operatives fear will enter convention with the most voter support.

https://t.co/Ot61TrmHhK

— Lee Fang (@lhfang) January 31, 2020
And Anybody But Reagan. And Anybody But Clinton. And Never Trump.
ITEM 19: They seem nice.
— 🇺🇸Eric Carmen🇺🇸 (@RealEricCarmen) February 1, 2020
They see President Trump delivering on his promises, and wonder why Democrats don't.
FINALLY
: In the quest for alternatives to the Drudge Report, a reader suggested Rantburg, which he described as, "More war on terror centric but a very good aggregator of topical news. Has a number of readers who are now commenter's and posters. The comments are also great."
Another reader reminded me I overlooked the Bongino Report.
Add them to the list:
Instapundit
.
Lucianne.com
.
Whatfinger
.
Ace of Spades
.
Breitbart News
.
FreeRepublic
.
TheDonald.win
.
Pro Trump News
.
Rantingly
.
Citizen Free Press
.
The Liberty Daily
.
Knewz
.
BonginoReport.com
.
Rantburg
.