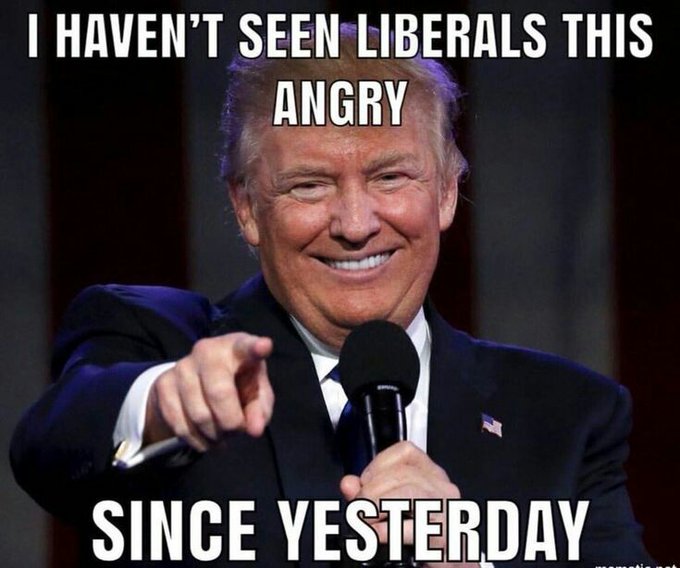 Donald John Trump is still our president.
ITEM 1
:
The Elyria Chronicle-Telegram reported
, "Oberlin College's president said Tuesday the college is taking steps to save up to $2 million annually by outsourcing more than 100 jobs currently held by unionized workers.
"For a union representative who learned of the college's proposal at 11:30 a.m. Tuesday, just two hours before his membership would hear the plan, the news came like a punch in the gut, delivered in bad faith.
"In a letter posted Tuesday on the college's website, President Carmen Twillie Ambar said the college is hoping to save $2 million in salary and benefits by 'formally considering contracting with outside vendors for dining and custodial services currently provided by college employees.'
"An estimated 52 full-time dining employees and 56 full-time custodial employees would be affected, she wrote. The timeline for the steps the college is taking is this summer, Ambar wrote."
The local Gibson Bakery sued Oberlin for defamation and received a jury award of $25 million, for the role of college administrators labeling the bakery racist after three black youths were busted for shoplifting. The administrators kept their jobs. The custodians and cafeteria workers won't.
ITEM 2
: How about a nice Hawaiian punch? No? Have some Trumpenfreude instead.
NBC reported
, "E. Jean Carroll, a veteran advice columnist at ELLE magazine who last year accused President Donald Trump of raping her in the mid-1990s, said she was fired from her editorial position at the end of 2019 after nearly 30 years because of Trump's public debasement of her character."
She lied. Liars get fired. Besides, publications are going down, and editors are desperately throwing staff overboard in an attempt to cut costs and slow the drop.
ITEM 3
:
King's College Hospital in London announced
, "A patient at King's College Hospital in London has played the violin while surgeons removed a tumor from her brain. The unusual approach was taken to ensure areas of the patient's brain responsible for delicate hand movement and coordination – crucial components when playing violin – were not inadvertently damaged during the millimeter-precise procedure.
"Dagmar Turner, 53, a former management consultant from the Isle of Wight, was diagnosed in 2013 with a large grade 2 (slow growing) glioma after suffering a seizure during a symphony. The committed violinist, who plays in Isle of Wight Symphony Orchestra and various choral societies, underwent biopsy and then radiotherapy at her local specialist hospital to keep the tumor at bay. When it became apparent in autumn 2019 that the tumor had grown and become more aggressive Dagmar, who has a 13-year-old son, was keen for surgery to remove it."
That is badass.
They didn't say what she played. I wonder if she took requests.
ITEM 4
:
Breitbart News reported
, "President Donald Trump on Wednesday evening is expected to name Ambassador Richard Grenell as his new acting director of national intelligence, making Grenell the first openly gay cabinet member in a GOP administration in the history of the country.
"Trump's decision to name an effective loyalist to the position of acting director of national intelligence is likely to rankle powerful intelligence community officials, especially in the wake of the president's acquittal by the U.S. Senate on the highly partisan articles of impeachment that the U.S. House brought against him.
"When Trump had previously put Rep. John Ratcliffe (R-TX) up for the director of national intelligence position, deep state-aligned Democrats freaked out claiming Ratcliffe was not experienced enough for the job — despite the fact he's served on the U.S. House Permanent Select Committee on Intelligence (HPSCI) and has been focused on intelligence community issues during his several years in Congress. Under scrutiny on these fronts, Ratcliffe eventually withdrew from the appointment before the U.S. Senate took up his confirmation process — leaving the position open until now, where Trump is subbing Grenell into the role in an acting capacity."
Grennell is a good man — so good that he got Germany to take back one of its Nazis.
ITEM 5
:
Defense One reported
, "President Trump wants to reprogram almost $4 billion in Defense Department funds to pay for his now-infamous wall on the southern border, according to a budget request sent to Congress obtained by Defense One."
*Infamous* is not an objective word.
The controversy may not be all that it seems.
The story said, "The White House appears to be cutting from projects that Congress boosted by billions of dollars above what the Pentagon requested this year. If approved, the move would impact major projects run by some of American's largest defense companies, including Lockheed Martin, Boeing and Huntington Ingalls Industries."
Hmm. So Congress gave the Pentagon more money than it requested knowing President Trump would use the money for the wall. That is one way to compromise on the budget without looking like you compromised.
ITEM 6
:
Biz Pac Review reported
, "Queen Elizabeth reportedly banned her grandson, Prince Harry, and his wife Meghan Markle from monetizing the Sussex Royal brand to make money off their royal titles.
"Basically, the Queen said the couple can no longer use the word royal as part of their brand after they decided to step down as working royals last month."
After all, that is what they said they wanted. Oh they are royal all right. Royal pains in the butt.
ITEM 7
: The press has the sadz.
I hope this isn't true but it looks really really bad that they're not being fully transparent on his health of all issues.

https://t.co/JfEqdo6P9z

— Mehdi Hasan (@mehdirhasan) February 19, 2020
This is just completely unacceptable and indefensible. Sanders needs to provide comprehensive medical records. If he refuses to do so, voters should draw a negative inference that he is hiding something serious.

https://t.co/l1Sz8LVZ0Q

— Susan Hennessey (@Susan_Hennessey) February 19, 2020
I remember how the press handled Donald Trump's first physical with doctors who never examined him. They falsely claimed he had heart problems, he suffered dementia, and he was crazy. Sanders remembers, too. The American media is not worthy of the information. Mocking a president for 4 years has consequences.
ITEM 8
:
India Today reported
, "Agra will be under a security lockdown when United States President Donald Trump arrives in the city. Nobody will be allowed to venture out of their homes on the route that Donald Trump would take from the Agra airport to the Taj Mahal. Even mobile communication is being expected to be interrupted along the route during Donald Trump's stay in Agra. However, this security lockdown does not apply to the hundreds of monkeys living in and around the Taj Mahal.
"The monkeys and other stray animals have attacked numerous domestic and foreign tourists till date inside the Taj Mahal. All the efforts made by the local CISF unit and ASI staff, to control the monkeys, have gone in vain.
"Recently, a Danish tourist was mauled by a cow near the Taj Mahal. He was seriously injured."
Why those animals are behaving like -- Democrats!
Can you drive The Beast inside the Taj Mahal? Asking for a friend.
ITEM 9
:
Fox News reported
, "Billionaire Democrat Michael Bloomberg has bankrolled a network of climate-change lawyers who are operating out of the offices of attorneys general in liberal states, West Virginia state Attorney General Patrick Morrisey claimed Tuesday, calling the Bloomberg setup absolutely outrageous.
"'What you are doing is, you're outsourcing who is running the government to people who are not accountable to the voters,' Morrisey said during an appearance on Fox News' The Ingraham Angle. 'It's unacceptable on so many levels.'
"There would be public and media outrage if a corporation like ExxonMobil decided to fund similar attorneys, but for the opposite reasons, Morrisey added."
Mini Mike is not just trying to buy the Democrat Party. He wants to own state governments as well.
ITEM 10
: National Review reported, "Attorney General William Barr suggested Wednesday that Section 230, Clinton-era legislation which shields tech platforms from liability for content posted by third-party users, should be revised to accommodate the new realities of social media.
"Speaking at a DOJ workshop on the statute, Barr laid out the need for a holistic approach to the complex and multi-dimensional issues of the modern internet, while stipulating that the Department is not here to advocate for a position."
The story also said
, "The attorney general cited censorship, monopolization, and police powers as policy areas that Section 230 is ill-equipped to address, and suggested that policymakers' understanding of the internet at the time of Section 230's passing — as a 'forum for a true diversity of political discourse, unique opportunities for cultural development, and myriad avenues for intellectual activity' — is no longer viable in the age of big tech consolidation."
AG BARR: "No longer are Tech companies the underdog upstarts. They have become titans of US industry. Given this changing technological landscape, valid questions have been raised on whether Section 230's broad immunity is still necessary, at least in its current form."

pic.twitter.com/1zNdJvKoc0

— ALX 🇺🇸 (@alx) February 19, 2020
Republicans are the party that stands up to billionaires.
ITEM 11
:
CBS reported
, "Is one suburban county going too far trying to legislate what residents can and cannot do in the privacy of their own homes?
"Hoping to be the most progressive county in the state, Suffolk County is proposing a law that would snuff out secondhand smoke in apartment complexes, condominiums, and multi-family dwellings, CBS2's Jennifer McLogan reported Wednesday.
"Smoking is already banned in many public places, and near schools and office buildings, but there are no smoke-free laws for apartment buildings, condos, and two-family homes."
Whatever happened to my body, my choice?
West Virginia needs a Light 'Em If You Got 'Em Law.
ITEM 12
:
The Daily Wire reported
, "Majority Whip Rep. James Clyburn (D-SC) refused to give President Donald Trump any credit during an interview on Wednesday for delivering record low unemployment rates for the black community, and instead argued that blacks had more jobs when they were slaves.
"Clyburn made the remarks during an interview with Fox News when host Neil Cavuto brought up racially insensitive remarks made by Democrat billionaire Michael Bloomberg."
Clyburn wants to bring back slavery?
His actual words were, "I'm saying African American unemployment is not the lowest it's ever been, unless you count slavery. We were fully unemployed during slavery, so it all depends about how you measure this up."
Hatred makes you stupid.
ITEM 13
:
KSAT reported
, "A woman admitted to robbing a Sonic carhop attendant while her infants were in the car with her, according to Converse police."
Must have been Take Your Babies To Work Day in Converse, Texas.
ITEM 14
: After all these years they are catching on.
If you fall for this choreographed mirage, the joke is on you. Barr just needs to seem distant from Trump to keep doing his bidding unfettered.

https://t.co/z4ncmwHlmJ

— Neera Tanden (@neeratanden) February 19, 2020
Choreographed mirage?
ITEM 15
: After a bad NASCAR crash on Monday, the driver left the hospital on Wednesday.
— Melissa Mackenzie 🌐 (@MelissaTweets) February 19, 2020
God just made a point about the power of prayer.
ITEM 16
: Trump rallies really are uplifting.
This is Amazing

These guys carried a World War II Vet to his seat at tonight's Trump Rally.

President Trump really does have the best people supporting him 🇺🇸

pic.twitter.com/Rg1VfDCnH1

— Benny (@bennyjohnson) February 19, 2020
The man is Ervin Julian, a 100-year-old Navy veteran of World War II.
President Trump said, "I asked my son Don to get a couple of hats and get some things and give them to Ervin right now and I want to thank you, really, that's a great honor and thank you for the great job you've done, an American patriot, thank you very much."
ITEM 17
: Democracy dies in darkness -- is a recipe!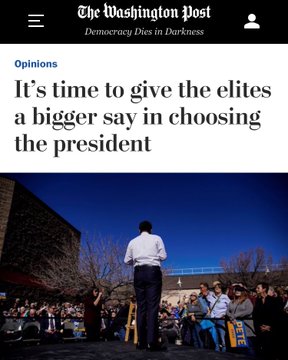 If only Jeff Bezos, the richest man in world history, had a vehicle to communicate to the masses.
ITEM 18
: The self-owning goes on.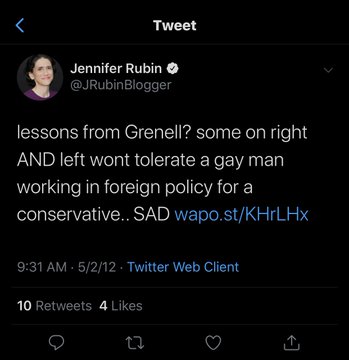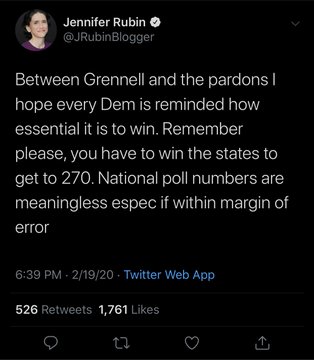 Democrats, party of billionaires and homophobes.
ITEM 19
: Democrats debated. I liked this from Breitbart News, "10:46 PM: Todd asks the candidates if the person with the most delegates should be the nominee even if they don't have a majority.
"Bloomberg says the rules should be followed. He wants the convention to work its will.
"Biden: Let the process work its way out.
"Warren: Roundabout answer getting to no.
"Buttigieg: Not necessarily.
"Klobuchar: Let the process work.
"Sanders: Will of the people. Yes."
Remember this the next time they complain about the Electoral College.