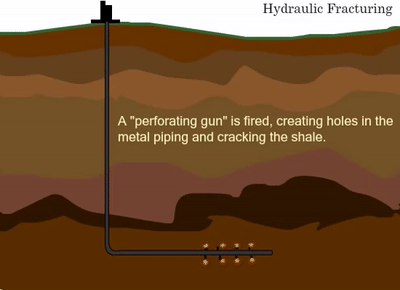 Want to cut carbon emissions? Better get cracking on fracking. America is the world leader in fracking. We invented it. (An engineer for George Phydias Mitchell did.) We also are the world leader in reducing greenhouse gasses.
The Washington Examiner reported
, "Increased natural gas consumption helped bring down U.S. greenhouse gas emissions in 2019, according to a recent report from the U.S. Energy Information Administration."
And where did that natural gas come from?
Hydraulic fracturing.
The Examiner said, "The public can credit much of this success to the fracking boom, which has made natural gas much more plentiful. Cheap, abundant natural gas has gradually been displacing coal, which emits about twice as much carbon dioxide. A recent Rhodium Group study found that coal-fired power generation dropped by 18% last year, the lowest level since 1975."
Now I live across the river from the 10th largest coal-burning electricity producing plant. Coal bothers me not. If they want to switch to natural gas, that is cool with me -- provided it is cheaper.
The Examiner story said, "Regardless of what the critics say, the U.S. is still making significant reductions in carbon emissions. After dropping by more than 2% in 2019, energy-related carbon dioxide emissions are estimated to drop by 2% again in 2020 and by 1.5% in 2021, according to the EIA. If the agency is correct, then in 2021, emissions will be at their lowest since 1991 — even though we'll have a much larger population and economy than we did 30 years ago.
"It's possible that U.S. energy-related carbon dioxide emissions have peaked and will trend downward for years to come. U.S. greenhouse gas emissions dropped 12% between 2005 and 2017, according to the Center for Climate and Energy Solutions. The center suggests that by 2025, emissions could drop up to 18% below 2005 levels.
"Other countries could soon post gains like this as the U.S. continues exporting liquefied natural gas around the world. These exports are poised to help many countries, including China, pivot away from coal and reduce their energy-related carbon emissions."
Hahaha.
Or we can sell them our West Virginia coal. It burns better than that brown coal in Europe, and it pollutes less.
Over at Hot Air, Jazz Shaw is all jazzed up about this development.
He wrote
, "The only countries that are given high marks for meeting the climate agreement's objectives are very small nations with low populations and not very much economic or industrial activity. So who are the real bad guys in this story? Before any global consortium starts trying to dictate to us how to handle our greenhouse gas emissions, perhaps they should get their own houses in order and follow our example. Rather than just talking about reducing emissions, we're actually doing it. And we didn't need a treaty with anyone else to get the job done."
Of course, environmentalism is not about saving the Earth. Indeed, carbon dioxide has nothing to do with global warming. That is a crackpot theory embraced by communists to shutdown American industry because as FDR said, America is the arsenal of democracy.
We have had MAGA and now we have KAG.
But we also need KAFE -- Keep America Fracking, Everyone. Fracking is ending this imaginary pollution while making our economy great.