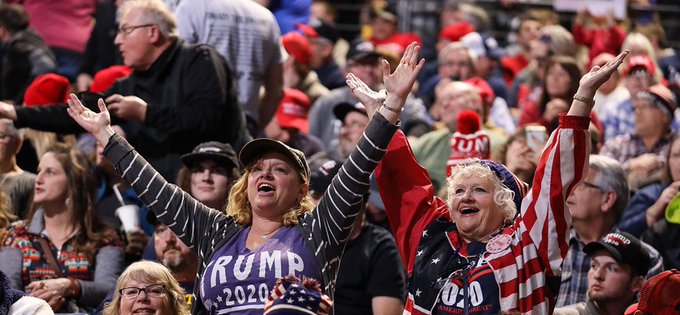 The fire marshal kept late arriving reporters out of the arena at Trump's rally in Iowa. Olivia Nuzzi turned this lemon into a rant against President Donald John Trump.
Ryan Lizza of Politico turned it into a lemon meringue pie.
His piece was so good that Nuzzi recommended it on Twitter.
First, let's get rid of her bellyaching. She tweeted, "Trump rally in Iowa is a total logistical shitshow. Dozens of pre-credentialed members of the press were forced to wait outside for over an hour (it's 30 degrees) while staffers intermittently came out and yelled at us. Then, with no explanation, they permanently shut the doors.
"Since 2015, the Trump campaign has made it a practice to give out more tickets than rally venues have seats — overselling is a classic optics trick."
Everyone knows this. Despite that, 100,000 people signed up for the rally in New Jersey this week. Therein lies the secret to his rallies. People attend to tailgate -- days in advance in some cases. It is a Red State thing.
Lizza, too, was shut out. He decided to cover the rally from outside. He wound up with a good yarn, "The unexpected joy at a Trump rally in Iowa. On the cusp of beating two articles of impeachment, the president's fans were in a celebratory mood. Meanwhile, somewhere there was a Democratic race taking place."
(Cue Hymn to Joy.)
He wrote
, "A fire marshal prevented many reporters from getting inside the event, so I watched Trump and Pence on a giant screen outside in 32 degree weather with several hundred Trump-loving-Iowans. They danced and raised their hands over their MAGA hats when The Village People's 'YMCA' played. They joined arms and screamed along to the chorus of Lee Greenwood's 'God Bless the USA.' Even for Iowa it was an overwhelmingly white crowd. But it was also reflective of the total takeover of the GOP by Trump in that it was old and young, and blue and white collar. A group of female college students from Iowa State took selfies and danced. When Trump mentioned his reelection, a bidding war erupted: '4 more years!' '12 more years!' '30 more years of Trump!'"
"A thousand miles away Trump's trial was still going on..."
Most of the piece, however, was liberal nonsense about the impeachment.
Lizza hates Donald Trump. Absolutely. He suffered Trumpenfreude when New Yorker and CNN canned him amid the Me Too hysteria, but he got another writing gig and CNN quietly reinstated him.
I can see why. He has a work ethic. And a brain.
He also knows when to get out of the cold.
He ended the piece, "As Trump began talking about how the Green New Deal would 'destroy our wonderful cows' and a thermometer conveniently next to the Jumbotron dipped below freezing, I left the rally. On the way out a woman was hawking brick-shaped squishies for two dollars a piece.
"'What would I do with those?' a Trump fan asked her.
"'Strengthen your voting hand or chuck 'em at a libtard,' she said. 'For two bucks you can't go wrong, man.'
"'OK, I'll take two.'"
Hahaha.
That's life. You can chose to be miserable and rant against imaginary injustices. Or you can have a little fun before closing time.