Liberals are upset that a drone killed Iranian general Qassem Soleimani.
The Washington Post reported the story with a headline I would expect to see in the Tehran Times.

The Post reflects public opinion in our nation's capital, which is a hotbed of anti-Trumpism. They hate our president more than they love our country.
Democrat Senator Chris Murphy of Connecticut tweeted, "Soleimani was an enemy of the United States. That's not a question. The question is this -- as reports suggest, did America just assassinate, without any congressional authorization, the second most powerful person in Iran, knowingly setting off a potential massive regional war?"
His fellow Democrat senator from Connecticut, Richard Blumenthal, tweeted, "Trump Admin owes a full explanation of airstrike reports — all the facts — to Congress & the American people. The present authorizations for use of military force in no way cover starting a possible new war. This step could bring the most consequential military confrontation in decades. My immediate concern is for our brave Americans serving in harm's way."
Whatever happened to
we came, we saw, he died
?
The
Associated Press reported
, "Democratic presidential candidate Joe Biden said Thursday that President Donald Trump has 'tossed a stick of dynamite into a tinderbox' with the targeted killing of Iran's top general in an airstrike at Baghdad's international airport.
"The former vice president joined other Democratic White House hopefuls in criticizing Trump's order, saying it could leave the U.S. 'on the brink of a major conflict across the Middle East.'"
Just a few months ago, Biden wanted sticks of dynamite in the Middle East.
The Guardian reported
, "former US vice-president Joe Biden warned during a Democratic debate on Tuesday night that Islamic State fighters would strike the US as a result of Donald Trump's abrupt withdrawal of American forces in northern Syria.
"'We have Isis that's going to come here,' Biden said. 'They are going to damage the United States of America. That's why we got involved in the first place.'"
But there is more to this than merely opposing President Trump. Democrats also are pro-Iran.
Ben Rhodes was the Obama lackey who did the PR for Obama delivering $170 billion to Iran tweeted, "Agree -- no question that Soleimani has a lot of blood on his hands. But this is a really frightening moment. Iran will respond and likely in various places. Thinking of all US personnel in the region right now."
Rhodes speaks for Obama. We have a shadow presidency, which is scary. I will elaborate in greater detail someday.
And in a string of tweets, Rhodes made Obama's argument.
He tweeted, "Trump may have just started a war with no congressional debate. I really hope the worst case scenario doesn't happen but everything about this situation suggests serious escalation to come."
And, "Congress has to assert itself and determine exactly what our Iran policy is. Did we mean to do this? Do we have any plan for what comes next? What is the legal basis for all this?"
And, "There are real world consequences to having Trump as President. They are becoming increasingly clear and he is the one who is going to have to navigate incredibly complicated and dangerous messes of his own creation. This is not reality TV."
My how things have changed in just a few days. Democrats were gleeful on New Year's Even when Iranians had attacked our embassy in Baghdad. They labelled it President Donald John Trump's Benghazi.
Senator Murphy mocked our president.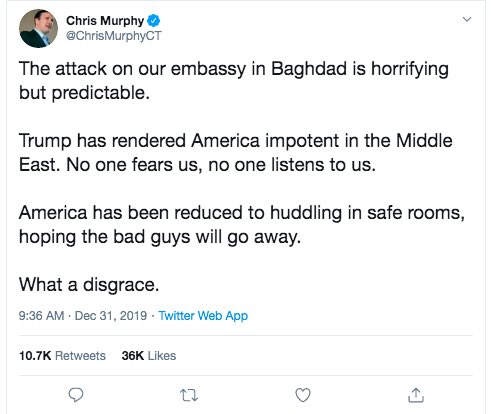 Now that President Trump has punched back twice as hard, Senator Murphy cries foul.
Democrat Senator Ed Markey of Massachusetts tweeted, "Trump's apparent assassination of Soleimani is a massive, deliberate, and dangerous escalation of conflict with Iran. The President just put the lives of every person in the region -- U.S. service members and civilians -- at immediate risk.
"We need de-escalation now."
Assassination? Really? The only de-escalation we need is in Democrat rhetoric.
What did killing the general in charge of Iran's terrorism network escalate? Is Iran going to call for death to America -- as it has for 40 years? Will it attack our embassy in Iraq again?
When Iran attacked our embassy, President Trump tweeted, "Iran will be held fully responsible for lives lost, or damage incurred, at any of our facilities. They will pay a very BIG PRICE! This is not a Warning, it is a Threat. Happy New Year!"
2 days later, Qassem Soleimani discovered whether it is true that terrorists get 72 virgins. That's a steep price.
Axios reported
, "Republicans celebrate death of Qasem Soleimani."
All real Americans do because it sent a message to all the other generals in Iran: you could be next.
Donald Trump just ensured the security of American embassies for the next fifty years

Acta, non verba

— Will Chamberlain (@willchamberlain) January 3, 2020