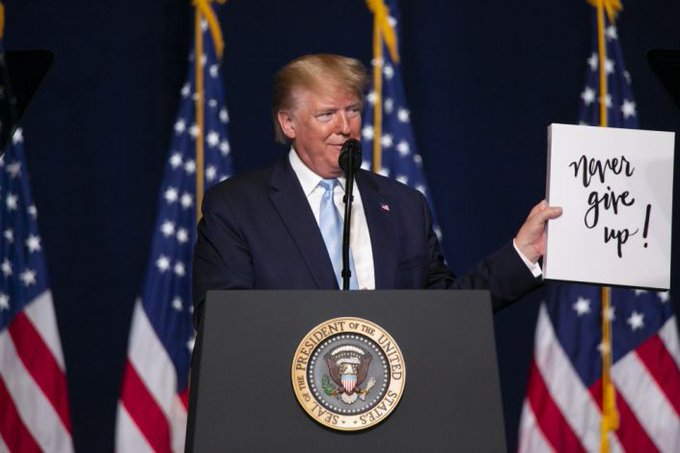 Donald John Trump is still our president.
ITEM 1
:
Breitbart News reported
, "Voters overwhelmingly want companies to train and hire Americans before importing more legal immigrants or visa workers.
"But liberals are far more likely than conservatives to say Congress should allow companies to import more immigrants to take jobs sought by U.S. graduates and sidelined workers, according to Rasmussen's December survey of 1,250 likely voters.
"The survey asked voters: 'When businesses say they are having trouble finding Americans to take jobs in construction, manufacturing, hospitality and other service work, what is generally best for the country? Is it better for businesses to raise the pay and try harder to recruit [Americans]?'
"60% of likely voters agreed it is 'better for businesses to raise the pay and try harder to recruit non-working Americans even if it causes prices to rise.'"
They are taking our jobs. (Well, yours. I'm retired.) Vote accordingly.
ITEM 2
:
A HuffPost poll found
71% of Americans believe Iran is a serious threat to the United States. Only 18% not serious.
But only 43% approved of killing General Qassem Soleimani. 38% disapproved.
The poll asked "Before this week, had you heard of the name Qassem Soleimani?"
Only 33% said yes.
This is why our Founding Fathers setup a constitutional republic instead of a democracy.
ITEM 3
: News Busters reported ABC sent Martha Raddatz to Tehran for the funeral of Qassem Soleimani.
She said
, "I have been in the midst of anti-America protests in Iran before, but nothing like this. A powerful combination of grief and anger with shouts of 'death to America' echoing through the streets around us. This morning, mourners filling the streets of Iran's capital of Tehran for the funeral of General Soleimani killed by that U.S. drone strike last week. Aerial images capturing the sea of Iranians packing the streets to pay tribute to a man revered by many here."
So? Berliners mourned the death of Hitler.
To the news media, Soleimani is Iran's John McCain.
ITEM 4
:
PJ Media reported
, "Guns really are the gift that keeps on giving, and if December's near-record NICS background checks mean anything, Americans gave a lot this holiday season. Looking back at the year as a whole, 2019 was another record-setter, with over 28 million background checks. That's a 3% jump over the previous record from 2016. December was no slouch, either, with nearly 3 million NICS checks — the second-highest month on record.
"The reason for 2016 being such a banner year for gun sales was clear. Barack Obama, as many others have noted, was perhaps the best firearms salesman in human history. Inadvertently, of course, but his constant threats and occasional actions to restrict gun ownership spurred millions to buy more and more guns. And in 2016, when it looked like Hillary Clinton was going to be our next president, American gun buyers stepped up like never before.
"If I could, I'd get all 100,000,000 or so of us in a giant circle so we could all pat one another on the back."
All those background checks are made in Clarksburg, West Virginia, so on behalf of my adopted state, I thank all you gun buyers. We need the jobs.
ITEM 5
:
Neeraj Sood reported
, "New federal regulations finalized Nov. 15 require hospitals to make public all the prices they negotiate with insurers and health plans, starting in 2021. The aim is to untangle the hospital marketplace with a wave of consumer-friendly information that will promote competition that leads to lower costs.
"Hospitals are not happy, but advocates of well-informed, patient-centered health care should be cheering.
"I am a professor of health policy at the Price School and Schaeffer Center at USC and have published several papers and worked with startups that aim to improve price transparency and consumer decision-making. I'm among those cheering."
Given how large the administration rosters at most hospitals are, I would say they can drop prices pretty low and not lower quality. In fact, losing a layer of bureaucracy might up their game.
ITEM 6
:
Summit News reported
, "Authorities in Australia have arrested close to 200 people for deliberately starting the bushfires that have devastated the country, yet the media and celebrities continue to blame climate change for the disaster.
"The fires have caused at least 18 deaths, destroyed thousands of homes, millions of hectares of land and killed hundreds of millions of animals.
"A total of 183 people have been arrested by police in Queensland, NSW, Victoria, South Australia and Tasmania for lighting bushfires over the last few months, figures obtained by news agency AAP show."
What do you know? It is a manmade disaster.
ITEM 7
:
CNBC reported
, "Stocks rose slightly on Monday, recovering losses from earlier in the session as oil dipped despite rising geopolitical worries following last week's U.S. killing of Iran's top general.
"Monday's marginal gains were in contrast to Friday's sharp decline. The Dow and S&P 500 had their worst trading day in a month on Friday, the morning after President Donald Trump approved a U.S. airstrike in Baghdad that killed top Iranian Gen. Qasem Soleimani."
Democrats have cried World War 3 so many times, no one listens.
That is not a healthy situation.
ITEM 8
:
Fox Business News reported
, "Newly submitted court documents link Hunter Biden, the son of Democratic presidential candidate and former Vice President Joe Biden, to an identity theft case from 2016 when he was allegedly being checked into an unidentified Arizona facility.
"The court papers were filed Monday in an Arkansas court as part of a paternity battle over a child the Hunter Biden shares with Lunden Roberts, who met the scandal-plagued businessman at a Washington, D.C., strip club where she worked. While the question of whether or not Biden is a father is no longer an issue — a DNA test confirmed he is the baby's father — the parents are at odds over issues such as child support.
"The court papers, which cite a Prescott, Arizona, police report, describe what allegedly happened on the morning of Oct. 28, 2016, when a Hertz rental car employee reportedly received a phone call around 10 a.m. and subsequently discovered suspicious items inside one of the rental cars.
"'Stolen identities were used to check defendant Robert Hunter Biden into an Arizona facility and providing false statements to the Prescott Police Department,' the document states. 'These stolen identities include his deceased brother Joseph R. Beau Biden III, and Joseph McGee.'"
Daddy has used his positions as a senator and later, vice president, to protect his ne'er-do-well son from the police and grease him for no-show jobs with firms that wanted to influence Quid Pro Joe.
Hunter Biden belongs in prison. Instead, we sent Felicity Huffman.
ITEM 9
:
The Hill reported
, "Chelsea Clinton has reaped $9 million in compensation since 2011 for serving on the board of an Internet investment company, according to Barron's, the financial publication."
Chelsea is right up there with Hunter Biden and John Kerry's stepson in collecting bribes by proxy.
Consider it an insurance policy against regulation.
ITEM 10
: New York magazine did a profile on Alexandria Ocasio-Cortez.
The story said
, "She said the Congressional Progressive Caucus should start kicking people out if they stray too far from the party line. Other caucuses within the Democratic Party in Congress require applications, Ocasio-Cortez pointed out. But 'they let anybody who the cat dragged in call themselves a progressive. There's no standard,' she said.
"The same goes for the party as a whole: 'Democrats can be too big of a tent.'"
AOC is the soul of the Democrat Party. Big Money operatives plucked her out of nowhere to defeat Joe Crowley, who was Pelosi's heir apparent. This is not your father's Democrat Party. This is your crazy aunt's Communist one.
ITEM 11
:
The Washington Examiner reported
, "Instagram determined that George Lopez's threat to assassinate President Trump violates the platform's policy and will delete the comment.
"The 58-year-old comedian and actor responded to a post on social media about the Iranian government putting an $80 million bounty on Trump's head by saying he would 'do it for half'' of the offer. Lopez was reacting to reports that a eulogist at Iranian Gen. Qassem Soleimani's funeral called for the president's assassination as payback for the general's death."
Who the hell decided Instagram can determine what you may or may not say?
Let the Secret Service handle it.
ITEM 12
:
The Hill reported
, "Michael Bloomberg has hired more than 800 staffers since launching his bid for the Democratic presidential nomination in November, according to an aide to the former New York City mayor.
"Most of those staffers — more than 500 — are spread across 30 states, including the 14 Super Tuesday states that Bloomberg is counting on to propel his presidential campaign. Roughly 300 more are based at the campaign's New York City headquarters, the aide said.
"Bloomberg, who only entered the presidential race in November, has quickly shot to the top of the Democratic primary field in spending and staffing. Unlike his rivals for the party's nomination, he's not competing in the four early primary and caucus states, opting instead to invest in states that hold their primaries in March.
"He's also self-funding his campaign.
"The heavy staffing investments give Bloomberg the largest organization in the Democratic field outside the four early primary or caucus states of Iowa, New Hampshire, Nevada and South Carolina."
He will blow billions on this campaign because he is looking at the big picture. He is training an army to convince Americans to vote in communism, likely in 2024. If not, 2028.
ITEM 13
:
The New Hampshire Union-Leader reported
, "Buttigieg chastises Trump over Iranian general's killing."
Buttigieg is of the military school that you kill only the enlisted soldiers, not the officers.
Americans lost the Battle of Bunker Hill but killed or wounded 1,054 British soldiers, including 81 officers. British General Henry Clinton said, "A few more such victories would have shortly put an end to British dominion in America."
ITEM 14
: The Wall Street Journal reported, "Politicians bemoan the lack of affordable housing, but their policies often create the problem. Look no further than Oregon, where restrictive zoning and mandates have yielded the lowest rate of residential construction in decades.
"Oregon's population grew by nearly 400,000 between 2010 and 2019. But the state added a mere 37 housing permits for every 100 new residents, according to a report released last week by the Oregon Office of Economic Analysis. Economist Josh Lehner found that 'while much of the attention is paid to rising housing costs, we know they are the symptom and not the cause of the disease. The chief underlying cause is the ongoing low levels of new construction this decade.'"
The Journal blamed government.
It said, "In the 1970s lawmakers worried about sprawl imposed strict limits on urban expansion. These urban growth boundaries have failed to adjust sufficiently to growing populations, choking residential development despite high demand. Rising housing prices are the inevitable result of this government-imposed scarcity.
"Portland is now desperate for affordable housing and says it's at least 23,000 units short. But its policies discourage investment in housing for low- and middle-income families."
And the story said, "Some Portland builders have responded by erecting luxury buildings."
Democrats are slaves to the elitists. In their world, the poor can just live on the streets and poop, and the middle class can move to Texas.
ITEM 15
:
Breitbart News reported
, "The Georgia legislature is set to debate a bill that would require students to compete in the category of their birth gender.
"The bill was filed by Philip Singleton, a recently elected Republican State Representative from Sharpsburg, Georgia. Singleton said that his bill aimed to eliminate the unfair advantage transgender athletes might have, according to the Atlanta Journal-Constitution.
"'The Student-Athlete Protection Act is designed to ensure that biological boys will only compete in sports against other biological boys and vice-versa for girls,' Singleton said. 'The intent of my bill is to make sure every student has the opportunity to compete fairly.'"
Republican state legislators in Tennessee and the state of Washington have filed similar bills in their states.
ITEM 16
:
The New York Post reported
, "The most prolific rapist in British history was jailed for life Monday after he was convicted of attacking and filming more than 100 straight men whom he left comatose with drugs.
"Reynhard Sinaga, 36, slipped GBH to his victims so he could rape them at his apartment while he was a student living in Manchester, according to testimony at four separate trials that could be reported for the first time Monday.
"The Singapore native was convicted of 128 rapes of 48 men, ages 17 to 36, as well as 16 attempted rapes, 13 sexual assaults and two assaults by penetration, all from January 2015 to June 2017.
"Sinaga's reign of terror finally ended when a teenager woke up while being raped and beat the sex attacker so badly that he had to be hospitalized, the Manchester Evening News reported."
Most of the victims were straight.
The story said, "Many of the victims found in Sinaga's sick recordings did not even know they had been assaulted until contacted by police, officers told the Manchester Evening News, with some even thinking he was a good Samaritan who offered them a place to stay when they were drunk."
Evil. Pure and simple.
ITEM 17
:
The Palm Beach Post reported
, "Let me out! Let me out! Ohhh! Ohhh! Ohhh!"
"When a Florida neighbor heard those chilling cries, the logical next step was to call 911. Four Palm Beach County Sheriff's deputies pulled up and confronted a man who had his wife's car on blocks in his driveway.
"In a minute, the mystery was solved. The man walked inside and returned with his parrot."
First there was Florida Man. Then there was Florida Woman. Now we have Florida Parrot. I cannot wait to see what is next.
ITEM 18
:
The Hill reported
, "Roughly a dozen GOP senators want to change the Senate's rules and allow for lawmakers to dismiss articles of impeachment against President Trump before the House sends them over.
"Sen. Josh Hawley (R-Mo.) introduced the resolution on Monday, arguing the Senate's impeachment rules do not envision a scenario where the House would delay transmitting articles against a president, as Speaker Nancy Pelosi (D-Calif.) has done.
"'The Constitution gives the Senate sole power to adjudicate articles of impeachment, not the House. If Speaker Pelosi is afraid to try her case, the articles should be dismissed for failure to prosecute and Congress should get back to doing the people's business,' Hawley said in a statement."
Nancy would have 25 days to send over the impeachment resolution or have the case dismissed.
I am bored by the impeachment. Democrats should just drop the subject and move on.