Donald John Trump is still our president.
ITEM 1
:
The Jerusalem Post reported
, "Saudi Arabia, Egypt, Qatar, and the UAE on Tuesday issued statements welcoming the Trump administration's peace plan.
"'The Kingdom reiterates its support for all efforts aimed at reaching a just and comprehensive resolution to the Palestinian cause,' said the Saudi Ministry of Foreign Affairs."
Told you
.
The Six Day War and the Yom Kippur War soured Arabs on fighting Israel. The bungling of Iraq soured Israel and Saudi Arabia on relying too much on the USA. Donald John Trump knows this. He acted upon this information.
ITEM 2
: A reader wrote, "I see that the results in the election in Texas have come in. In state House district 28 their was a special election. The Republican incumbent was stepping down. He had been re-elected in 2016 by a 9% margin over a Democrat.
"Overall, the district actually went for the sore loser over Donald Trump 51%-45%.
"In the special election yesterday the Republican won by 58%-42%. The turnout was over 30,000, which is a record for a House special election in Texas. The Democrat had strong support from Liz Warren, Julian Castro, and Joe Biden. Michael Bloomberg came to the district to campaign door-to-door. The Fake Hispanic, Robert O'Rourke, lived in the district for the last two weeks to campaign for the Democrat.
"It was all for nothing. Now we know that one special election is not a trend but the Democrats threw everything they had in this race to turn Texas blue and it failed miserably in this election."
I agree that the media lost interest once Republican Gary Gates schlonged the Democrat.
The Associated Press reported Gates knocked on 150 doors
. A day. Knocking on doors matters because it gives feedback polls and focus groups don't provide.
ITEM 3
:
The Verge reported
, "The idea of a National Climate Bank is catching on in Congress, and it could infuse billions of dollars into efforts to eliminate the US's planet-heating carbon emissions. A handful of Congressional proposals have been made over the past year calling for the government to start investing in technology upgrades and inventions that would cut down on greenhouse gases. Funds from the National Climate Bank would ideally lower the financial risks associated with green innovation — encouraging private investors to throw more money into the pot, without shifting costs to consumers. The hope is that the bank can tackle everything from building up the infrastructure for electric vehicles and solar power storage, to making communities more resilient to the effects of climate change.
"A National Climate Bank is at the center of a broad set of policies proposed this month by the House Committee on Energy and Commerce. The effort, called the Climate Leadership and Environmental Action for our Nation's (CLEAN) Future Act, is aimed at bringing greenhouse gas emissions down to essentially zero by 2050. The National Climate Bank would pull together the public and private investment needed to transition to an economy with pretty much no carbon footprint. It builds on bills introduced in both the House and Senate that would create an independent nonprofit bank capitalized with $35 billion in federal funds. That bank could mobilize up to $1 trillion in total public and private investment over three decades, advocates estimate."
Didn't we do this with Solyndra?
How did that work out?
ITEM 4
:
Fox News reported
, "The head of San Francisco Public Works, which is in charge of cleaning up the city's feces-filled streets, has been arrested by the FBI on suspicion of public corruption.
"San Francisco Public Works Director Mohammed Nuru was arrested Monday alongside Nick Bovis, the owner of a popular sports bar in Fisherman's Wharf, Lefty O-Doul's. Sources told NBC Bay Area that Nuru was arrested on suspicion of accepting bribes for airport concession contracts.
"Both Nuru and Bovis were released on bond following their arrest.
"As the top official in charge of the $312 million city public works budget since 2012, Nuru was tasked with cleaning up San Francisco streets, which critics note remain cluttered with feces, trash and used needles amid a homelessness crisis."
If Democrats did not want to live in a shithole, they would hire
Scott Presler
to succeed this crook.
What are the chances that I would be headed to do a cleanup in San Francisco

days after the SF Public Works Director was arrested by the FBI?

You can't make this up.

Maybe they should hire me — I'll get the job done.

#SanFranciscoCleanup

— #ThePersistence (@ScottPresler) January 29, 2020
See, he likes the idea too.
ITEM 5
:
The New York Post reported
, "Six suspected drug dealers who are accused of running a $7 million fentanyl distribution operation out of a Bronx apartment were released without bail under the state's new criminal justice law early Wednesday.
"The suspects — Livo Valdez, Jaslin Baldera, Frederick Baldera, Frandi Ledema, Diego Tejada and Parfraimy Antonio — were arrested Monday when officers with the New York Drug Enforcement Task Force raided an apartment on Sedgwick Avenue in Kingsbridge that was allegedly used as a heroin and fentanyl packaging mill.
"They were each charged with criminal possession of a controlled substance and criminally using drug paraphernalia."
$7 million in fentanyl.
More and more Democrats are acting as if they are in cahoots with crime lords.
ITEM 6
:
Life Site News reported
, "Fox Sports apparently has no problem airing controversial ads during the 2020 Super Bowl — just not a pro-life commercial.
"According to NBC News, this year's big game between the Kansas City Chiefs and the San Francisco 49ers will include a commercial featuring drag queens/LGBTQ activists.
"Meanwhile, pro-life advocates with the new Faces of Choice organization said they have been waiting at least six months for an answer from FOX about their ad."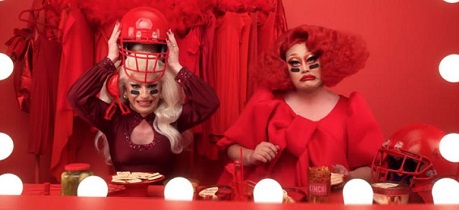 Watch OANN instead of Fox News because it is all the same virtue signaling company. A shareholder's lawsuit might end this censorship.
ITEM 7
: The New York Times reported, "Former Vice President Joseph R. Biden Jr. on Tuesday seized on comments by Senator Joni Ernst, Republican of Iowa, suggesting that the White House's arguments at the impeachment trial could hurt his political fortunes."
This should be good.
Biden said, "She spilled the beans. She just came out and flat said it. You know, the whole impeachment trial for Trump is just a political hit job to try to smear me, because he is scared to death to run against me, and he has good reason to be concerned."
Oh no. He's on to us, fellas. We somehow got his party to impeach President Trump just to get back at Biden.
Thank God Obama lived.
ITEM 8
: Flashback to August 25, 2008, when radio talker Michael Carey wrote about Biden in the Anchorage Daily News.
He wrote
, "He is one of only five senators who were present in 1973 when Congress passed legislation authorizing construction of the trans-Alaska pipeline system (TAPS).
"Biden, then 30, was the youngest member of the Senate and not a leader in the lengthy debate over the pipeline. But his voting record is striking -- at least to an Alaskan interested in history.
"Biden was a reliable no on TAPS. In July, when the Senate passed the Gravel-Stevens amendment allowing immediate construction of the line and precluding further judicial review, Biden voted no. The amendment passed after Vice President Spiro Agnew broke a 49-49 tie.
"In November, Biden voted against final passage of the bill. The vote was 80-5. Biden was one of the five."
Thank God Obama lived.
ITEM 9
:
Politico reported
, "In 2005, Joe Biden's brother bought an acre of land with excellent ocean views on a remote island in the Caribbean for $150,000. He divided it into three parcels, and the next year a lobbyist close to the Delaware senator bought one of the parcels for what had been the cost of the entire property. Later, the lobbyist gave Biden's brother a mortgage loan on the remaining parcels.
"The Virgin Islands land deal, reported here for the first time, furthers a pattern in which members of the Biden family have engaged in financial dealings with people with an interest in influencing the former vice president."
Biden is a corruption savant.
ITEM 10
:
Politico reported
, "Democrats are bracing for the possibility that if President Donald Trump loses the 2020 election, he and his aides will bungle a smooth handover of power – and maybe even try to outright sabotage the transition."
In other words, Democrats expect President Trump to treat them as Obama treated him.
But without Obama's spying.
And without Obama's lying.
And without pussyhats crying.
ITEM 11
:
The Washington Examiner reported
, "The federal prosecutor in charge of the Justice Department inquiry into the origins of the Russia investigation appointed a new criminal division chief. John Durham, a U.S. attorney from Connecticut, announced on Monday that the role will be taken by Sarah Karwan, who has prosecuted a wide variety of criminal cases."
The story said, "Karwan replaced William Nardini, who now has a seat on the U.S. Court of Appeals for the 2nd Circuit."
This is not the news we were hoping for.
ITEM 12
:
Zero Hedge reported
, "The coordinated leak of the Bolton manuscript has revived Democrats' hopes for calling the former National Security Advisor to testify at Trump's trial in the Senate, Mitch McConnell reluctantly admitted last night.
"And as Republican frustration with the mustachioed neocon reaches a boiling point, President Trump -- who famously fired Bolton via Twitter -- has taken to his favorite social media platform to bash his former NSA.
"Trump begins by slamming Bolton's disloyalty, claiming that Bolton begged him for a non-Senate approved job and that Trump caved and gave it to him despite many saying 'don't do it, sir.'
"Trump also mocked Bolton's tendency toward gaffes during TV appearances, like the time he claimed the US was looking at the Libya model to handle North Korea. He was immediately roasted by national security experts who noted that Gadhafi's decision to surrender his nuclear ambitions eventually led to his overthrow and brutal murder."
That gaffe understandably freaked Kim Jong Un out. That is not a good thing to do when negotiating to get a guy to give up his nukes.
ITEM 13
:
The Daily Mail reported
, "John Bolton, during a 2005 Senate confirmation process, was accused by a female government contractor of harassing 'her relentlessly,' chasing her around a hotel, criticizing her weight and 'hinting' she was a lesbian."
I can see why he would not want to go through a Senate chamber of horrors unleashed by Democrats.
Now he works for them.
ITEM 14
:
Paul Joseph Watson reported
, "The UK Boarding Schools' Association is more concerned about mean words on the Internet than the outbreak of the coronavirus, warning its students that any expressions of xenophobia against Chinese people will not be tolerated."
Watson also wrote, "Thank God courageous school authorities have their finger on the pulse amidst a rapidly spreading potential pandemic and have faced up to the real threat it poses to large numbers of people gathered in close spaces; That threat being that someone might get offended."
Some people would rather die than offend a liberal.
Here's their chance.
ITEM 15
: Cleanup on Aisle NAFTA.
— The White House (@WhiteHouse) January 29, 2020
Doing the job while under constant harassment by the press, Obama, and idiot Democrats.
ITEM 16
: Boris Johnson may be a blond with bad hair born in New York City but...
.

@Nigel_Farage

: "No more financial contributions, no more European Court of Justice, no more common fisheries policy, no more being talked down to, no more being bullied."

pic.twitter.com/ZQ8aQ4qVmM

— BrexitCentral (@BrexitCentral) January 29, 2020
Nigel Farage is their Trump. He is having the time of his life.
ITEM 17
: That impeachment thing continues.
— Bo Snerdley (@BoSnerdley) January 29, 2020
Electronic devices are not allowed in the gallery.
Including ankle bracelets -- even the ones on Democrat witnesses.