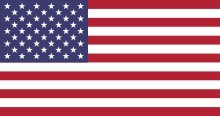 Donald John Trump is still our president, and Qassem Soleimani is no longer the head of Iran's elite Quds Force because Qassem Soleimani no longer is.
ITEM 1
:
The Associated Press reported
, "Iraqi TV and three Iraqi officials said Friday that Iranian Gen. Qassim Soleimani, the head of Iran's elite Quds Force, has been killed in an airstrike at Baghdad's international airport.
"The officials said the strike also killed Abu Mahdi al-Muhandis, the deputy commander of Iran-backed militias known as the Popular Mobilization Forces.
"Iraq's Popular Mobilization Forces confirmed the deaths of Soleimani and Mahdi al-Muhandis in a post to social media Friday morning local time."
Good intelligence.
You get that when the spies are not spying on political opponents.
The staff at the Washington Post is in a state of shock.

Remember, the Post is a company town newspaper. It reflects the thinking in the deep state, which apparently is so angry that we elected Donald John Trump president that the deep state sides with our enemies.
Breitbart News reported
, "The leader of Iran's Islamic Revolutionary Guards Corps-Quds Forces, General Qassem Soleimani, mocked President Donald Trump on Thursday and warned that if the United States starts war with the Islamic Republic, it would 'destroy all that you possess.'"
Famous last words.
ITEM 2
: President Donald John Trump called out John "Do You Know Who I Am?" Kerry
at a press conference
.
QUESTION
: "Is there a risk of military confrontation, sir?"
PRESIDENT TRUMP
: "I guess you could say that always, right? Isn't it, I mean, you know, always? I don't want to say no, but hopefully that won't happen. We have one of the most powerful ships in the world that's loaded up, and we don't want to have to do anything.
"But I'd like to see — with Iran, I'd like to see them call me. You know, John Kerry speaks to them a lot. John Kerry tells them not to call. That's a violation of the Logan Act. And frankly, he should be prosecuted on that. But my people don't want to do anything that's — only the Democrats do that kind of stuff you know? If it were the opposite way, they'd prosecute him under the Logan Act.
"But John Kerry violated the Logan Act. He's talking to Iran and has been, has many meetings and many phone calls. And he's telling them what to do. That is a total violation of the Logan Act, because what they should be doing is — their economy is a mess ever since I took away the Iran deal. They have inflation that's the highest number I've ever heard. They are having riots every weekend and during the week even.
"And what they should be doing is calling me up, sitting down. We can make a deal, fair deal. We just don't want them to have nuclear weapons, not too much to ask. And we would help put them back into great shape. They're in bad shape right now. I look forward to the day where we can actually help Iran. We're not looking to hurt Iran. I want them to be strong and great and have a great economy.
"But they're listening to John Kerry, who violated a very important element of what he's supposed to be doing. He violated the Logan Act, plain and simple. He shouldn't be doing that. But they should call, and if they do, we're open to talking to them. We have no secrets. And they can be very, very strong financially. They have great potential, very much like North Korea.
"North Korea has tremendous potential economically. And I don't think [Kim Jong Un]'s going to blow that. I don't think so."
Obama's administration was sleazy in office, and is seditious out of office.
ITEM 3
:
The Washington Examiner reported
, "With Virginia Democrats taking over all branches of state government, a firearms store owner in the state says sales of guns, magazines, and ammunition are up 200%, and more of his customers are paying in cash.
"'This is the largest Christmas and November, December that we've had, basically, since Trump has come on board. The only other person that was a better salesman right now is when we had President Obama,' said Jerry Rapp, owner of SpecDive Tactical, in Alexandria, comparing the administrations of President Trump and his White House predecessor, Barack Obama.
"'Every time [Obama] turned around he was going to ban something or make something illegal. But even that isn't even close to the amount of sales we're selling right now of magazines, of guns, of every kind of gun from pistol, rifle, shotguns, to AR platforms' and ammunition, Rapp told the Washington Examiner. 'We can't keep it in stock.'
"Since Democrats took the majorities of both chambers in Virginia's state legislature after big wins in the November elections, gun control proposals that include bans on 'assault-style' weapons, restrictions on magazine capacity, universal background checks, and restrictions to one gun a month purchases have all been brought forth."
Virginia Democrats hold 7 House seats in Congress, and Republicans hold 4. Look for that to flip this year, and maybe fall to 8 Republicans and 3 Democrats.
The public is up in arms against gun confiscation. Literally.
ITEM 4
: Harvard Law Professor Laurence Tribe tweeted, "When the Chief Justice administers the oath of impartiality to a Senator who has said he will not be impartial, he will need to decide what his own oath demands — and whether he has jurisdiction to rule on a motion to recuse that Senator for cause."
University of Tennessee College of Law Professor Glenn Reynolds replied
, "That's not how this works. That's not how any of this works. The Chief Justice has no such power — the Senate has the sole power to try impeachments, the Chief just presides — and its exercise would delegitimize the whole affair. Were the Chief to 'recuse' — I suppose Tribe really means disqualify — Trump supporters for bias, he'd set the stage for Trump ignoring the whole thing as illegitimate, and Trump would have a strong basis for doing so. Tribe used to have more sense, but he's lost it.
"It's not Trump who's the threat to norms and democracy."
You can have your Harvard lawyer.
Give me one from Tennessee.
They are not elites. Navy SEALs are elite. No, Tribe and his kind are elitists.
ITEM 5
:
The Washington Times reported
, "President Trump's reelection campaign said Thursday it raised $46 million during the last quarter of 2019, marking its best-ever haul despite impeachment fervor.
"It starts the year flush with cash — nearly $103 million on hand — as Democrats kick off their nomination battle in Iowa in about a month.
"The quarterly amount is money raised by the Trump campaign alone and doesn't include funds from the Republican National Committee or any authorized joint fundraising committees.
"Campaign manager Brad Parscale said the impressive fundraising is a testament to Mr. Trump's grassroots appeal and record in office."
Unlike his eventual Democrat opponent, President Trump does not face a primary opponent and can stockpile most of the money for the general election.
Many thousandaires are giving money to a billionaire. That is salesmanship.
ITEM 6
: I highlighted this news the other day via bloggers, but it is finally hitting the mainstream news.
— New York Post (@nypost) January 2, 2020
Under Obama, the blogs grew up and the paid media squandered its credibility.
The story said
, "A leader of the Iranian-backed siege of the US Embassy in Baghdad visited the White House with other Iraqi officials in 2011 during the Obama administration, according to a report on Thursday.
"Hadi al-Amari was photographed outside the US diplomatic compound after the militiamen tried to storm the facility and was identified by Secretary of State Mike Pompeo of being an Iranian proxy aiding terror groups in Iraq."
Maybe he flipped to the dark side in 8 years.
Maybe storks deliver babies, too.
ITEM 7
:
The Washington Times reported
, "Former FBI Deputy Director Andrew McCabe admitted he misled investigators about his role in a media leak and apologized for it, according to transcripts of his interviews with investigators released Thursday.
"The transcripts were released by the Justice Department's inspector general in response to a Freedom of Information Act lawsuit by Citizens for Responsibility and Ethics in Washington.
"An unidentified FBI investigator detailed his frustration with Mr. McCabe over the time he spent investigating the leak, only to discover the leak came from the former deputy director himself, according to the transcripts. Mr. McCabe had repeatedly denied he was the source of the leak, but later confessed and apologized when the investigator confronted him, the transcripts said."
Indict McCabe for lying to the FBI.
Just like the FBI indicted Scooter Libby and General Michael Flynn.
ITEM 8
:
The Independent reported
, "Former US Secretary of State Hillary Clinton has become the first woman to be appointed the new Chancellor of Queen's University in Belfast. The university announced on Thursday that Ms Clinton, who received an honorary doctorate from the university in October, will become the 11th Chancellor. The role of chancellor lasts for five years, and Ms Clinton will act as an advisor to the vice chancellor Professor Ian Greer and senior management as part of it. She will also preside at most graduation ceremonies and be an ambassador for the university overseas."
Finally, president.
Sorta.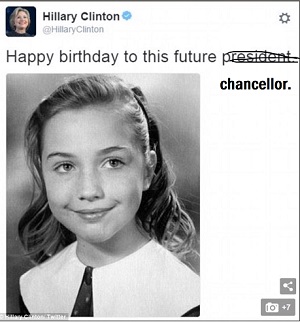 You know who else was a chancellor?
ITEM 9
:
CNN made
"The case for letting senators vote secretly on Trump's fate."
That way, voters won't know how their senators voted.
So much for the notion that the Fourth Estate holds the government accountable.
ITEM 10
:
Judicial Watch announced
"it is continuing its efforts to force states and counties across the nation to comply with the National Voter Registration Act of 1993 (NVRA), by sending notice-of-violation letters to 19 large counties in five states that it intends to sue unless the jurisdictions take steps to comply with the law and remove ineligible voter registrations within 90 days. Section 8 of the National Voter Registration Act requires jurisdictions to take reasonable efforts to remove ineligible registrations from its rolls.
"Despite successful litigation by Judicial Watch to bring counties and states into compliance with the National Voter Registration Act, voter registration lists across the country remain significantly out of date. According to Judicial Watch's analysis of data released by the U.S. Election Assistance Commission (EAC) this year, there are 378 counties nationwide that have more voter registrations than citizens living there and old enough to vote, i.e., counties where registration rates exceed 100%. These 378 counties combined had about 2.5 million registrations over the 100%-registered mark, which is a drop of about one million from Judicial Watch's previous analysis of voter registration data. Although San Diego County removed 500,000 inactive names from voter rolls following Judicial Watch's settlement with Los Angeles County, San Diego still has a registration rate of 117% and has one of the highest registration rates in the county."
The act cited was passed by a Democrat Congress -- and signed into law by a Democrat president.
ITEM 11
:
The Washington Free Beacon reported
, "The Manhattan district attorney's office has declined to prosecute a recent anti-Semitic attack on a Jewish subway passenger as a hate crime, according to lawyers representing the victim.
"Lihi Aharon, an Israeli student riding the New York City subway in December, was attacked by another passenger who cursed at her and yelled 'Allahu akbar!' While the attack on Aharon seemed to be motivated by anti-Semitic animus, the Manhattan DA informed lawyers representing Aharon on Thursday that it would not prosecute the case as a hate crime.
"The incident is one of several recent anti-Semitic attacks around New York City that have sparked a nationwide conversation about the resurgence of anti-Semitism in America."
The message is clear: It is open season on Jews.
Under Mayor Bill DeBlasio, the city's first Democrat mayor in 20 years, Jews are no longer safe in New York City.
Buy guns and ammo, and learn how to use them.
ITEM 12
:
CBS reported
, "A federal judge has temporarily blocked a new California labor law from impacting more than 70,000 independent truckers. The law, passed late last year, makes it harder for companies to classify workers as independent contractors instead of employees, who are entitled to minimum wage and benefits such as workers compensation.
"U.S. District Judge Roger Benitez of San Diego on Tuesday granted a temporary restraining order sought by the California Trucking Association while he considers imposing a permanent injunction.
"He said the association is likely to eventually prevail on its argument that the state law violates federal law. He also ruled the truckers would otherwise be likely to suffer irreparable harm, and that temporarily blocking the law from applying to truckers is in the public interest."
Bush 43 judge.
The interstate commerce clause likely invalidates the entire law. This is why we want Republican judges.
ITEM 13
:
The Post Millennial reported
, "Headed into 2020, the University of British Columbia is still struggling to balance free speech with safety concerns posed by antifa-linked groups, who threaten violent protests against speakers they object to on ideological grounds.
"The Post Millennial editor-at-large Andy Ngo had his speaking event cancelled at UBC after safety concerns due to potential violent protests from antifa groups. Ngo's scheduled presentation, ironically titled Understanding Antifa Violence, was scheduled to take place on January 29 at UBC's Robson Square in downtown Vancouver."
It is called fascism.
Democrats and the Trudeau administration embrace it, as do colleges and universities.
Vote accordingly.
ITEM 14
:
Judicial Watch announced
it "hand-delivered an ethics complaint to Chairman of the U.S. House of Representatives Office of Congressional Ethics David Skaggs calling for a full investigation into potential crimes tied to allegations that Rep. Ilhan Omar may have married her biological brother."
This story has been known for more than a year. If the press were a watchdog, it would have reported on this before she was elected. Instead, the press outed a man who raised a million bucks for a children's cancer hospital for tweeting things as a teen that embarrass him now.
Oh and let's not forget that CNN scoop on how President Trump fed koi fish in Japan.
ITEM 15
:
The Hill reported
, "The months-long impeachment fight is shifting to the Senate, where the chamber left for the holiday recess without a deal on rules for the trial, including a start date and whether any witnesses will be called.
"Speaker Nancy Pelosi (D-Calif.) threw a curveball into the timeline by declining to say when she will send over the two articles of impeachment, though senators say they nonetheless expect the trial to commence in January.
"Once impeachment is on the Senate floor, all other legislative business will likely be put on hold. Senators are expected to conduct trial proceedings six days a week, a schedule that promises to consume much if not all of January's floor calendar."
The Senate should just wait her out until she sends it. Then the Senate should send it back to the House asking that it cite bribery, treason, a high crime or a misdemeanor, as required by the Constitution.
ITEM 16
: Ron Howard inadvertently admitted the truth about Ron Howard.
In the entertainment industry many who have known/worked w/ Trump think that while his reality show was fun and ran a long time, he's a self-serving, dishonest,morally bankrupt ego maniac who doesn't care about anything or anyone but his Fame & bank account & is hustling the US

https://t.co/Ep8ggvquMY

— Ron Howard (@RealRonHoward) January 1, 2020
Hmm.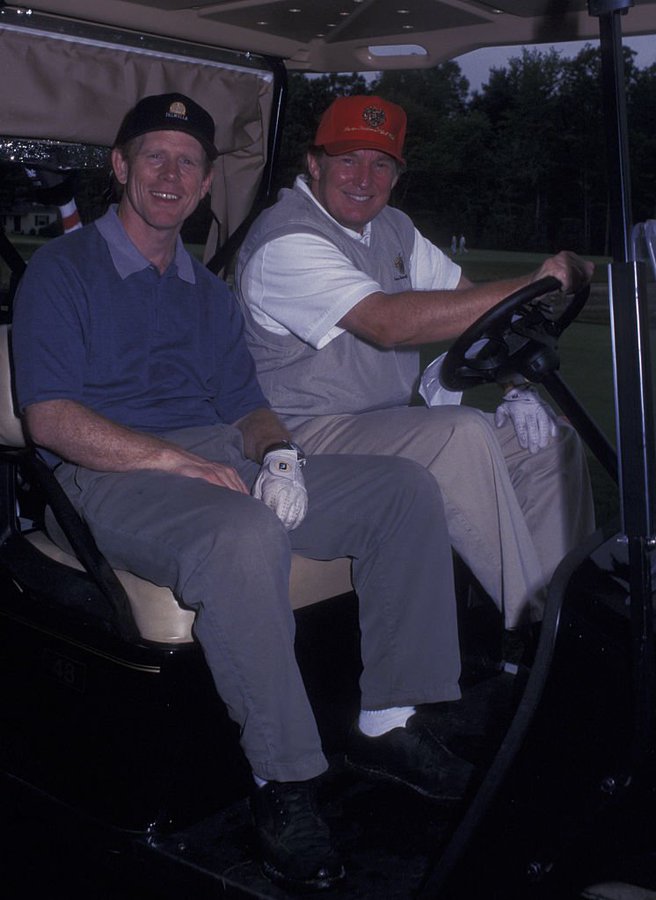 Ron Howard calls his pals "self-serving, dishonest, morally bankrupt ego maniacs."
That says more about him than his pals.
ITEM 17
:
The South Bend Tribune reported
, "Eleven city officials were sworn into public office Wednesday, including a new mayor, marking the end of an era and the beginning of another.
"James Mueller officially took the oath at noon New Year's Day to be the 33rd mayor of South Bend during a small ceremony at Howard Park, succeeding Pete Buttigieg, now a presidential candidate.
"Municipal code dictates the newly elected mayor takes over the office at noon in the new year, and Mueller said the ceremony was conducted so there was no lapse in leadership. A larger ceremony with other newly elected officials being sworn in and an onlooking public was held at 3 p.m. at Century Center in downtown South Bend."
James Mueller 2024. Because America is ready for its first president to openly have a doctorate in philosophy.
ITEM 18
: And that's Quid Pro Joe, he's a-movin' kinda slow...
Joe Biden calls Julian Castro "Cisneros" confusing him with Henry Cisneros, Bill Clinton's HUD Secretary 25 years ago.

pic.twitter.com/bOU6iv9L6L

— Rising serpent (@rising_serpent) January 2, 2020
Biden is the perfect Democrat candidate because he reflects their policies perfectly. He's old, corrupt, out-of-touch, and out of his mind.
ITEM 19
:
Bloomberg News reported
, "Florida is expected to control more seats in the U.S. Congress than New York after April's decennial census, according to a study by Election Data Services Inc.
"New York and California are projected to each lose a U.S. congressional seat due to population declines, while Texas and Florida, which are attracting more residents, will be among the biggest winners."
If we subtracted illegal aliens, California would lose 4 seats.
By the way, there is talk about gerrymandering AOC out of office. No problem. She will just run for the Senate, and win.
ITEM 20
: The Wall Street Journal reported, "U.S. Customs and Border Protection for the first time Thursday began turning around migrants seeking asylum in Arizona and sending them to Nogales, Mexico, to await U.S. court hearings that they now will need to get to on their own.
"The move expands the controversial Migrant Protection Protocols or Remain in Mexico program, which the U.S. adopted a year ago to deal with a surge of Central American migrants at the southern border. Immigrant and human-rights advocates have criticized the policy for effectively requiring migrants to live in dangerous Mexican border cities, often for months, where the U.S. warns its own citizens to avoid traveling."
The story also said, "Now, the migrants returned to Nogales must arrange their own transportation to attend asylum hearings. On the Mexican side of the border, the journey from Nogales to Juárez takes significantly longer — about 371 miles, or nearly eight hours by car, according to Google Maps, about three hours longer than the drive takes on the U.S. side."
And the story said, "Roy Villareal, the Tucson sector chief for U.S. Border Patrol said the change would save the agency money since it ends busing to Texas and shortens an asylum seeker's stay in custody. It would also free up his agents to return to the work of apprehending migrants."
Remember, these are people who deliberately broke the law instead of waiting in line to get in. I have little sympathy for them.
I do not link pay sites. I have little sympathy for them.