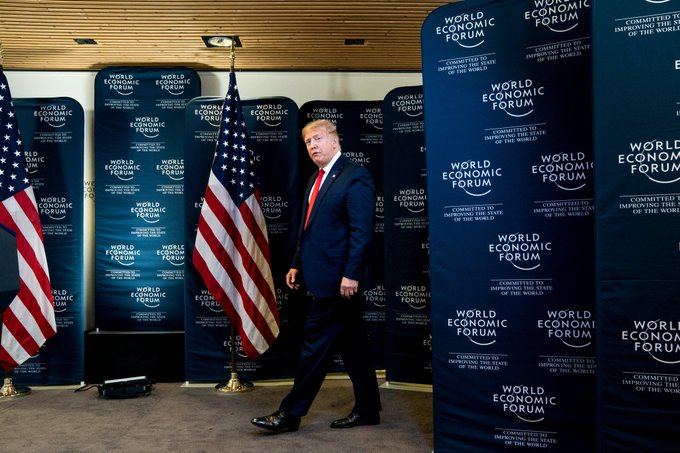 Donald John Trump is the leader of the free world.
ITEM 1
: President Trump will be at the March for Life on Friday.
— Donald J. Trump (@realDonaldTrump) January 22, 2020
Imagine JFK at the Martin Luther King's March on Washington.
ITEM 2
:
The Statesman reported
, "The Trump administration on Wednesday restored funding to Texas' women's health program, which had lost the money seven years ago after it had excluded Planned Parenthood from the program.
"The $350 million boost to Healthy Texas Women, which provides certain health services including family planning to low-income women at no cost, will be distributed over the next five years. The previous iteration of the Texas women's program lost funding in 2013, under the Obama administration, after state officials had kicked out Planned Parenthood two years earlier. State officials had defended their actions by saying they shouldn't be spending public money on abortion providers or affiliates. Planned Parenthood at the time was the largest provider of women's health services in the program and did not provide abortions in the program.
"The state has been using its own money to fund the program in the meantime.
"Gov. Greg Abbott celebrated the restoration of funding, which comes from Medicaid, on Wednesday."
Obama cut funding for women's health care.
President Trump restored the funding.
ITEM 3
:
Paul Sperry reported
, "Barely two weeks after Donald Trump took office, Eric Ciaramella – the CIA analyst whose name was recently linked in a tweet by the president and mentioned by lawmakers as the anonymous whistle blower who touched off Trump's impeachment – was overheard in the White House discussing with another staffer how to remove the newly elected president from office, according to former colleagues.
"Sources told RealClearInvestigations the staffer with whom Ciaramella was speaking was Sean Misko. Both were Obama administration holdovers working in the Trump White House on foreign policy and national security issues. And both expressed anger over Trump's new America First foreign policy, a sea change from President Obama's approach to international affairs."
Ciaramella is a spy trying to sabotage the president. In an earlier day, we would have hanged such a man.
Nowadays traitors get book deals.
ITEM 4
:
The Daily Caller reported
, "An Arkansas judge ordered Hunter Biden on Monday to appear in court on Jan. 29 to explain why he shouldn't be held in contempt for his failure to produce information about his finances in relation to a heated child support dispute.
"Independence County Circuit Court Judge Holly Meyer ordered Hunter Biden to appear to 'show cause, if any exists, as to why he should not be held in contempt for any of the alleged violations of this Court's orders.'"
The Washington Examiner reported
, "Hunter Biden renting $12,000-per-month Hollywood home while defying child support suit."
Grandpa should man up and make his son accept responsibility as an adult for once in his 49 years. Politics aside, this is a child who deserves her father's financial support if nothing else.
ITEM 5
:
ABC reported
, "Travelers may be used to flying with their emotional support animals -- anything from a pet hamster to a baby crocodile -- but the rules are about to change, according to a new proposal from the Department of Transportation.
"The proposal unveiled by DOT on Wednesday proposes to strictly limit the definition of a service animal to a dog, reversing a policy that permits a wide range of other animals to fly under that framework."
If you need emotional support from a kangaroo, you are in no condition to fly.
ITEM 6
:
The Hill reported
, "The Trump administration plans to add Brazilian asylum-seekers to the list of those who must remain in Mexico while their immigration cases are adjudicated, BuzzFeed News reported Wednesday."
The argument against this move was odd.
Aaron Reichlin-Melnick, a policy analyst at the American Immigration Council, told BuzzFeed News
, "It is beyond nonsensical to force people who don't speak Spanish to live in Mexico for an unknown period while they seek asylum,. Staying safe in Mexico is already difficult for people in MPP, and Brazilian asylum-seekers will likely be at a heightened risk because they will be unable to access the limited services available to them due to language barriers. As a result, this decision will likely spur rejoicing in criminal cartels across the border."
Um, we don't speak Portuguese here, either. Maybe we should deport them to Portugal.
ITEM 7
:
The San Francisco Chronicle reported
, "The number of fatal heroin and fentanyl overdoses in San Francisco more than doubled in 2019, according to preliminary statistics from the city's medical examiner's office that were obtained by The Chronicle.
"There were 234 deaths that are estimated to have involved fentanyl, compared with 90 in 2018. The number of deaths where heroin appears to have played a role reached 100 last year, officials with the city's chief medical examiner's office estimate.
"In all, officials estimate that 290 deaths were attributable to fentanyl, heroin or a combination of the two. That's up from 134 in 2018."
West Virginia feels their pain. We had 888 drug overdose deaths in 2018.
ITEM 8
:
The Associated Press reported
, "The Trump administration on Wednesday approved a right-of-way allowing the Keystone XL oil sands pipeline to be built across U.S. land, pushing the controversial $8 billion project closer to construction though court challenges still loom.
"The approval signed by Interior Secretary David Bernhardt and obtained by The Associated Press covers 46 miles of the pipeline's route across land in Montana that's controlled by the Bureau of Land Management and the U.S. Army Corps of Engineers, said Casey Hammond, assistant secretary of the Interior Department.
"Those segments of federal land are a small fraction of the pipeline's 1,200-mile route, but the right-of-way was crucial for a project that's obtained all the needed permits at the state and local levels.
"The pipeline would transport up to 830,000 barrels (35 million gallons) of crude oil daily from western Canada to terminals on the U.S. Gulf Coast.
"Project sponsor TC Energy said in a court filing that it wants to begin construction on the U.S.-Canada border crossing in Montana in April. Opponents promised to challenge those plans in court."
Canada and North Dakota will run out of oil before this thing is built. Good news, though.
ITEM 9
:
Politico reported
, "House Intelligence Chairman Adam Schiff appears to have mischaracterized a text message exchange between two players in the Ukraine saga, according to documents obtained by Politico — a possible error the GOP will likely criticize as another example of the Democrats' rushed effort to impeach President Donald Trump.
"The issue arose when Schiff (D-Calif.) sent a letter to House Judiciary Chairman Jerry Nadler (D-N.Y.) last week summarizing a trove of evidence from Lev Parnas, an indicted former associate of Trump's personal attorney Rudy Giuliani. In one section of the letter, Schiff claims that Parnas 'continued to try to arrange a meeting with President Zelensky,' citing a specific text message exchange where Parnas tells Giuliani: 'trying to get us mr Z.' The remainder of the exchange — which was attached to Schiff's letter — was redacted.
"But an unredacted version of the exchange shows that several days later, Parnas sent Giuliani a word document that appears to show notes from an interview with Mykola Zlochevsky, the founder of Burisma, followed by a text message to Giuliani that states: 'mr Z answers my brother.' That suggests Parnas was referring to Zlochevsky not Zelensky."
Schiff lies so often it now is news when he tells the truth.
ITEM 10
:
The Washington Examiner reported
, "Sen. Mitt Romney brushed off Democrats for complaining about the Senate's decision to follow trial rules similar to those used during President Bill Clinton's impeachment."
Romney said, "Well, the changes [in the trial rules] are pretty modest and I don't think are significant in any dramatic way. So for instance, whether something is going to be taking 12 hours per day or eight hours per day, it's still going to be covered in the news. And what's officially going into evidence doesn't make a big difference because the senators are, of course, free to look at all the information they have that comes from the House."
And then he added, "I think the Democrats make a mistake when they cry outrage time and time again. If everything is an outrage, then nothing is an outrage."
Democrats are naughty kittens. They've lost their Mittens. They shall have no pie.
ITEM 11
:
Leon Wolf wrote
, "Here's why CBS was right to terminate coverage of the impeachment trial and go back to showing soaps."
His main point is everyone's mind is made up, which is true but there is an even more important reason people are skipping it. We know the outcome.
ITEM 12
: Democrats used to say deport only the criminals.
2020 frontrunner Joe Biden says any ICE agent who deports immigrants caught drunk driving will be punished under his administration. Former Acting ICE Director, Tom Homan, says federal laws clearly state driving under the influence is a crime.

https://t.co/Rm6ZtfLN0I

— Fox & Friends First (@FoxFriendsFirst) January 22, 2020
Joe Biden is the same liar who falsely claims a drunk driver killed his first wife.
ITEM 13
:
The Washington Examiner reported
, "Joe Biden became visibly irate with CBS reporter Ed O'Keefe after the newsman asked the former vice president why he attacked Sen. Bernie Sanders this week.
"'Yesterday, you said you accepted Bernie's apology. Now, you're attacking him,' O'Keefe said. 'Why are you doing that? Why wasn't his apology enough, Mr. Vice President? Why attack Sanders?'
"'Why, why, why, why, why, why, why?' Biden asked. 'You're getting nervous, man. Calm down, it's okay. He apologized for saying that I was corrupt. He didn't say anything about whether or not I was telling the truth about Social Security.'
"Biden's frustration comes as a CNN poll found Sanders leading the 2020 Democratic presidential field. Biden had been leading the pack for much of the early primary season but has seen his front-runner status fade as supporters of Sen. Elizabeth Warren have drifted toward Sanders's candidacy."
This shows why I don't want him taking the phone call at 3 a.m.
Or even 3 p.m.
ITEM 14
: While Democrats play with their impeachment, Parliament makes real history.
Only the Brits could make something SO MONUMENTAL read like bad smear test results for your Great Aunt.

This is Britain OFFICIALLY flicking the bird at Merkel and the EU.

We are OUT of the EU.

#BREXIT pic.twitter.com/8tOgBR6KEx

— Katie Hopkins (@KTHopkins) January 22, 2020
Watching Britain finally leave is satisfying. They never should have joined. they are British, not European.
ITEM 15
:
American Military News reported
, "The Trump administration is reportedly adding seven more countries to its travel restriction policy, with an announcement expected to be held on Monday — the three-year anniversary of his original order.
"According to new reports, the administration is planning on placing visa restrictions on travelers from mostly African and Asian countries, which includes Belarus, Eritrea, Kyrgyzstan, Myanmar (also called Burma), Nigeria, Sudan and Tanzania, the Wall Street Journal reported.
"The expanded restriction isn't expected to be a widespread ban on travel to the United States for all of the countries, but instead could be a restriction on certain types of visas, like business or visitor visas, administration officials said, the WSJ reported."
President Trump's jobs include protecting our borders, not Syria's.
ITEM 16
:
Breitbart News reported
, "Trump: Ralph Northam Putting Virginia 'in Play' with Gun Control Push."
87 of the state's 95 counties are now sanctuaries for guns in defiance of Governor Black Face.
What seemed like a stretch in November seems likely now.
ITEM 17
: Surfer Girl sues the Wicked Witch.
— Alec Sears (@alec_sears) January 22, 2020
How childish. Who is Gabbard's lawyer? Avenatti?
ITEM 18
: Schiff argues that people are too stupid to vote for president.
Rep. Adam Schiff: "The president's misconduct cannot be decided at the ballot box. For we cannot be assured that the vote will be fairly won."

pic.twitter.com/l1zTGodANZ

— The Hill (@thehill) January 22, 2020
He has a point. Look at the idiots who elected him.
ITEM 19
:
The Daily Wire reported
, "CNN political analyst and former Clinton White House official Joe Lockhart admitted on Wednesday that he made up a conversation between two Republican senators that he claimed were stunned about what they were learning during President Donald Trump's Senate trial.
"Lockhart tweeted: 'Overheard convo between two Republican Senators who only watch Fox News. 'is this stuff real? I haven't heard any of this before. I thought it was all about a server. If half the stuff Schiff is saying is true, we're up shit's creek. Hope the White House has exculpatory evidence.'
"After some time passed, Lockhart added a second tweet to his first tweet, writing, 'OK maybe I made up the convo, but you know that's exactly what they're thinking.'"
We used to institutionalize guys who walked around talked to the voices in their heads. Now we put them on CNN.
By the way, what happened to his PR gig at the NFL? Did his handling of Colin Kaepernick's protests, which plummeted attendance, have anything to do with it?