Wow!

✅Selfies on the "Women for Trump" Iowa bus tour

✅Volunteer training at the "Black Voices for Trump" organizing session in Philly

✅A visit from VP

@Mike_Pence

at a "Latinos for Trump" event in Florida

Our Coalitions Team is hard at work!

https://t.co/D6zueBNzGY

— Team Trump (Text FIRST to 88022) (@TeamTrump) January 17, 2020
Donald John Trump is still our president.
ITEM 1
:
Adriana Cohen reported
, "Thanks to President Donald Trump's leadership and smart moves with the economy -- cutting taxes and job-killing regulations -- in addition to other capitalist, free market principles long supported by the Republican party, millions of women across American have now been lifted out of poverty and are no longer reliant on government assistance."
She quoted Amara Omeokwe, who said, "Women held more U.S. jobs than men in December for the first time in nearly a decade, a development that likely reflects the future of the American workforce."
And Omeokwe said, "Women held 50.04% of the jobs last month, surpassing men on payrolls by 109,000."
Unemployment for women, blacks, and Hispanics are at all-time lows.
Cohen said, Democrats will not mention that, adding, "Nor will they mention the 7 million jobs the Trump administration has created since his inauguration -- including 500,000 manufacturing jobs --benefitting labor workers."
Remember Obama's childish taunt asking what kind of magic wand does Donald Trump have to revive manufacturing? I do. Obama insisted those jobs are not coming back.
They are. People noticed. Obama as a student wrote a paper bemoaning that socialism won't sell because everyone wants to be Donald Trump.
Thanks to President Trump, they can have that opportunity.
ITEM 2
:
7.4 million people watched Tuesday's Democrat debate
, the fourth consecutive sub-10 million audience for the party.
In 2016, the smallest Republican debate audience was 11.1 million also on a January 14. It was the only one of the 12 debates that Donald John Trump skipped.
Maybe Democrats should pay President Trump to attend the next one to boost their ratings.
ITEM 3
:
The Washington Examiner reported
, "The Trump administration likely won't have to face off in court against a group of mostly teenagers over climate change after all, following a federal appeals court dismissal of the case in a split ruling Friday, saying that they must take up their argument with the executive branch or Congress.
"Two judges on the U.S. Court of Appeals for the 9th Circuit reluctantly concluded in the ruling that the federal courts weren't the right venue for the youth plaintiffs to make their claims."
All 3 judges in the case were Obama appointees.
In the 9th Circuit.
Sanity is returning to the courtroom.
ITEM 4
:
CNBC reported
, "U.S. homebuilding surged to a 13-year high in December as activity increased across the board, suggesting the housing market recovery was back on track amid low mortgage rates, and could help support the longest economic expansion on record.
"Housing starts jumped 16.9% to a seasonally adjusted annual rate of 1.608 million units last month, the highest level since December 2006. The percentage gain was the largest since October 2016. Data for November was revised higher to show homebuilding rising to a pace of 1.375 million units, instead of advancing to a rate of 1.365 million units as previously reported."
The increase in construction reflects demand, which means housing prices are rising. Retired OK Boomers could use some home equity.
ITEM 5
:
The Hill reported
, "The Trump administration on Friday announced plans to roll back school lunch standards on vegetables and fruits originally promoted by Michelle Obama, unveiling the proposal on the former first lady's birthday.
"The new standards will allow schools more flexibility 'because they know their children best,' the Agriculture Department said in a press release.
"'Schools and school districts continue to tell us that there is still too much food waste and that more common-sense flexibility is needed to provide students nutritious and appetizing meals. We listened and now we're getting to work,' Agriculture Secretary Sonny Perdue said in a statement.
"The proposed rules build on previous steps taken by the Trump administration to unwind the controversial school lunch rules championed by Obama as part of her Let's Move healthy living campaign. Those rules were implemented through an executive order signed by former President Obama."
Let's Move made school garbage bins the healthiest garbage bins in the world.
The announcement came on Missus Obama's 56th birthday.
ITEM 6
:
The Telegraph reported
, "Boris Johnson is expected to formally open trade talks with the US before he begins discussions with the European Union, the Telegraph has learned.
"US diplomats believe the Prime Minister is poised to seek Cabinet authorization to open trade talks directly with America on a visit to Washington next month."
Two blond natives of New York City with wild hairdos can Git R Done. Let us hope for a mutual agreement to have no tariffs. Hey, I want my next car to be a Bentley so I can keep up with the Kardashians.
ITEM 7
:
Summit News reported
, "A middle schooler who wore a sweatshirt featuring the words 'Virginity Rocks' said administrators threatened him with suspension if he wore it again.
"Seventh-grader Londyn Piglowski said he was told by his social studies teacher to turn the hoodie inside out or take it off 'or else they would have to take action.'
"The Wentzville School District dress code prohibits clothing that promotes 'immoral, illegal, sexual or violent behavior,' none of which applies to Piglowski's sweatshirt.
"Piglowski was threatened with suspension if he wore the hoodie at school again."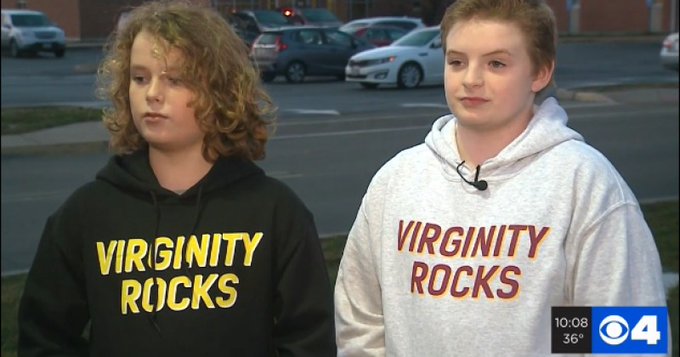 Nice to know school officials believe virginity is immoral.
Where is the ACLU?
ITEM 8
:
The Associated Press reported
, "The advertisement on the Telegram app is as chilling as it is incongruous: A girl for sale is 'Virgin. Beautiful. 12 years old…. Her price has reached $12,500 and she will be sold soon.'
"The posting in Arabic appeared on an encrypted conversation along with ads for kittens, weapons and tactical gear. It was shared with the Associated Press by an activist with the minority Yazidi community, whose women and children are being held as sex slaves by the extremists.
"While the Islamic State group is losing territory in its self-styled caliphate, it is tightening its grip on the estimated 3,000 women and girls held as sex slaves. In a fusion of ancient barbaric practices and modern technology, IS sells the women like chattel on smartphone apps and shares databases that contain their photographs and the names of their owners to prevent their escape through IS checkpoints. The fighters are assassinating smugglers who rescue the captives, just as funds to buy the women out of slavery are drying up."
Only an idiot would consider these monsters the JV squad.
ITEM 9
:
The San Francisco Examiner reported
, "To combat storefront vacancies, the Board of Supervisors may vote Tuesday to place a measure on the March ballot to tax building owners who won't lease their commercial spaces to small businesses.
"Introduced by Supervisor Aaron Peskin, the proposal was heard Wednesday by the board's Budget and Finance Committee, which made several amendments, including adjusting the tax rate."
The story said this would generate between $300,000 and $5 million a year.
The City Controller's chief economist Ted Egan told the newspaper, "Just in the last three years, since 2015, we've seen an 8% decline in retail trade employment alongside a 13% growth in overall employment."
Pooping in the street will do that. San Franciscans should stop doing that.
ITEM 10
:
Conrad Black wrote
, "As far as can be determined, the question of whether the Senate should conduct a trial or dismiss the spurious articles of impeachment as unworthy of trial by vote of the majority, is being addressed as a matter of President Trump's political convenience.
"Senator Ted Cruz (R-Texas) is doubtless sincere and may be accurate in saying that the acquittal that is almost certain to result from a trial will clear the president more convincingly than the Republican majority determining at the outset that the charges are frivolous and vexatious harassment and simply should be rejected.
"It is clear from the utterances of the authors of the malicious idiocy that has got impeachment to the Senate, Speaker Nancy Pelosi (D-Calif.), Intelligence Committee Chairman Adam Schiff (D-Calif.) and Judiciary Committee Chairman Jerry Nadler (D-N.Y.), that the Democratic line will be they caught the president in wrongful acts but the trained Republican seals in the Senate voted with their partisan prejudices rather than their judicious and independent judgment.
"Under the circumstances, then, it is better to go ahead with a trial. If the Senate majority's wish is for witnesses, the president can invoke executive privilege in some cases, but the confection of the false whistleblowing and its apparent guidance by Schiff and his staff should also be exposed.
"Since the legal case is nonsense and the outcome foreordained, it is only a public relations battle now. The farther the administration is seen to enable an airing of the facts, the better and more electorally valuable will be the result. The Democrats created this trap for themselves; they should be allowed to take the consequences when that trap snaps closed on them."
The whistleblower must testify. Even a president has the right to face his accuser.
The timing of the trial is said to help Biden because it will keep Sanders and Warren in Washington. The trial however will publicize his corruption in getting a prosecutor fired to protect his son.
ITEM 11
: The Washington Post (pay site, no link) reported, "Headlines last year proclaimed Trump's tariffs could cost the typical American family $1,000 more a year. The eye-popping number came from a JPMorgan analysis that assumed the full cost of the tariffs would be passed on to consumers, which is what is generally taught in introductory economics classes.
"But that is not what's been happening. The evidence so far indicates that most American firms passed only a fraction of the cost increase on to consumers — more in the range of $100 per family a year…
"But a recent study by economists at Harvard University, the University of Chicago and the Federal Reserve Bank of Boston went a step further, examining data from two large retailers on prices of similar goods, some of which face tariffs and some that do not. The economists found a 'quite modest' price difference, suggesting that U.S. companies and retailers are eating a lot of the costs and making lower profits.
"The price hike for affected dishes, furniture, linens, toaster ovens, towels and umbrellas was less than 1 percent, the study found. And the price for electronics only went up by 1.4 percent."
I said that all along. President Trump wrote the book on negotiating. (Well, dictated it to a scribe.) Tariffs give him an edge. By the way, all he gave Red China in this deal was a promise not raise tariffs. The tariffs are still on.
ITEM 12
: The Iran trade negotiations reached the insult stage. Khameini called the president a clown, which means the Iranian leader is far more respectful of President Trump than Kevin D. Williamson is.
Donald Trump countered.
The so-called "Supreme Leader" of Iran, who has not been so Supreme lately, had some nasty things to say about the United States and Europe. Their economy is crashing, and their people are suffering. He should be very careful with his words!

— Donald J. Trump (@realDonaldTrump) January 17, 2020
The world is safer when they are trading words not missiles.
Leaders in oil-rich Iran are like gasoline. There's the Supreme Leader, Regular Leader, and Economy Leader. This one either cuts a deal with President Trump or becomes the fourth kind of Iranian leader. Dead.
ITEM 13
:
Jim Treacher reported
, "Martha McSally Registers LiberalHack.com, Liberal Hacks Seethe."
Liberal Hack is like calling them the N-word, says a group that sees nothing wrong with calling the president Hitler and his supporters racist, sexist, xenophobic, and whatever other pejorative happens to be popular among progressives on any particular day.
— ErikWemple (@ErikWemple) January 16, 2020
Meltdown? No intelligent person looking at that clip would call that a meltdown.
Washington Post reporters fall into 1 of 5 categories: entitled pansies, gormless tossers, manky muppets, pikey tossers, and of course, cockwombles.
ITEM 14
: Why I like Matt Taibbi.
As the Durham probe progresses, expect more and more stories about the "dangers" of investigating or prosecuting intelligence officials, who have only been operating in near-total impunity since forever:

https://t.co/AJCU88oIgz

— Matt Taibbi (@mtaibbi) January 17, 2020
The Rolling Stone writer is an old school liberal who doesn't like the Establishment, man. I respect that.
ITEM 15
: Everyone is a comedian these days.
It won't work because Creepy Joe will go to Ohio and thank the people of Illinois during rally of 5.

— PA Pain (@Pegasis38) January 17, 2020
Americans, doing the job SNL, Stephen Colbert, and the rest refuse to do.
ITEM 16
: I notice the political leanings of perverts trend a certain way.
Act 1. Student journalist tried to get Cerno deplatformed from speaking at Columbia

Act 2. Cerno speaks despite hundreds of protesters trying to stop him.

Act 3. Student goes to prison for being a pedophile.

https://t.co/3RKFDtQTKC

— Mike Cernovich (@Cernovich) January 17, 2020
The man was 24. The victim was a 15-year-old boy. Sick.
ITEM 17
: No one said the president was modest.
President Trump: You got a good [POTUS] now. Even though they're trying to impeach the son of a b*tch!💥😆

pic.twitter.com/zJZhFwJzkY

— Wojciech Pawelczyk 🇵🇱🇺🇸 (@PolishPatriotTM) January 17, 2020
Old and busted: I'm going to Disney World.
New and exciting: We're gonna meet Donald Trump.
January 17, 2020
Geaux Donald.
ITEM 18
: The man who said calling him Fredo is the N-word shows his misogyny.
CNN's Chris Cuomo: Martha McSally acted like a "punk" and "did a disservice to herself" for calling a reporter a "liberal hack."

This is from a guy who threatened to throw someone down a flight of stairs because he thinks "Fredo" is the n word for Italians.

pic.twitter.com/NWM9F22x47

— Julio Rosas (@Julio_Rosas11) January 17, 2020
CNN is the biggest glass house on television.
ITEM 19
: This is whack.
— Leslie Feffer 📚 (@LeslieFeffer) January 17, 2020
That video had absolutely no news value.
Much like CNN.