Donald John Trump is still our president.
ITEM 1
: 87 of the 95 counties in Virginia declared themselves sanctuary cities to block efforts by a Democrat government in Richmond to confiscate rifles. Members of the West Virginia House of Delegates want them to join our state.
This follows state Senator Charles Trump inviting Frederick County to join the Mountain State. Yes West Virginians voted for a Trump long before The Donald ran.
But the delegates have bigger plans. They introduced a resolution to invite any county or independent city that wants to join.
BREAKING: Va. Gov. Ralph Northam declares state of emergency ahead of gun rights rallies in Richmond. Says state has received "credible threats" of violence similar to infamous white supremacist rally in Charlottesville

https://t.co/WzLoBN4GQg

— justin jouvenal (@jjouvenal) January 15, 2020
This is why people want to bail on Virginia.
By the way, name the state that was once a county of Virginia.
ITEM 2
:
The Daily Wire reported
, "House Democrats blocked a resolution on Tuesday that expressed support for oppressed Iranian protesters and condemned Iran for shooting down a Ukrainian passenger plane last week that killed 176 people."
House Republican Leader Kevin McCarthy tweeted, "What a disappointment — Democrats just blocked a vote on a resolution supporting the Iranian protestors. This is not the time for partisan politics. This should be a time for the US Congress to speak with one voice to condemn an Iranian regime that kills its own people."
Democrats chastized the president for killing the Iranian gneral in charge of its terrorist program. Follow the money. It comes from Tehran via Kiev.
ITEM 3
:
BBC reported
, "Police and social workers investigating child sex exploitation in Manchester knew children were suffering 'the most profound abuse... but did not protect them,' a report has found.
"After a child's death in 2003, police identified at least 97 suspects, but very few faced justice, the independent review found.
"The police operation was prematurely closed down after officers decided to remove resources, the report said.
"Police said 'authorities fell short.'"
It fell short because most of the pedophiles were Muslim. British police would rather have children exploited in a sex ring than to face being called Islamophobic.
ITEM 4
: Feminists who don't believe drag queens are women get cancelled.
The New York Public Library CANCELLED an event titled "An Evening With Cancelled Women" — because the women in question are feminists who reject gender ideology.

You can't make this up.

https://t.co/buEqOcXjXa

— Sohrab Ahmari (@SohrabAhmari) January 16, 2020
Transgendered women are the biggest misogynists of all.
ITEM 5
:
Pamela Geller reported
, "There are a lot of statistics Mark A. Morgan, acting U.S. Customs and Border Protection commissioner, uses to show how Trump policies have helped to cut illegal immigration into the United States.
"But there are two that he feels really make clear the victory his agency has had in the past year, and he highlighted them in a small meeting Tuesday.
"First is daily apprehensions, a number that hit 4,600 at the height of the latest crisis in May. That has now dropped to 1,300.
"What's more, he said, the 21-daily average is below 1,000, a 78% cut. 'That's a dramatic reduction,' he said, in updating the numbers released last week.
"Then there are the numbers of illegal immigrants in custody. That was a horrific 20,000 in May for an agency that has just 4,000 beds.
"Now a quarter of those beds are unused."
Instead of Abolish ICE, let us make it unnecessary. May our border patrol become the Maytag Repairman, sitting around playing UNO.
ITEM 6
:
The New York Post reported
, "Pedophile Jeffrey Epstein kept a harem of abused and trafficked girls as young as 11 that was so large he needed a computer system to keep track of them, according to a new lawsuit filed Wednesday against his estate.
"The civil lawsuit, filed by Virgin Islands' Attorney General Denise George, also alleges Epstein abused victims on his private Caribbean islands, Little Saint James and Great St. James, as recently as 2019 — expanding the scope of his abuse by 14 years."
He had the goods on everyone. The deep state killed him. In plain sight, as a warning to all who may dare challenge the deep state.
ITEM 7
: I wasn't paid to watch the debate so I didn't.
— Daily Caller (@DailyCaller) January 15, 2020
The Democrat Party failed to reproduce, and so it is stuck with aging Boomers and Pre-Boomers as candidates.
ITEM 8
:
CNN reported
, "President Donald Trump on Wednesday signed an initial trade deal with senior Chinese leaders that includes pledges from Beijing to more than double its purchases from American farmers in the first year.
"The 86-page agreement comes after nearly two years of fraught negotiations and a punishing trade war between the world's two largest economies that hit US soybean producers especially hard."
Red China is hongree.
This clears the way to a North Korea deal.
ITEM 9
: Democrats finally impeach the president.
Do they realize how dumb this looks to sane people? Probably not, they're really not that bright.

https://t.co/84fiBcDAl7

— Dan Bongino (@dbongino) January 16, 2020
It was the walk of shame.
It had all the solemnity of a hamster's funeral. Did Nancy take them for ice cream afterward?
I'd like to think Pelosi had to delay delivering the articles for weeks not because of some grand strategy, but because she was waiting for her pens to be done and shipped to her.

https://t.co/1cMwriWHUo

— Stephen Miller (@redsteeze) January 16, 2020
It's the
Breeze detergent
of legislation. Free pen inside every article of impeachment!
ITEM 10
:
Reed Cooper reported
, "President Donald Trump said Iraq didn't knock down the world trade center at a campaign rally in Milwaukee, Wisconsin on Tuesday night.
"'Let's get rid of Libya, let's get rid of Gadhafi. Let's get rid of Gadhafi how's that working out? Right? Let's get rid of Gadhafi that was a Hillary deal, then you had Benghazi and she sees Benghazi,' Trump said.
"'They didn't respond, they didn't respond and then we had Iraq. They went into Iraq. The geniuses go into Iraq, Iraq didn't knock down the World Trade Center, just in case anybody had any question,' Trump added."
That is a reminder that the past 2 presidents got war wrong. This one is making sure it does not happen again.
ITEM 11
:
No Q Report said
, "The worst case scenario for Democrats' hopes in the presidential election seems to have already manifested. For them to have a chance, they'll need to hold fellow Democrats in line with their nominee and pull in as many Independents as possible, especially in swing states like Wisconsin. If the numbers posted by Trump campaign manager Brad Parscale are any indicator, Democrats have a tremendous hill to climb.
"According to Parscale, last night's rally, which ran concurrently with the Democratic debate, had a whopping 20,395 voters in attendance. But the President is used to enjoying huge crowds of supporters, so that alone isn't a huge deal. What's most surprising, or as Parscale calls it, 'Yuge,' if that 57.9% of voters in attendance were NOT Republicans."
And they waited hours to get in.
In winter.
But don't get cocky, right?
ITEM 12
: Rachel Maddow had a big scoop on Ukraine last night.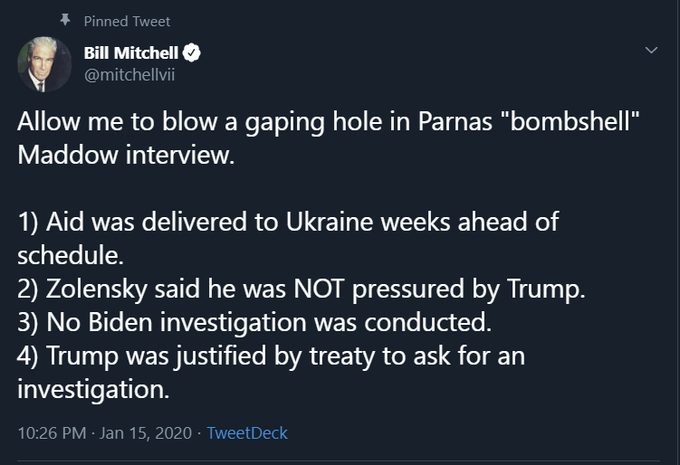 Her last previous scoop was when she got a couple of pages of Donald Trump's old tax returns and discovered he's rich and he pays a lot in taxes.
ITEM 13
: The Washington Post reported, "A long time to wait': Virginia passes Equal Rights Amendment in historic vote."
America already decided on the ERA. It lost.
ITEM 14
:
The Hill reported
, "On Wednesday night's episode of Jeopardy!, House Intelligence Committee Chairman Adam Schiff (D-Calif.) was an answer, but no one buzzed in."
These are experts in trivia. Ther know the name of the Lone Ranger's nephew's horse. But they don't know Schiff from Shine-ola.
ITEM 15
:
Agence France Presse reported
, "The heir of Iran's deposed monarchy predicted Wednesday that the clerical regime will collapse within months and urged Western powers not to negotiate with it.
"Reza Pahlavi said that major protests which erupted in November and again this month, after the accidental downing of a Ukrainian passenger jet, reminded him of the uprising that ousted his father in early 1979.
"'It's just a matter of time for it to reach its final climax. I think we're in that mode,' the former crown prince told a news conference in Washington, which he lives near in exile.
"'This is weeks or months preceding the ultimate collapse, not dissimilar to the last three months in 1978 before the revolution,' he said."
ITEM 16
: From my daughter, "Art Modell not making the Hall of Fame — all is right with the world."
Surberfreude.
ITEM 17
:
David Plouffe, campaign manager for Obama in 2008, said of President Trump
, "He didn't run a great campaign in '16. He's going to run a great campaign this time. One of Facebook's executives recently said that Donald Trump and his campaign are the best marketers in the world. Not the best political marketing; the best marketing in the world!"
The inability of the media and other Democrats to appreciate Donald John Trump's intelligence is to his great advantage. He did not invent the word misunderestimating. He just thrives on it.
FINALLY
: Kentucky County, Virginia, was formed on December 31, 1776. On June 30, 1780, it became the Kentucky District of Virginia, and on June 1, 1792, we admitted the Commonwealth of Kentucky as the 15th state. Maybe they can take Northern Virginia and leave the rest of Virginia alone.