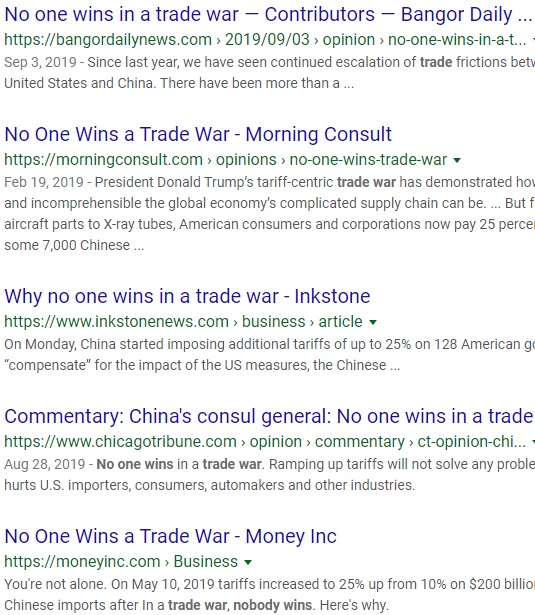 No one wins a trade war, except President Donald John Trump.
That is, of course, not true. American presidents throughout the 19th and early 20th centuries won plenty of trade wars. They used tariffs to protect American industries from foreigners.
But Red China lured Apple and others into exporting American jobs, paid off politicians, and pumped up propaganda that dumping goods here was free trade.
President Trump began his trade war with Red China by first fortifying the economy. He began his presidency the day after the election as he met with and assured businesses that there would be regulatory relief and tax cuts. By the end of his first year as president, he cut not only personal income taxes but corporate taxes as well.
Only then did he levy tariffs to coerce trade agreements (and later to get Mexico to protect our border).
CNBC reported on July 20, 2018
, "President Donald Trump said the stock market rally since his election victory gives him the opportunity to be more aggressive in his trade war with China and other countries.
"'This is the time. You know the expression we're playing with the bank's money,' he told CNBC.
"The president has a big cushion. The S&P 500 is up 31% since Trump's win on Election Day, Nov. 8, 2016, through Thursday. The market's gain has slowed this year as the administration has implemented new tariffs on countries, with the benchmark index up 4.9% for 2018 through Thursday.
"Trump added the market would likely be much higher if he didn't escalate the trade issues with China and the rest of the world."
His plan is working.
The International Business Times reported
, "China's exports to the United States amid the ongoing trade war decreased 23% from a year earlier to $35.6 billion, customs data revealed Sunday. China is running a trade surplus with the U.S. of $24.6 billion.
"China's global exports fell by 1.1% from a year earlier to $221.7 billion.
"The trade war has no end in sight, with President Trump's economic advisor Larry Kudlow saying that a new round of tariffs is still set to be imposed on $156 billion of Chinese goods on Sunday if there is no trade deal."
President Trump does not need a trade deal with Red China because what the communists make, Americans can make.
Chairman Xi needs our market -- and our food. Disease is killing their swine.
The Associated Press reported
, "A Chinese official says Beijing wants a prompt settlement of its trade war with Washington.
"A deputy commerce minister said Monday that Beijing wants "satisfactory results as soon as possible." The official gave no details of talks on a "Phase 1" deal announced by President Donald Trump in October.
"Another U.S. tariff hike on $160 billion of Chinese imports is due to take effect Sunday. China announced Friday it was carrying out a promise to waive punitive tariffs on American soybeans and pork."
But Red China believes it has a Trump card.
The South China Morning Post reported
, "The impeachment process working its way through the US Congress threatens to further destabilize an erratic president, push China's expectations lower and undercut chances for a meaningful US-China trade deal before the 2020 election.
"That's the view among American political and economic experts as the Washington-Beijing trade war launched by US President Donald Trump drags on with consumers feeling the pain and the global economy and financial markets held hostage."
Erratic president?
Where?
The man is a very sane genius and if Red China believes otherwise, this helps him. Having survived and prevailed the Mueller Witch Hunt, President Trump faces the butterknife sharp Crayola crowd in Congress led by Adam "Andy Kaufman" Schiff and Jerry "Tweedledee" Nadler. One has crazy eyes and the other has his belt under his arms.
Democrats know their impeachment will fail spectacularly.
To save face, they will pass President Trump's trade agreement with Canada and Mexico.
NBC reported
, "Democratic leaders Tuesday praised a new trade deal to replace the decades-old North American Free Trade Agreement, which President Donald Trump and Democrats had frequently criticized.
"House Speaker Nancy Pelosi, D-Calif., and Ways and Means Committee Chairman Richard Neal, D-Mass., said they were poised to move forward with the United States–Mexico–Canada Agreement (USMCA) less than an hour after Democratic leaders, including Pelosi, Neal and House Judiciary Chairman Jerry Nadler, D-N.Y., unveiled two articles of impeachment against the president accusing him of high crimes and misdemeanors."
The message to Red China is clear: Democrats won't stop him and neither will you.
I'm guessing Trump has won at least 2, with the new USMCA and China desperately trying to get Trump to agree to a deal. Can't wait until Don posts!

https://t.co/q4ozdq0U25

— Leslie Eastman (@Mutnodjmet) December 10, 2019
Heh.
But she is correct. Time plus no answer equals no. President Trump has time on his side. He can say no, they cannot.
Losing 23% of a customer's account isn't good news. That Red China has to pay tariffs on the remaining 77% is more bad news.
Meanwhile, the best economy in 50 years continues to skip along on its merry way. President Trump should be in no hurry to bail Red China out.