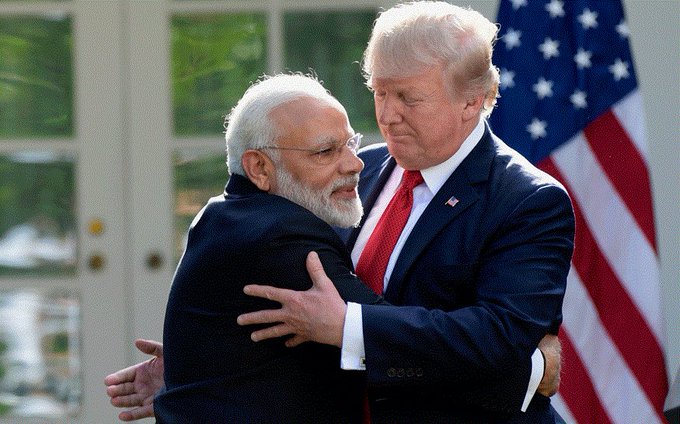 (The picture shows India's PM embracing President Donal John Trump.)
Let's see, calls to industry to stop opening factories in Mexico. Check.
Cutback in regulations.
Check.
Tax cuts that led to record tax revenues.
Check.
Trade agreements with South Korea, Japan, Canada, Mexico, and Red China.
Check, check, check, check, check.
That must mean making a deal with the second-most populous nation is next.
The Press Trust of India reported
, "India and the US have agreed to further deepen their strategic ties in key areas like defence, counter-terrorism and trade, and to work with like-minded countries to ensure a free and open Indo-Pacific, amidst China flexing its military muscles in the region.
"The decisions were taken at the second India-US 2+2 dialogue between US Secretary of State Mike Pompeo, Defense Secretary Mark Esper and External Affairs Minister S Jaishankar and Defence Minister Rajnath Singh at the State Department on Wednesday amidst the historic impeachment vote against President Donald Trump.
"The first 2+2 dialogue was held in New Delhi in September last year after the mechanism was approved by Prime Minister Narendra Modi and US President Trump."
Modi is 1 of the 3 best diplomats in the world. Japan's Shinzō Abe and President Trump are the other 2. Like Abe, Modi crosses ideological borders to deal with everyone. He is so pro-India that he should sport a MIGA hat.
And that is what President Trump wants, a world of nations not unaccountable organizations such as the UN or EU.
Obama tried, bless his little heart. He held the first vegetarian state dinner at the White House to curry favor with Modi.
President Trump seeks bilateral agreements that can be easily broken, unlike WTO and other multilateral pacts. This means he treats other nations as equals.
His approach domestically led to prosperity. 3.5% unemployment is a testament to that
His international policy is a work in progress that is progressing.