Today is the UN's Anti-Corruption Day. I thought corruption was the sole purpose of the UN.
ITEM 1
: The Daily Mail provided some Trumpenfreude to start the week.
It reported
, "More than 800,000 demonstrators marched on cities throughout France today, with railway workers, teachers and hospital staff joining the largest strike in decades.
"Authorities in Paris barricaded the presidential palace and deployed some 6,000 police as activists, many in yellow vests, gathered for a major march aimed at forcing President Emmanuel Macron to abandon his pension reform plans.
"Officers were forced to use tear gas to disperse rioters who set fire to a vehicle and smashed windows as tensions heightened close to the Place de la Republique square.
"A construction trailer was overturned and set on fire, sending a huge plume of smoke into the sky, as hooded youths lit fires, looted high-end stores and hurled fireworks at officers, reports said.
"The disruption comes a day after President Emmanuel Macron was caught mocking Donald Trump behind his back in a hot mic incident with Boris Johnson and Justin Trudeau at the NATO summit in London."
Paris is burning, and Canada just lost 71,200 jobs.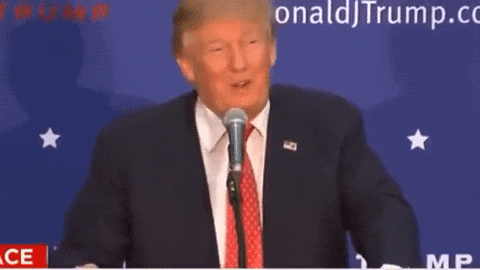 ITEM 2
:
Adam Ford reported
, "Rasmussen Reports, the influential polling company, tweeted Saturday their belief that Matt Drudge has sold and is no longer running the titanic news aggregater that bears his name, the Drudge Report."
Rasmussen Reports (which Scott Rasmussen sold a few years ago) tweeted,"We don't think Matt is there anymore, CFP. Word is he sold, just waiting for confirmation. Now that will be a story."
If true, that will explain the Never Trumpism of the Drudge Report.
Remember, it is not bad news that conservatives hate. We can take that. We are grownups. What we cannot stand is Fake News. The media must quit making things up.
ITEM 3
: Kimberley Strassel of the Wall Street Journal reported, "Fanatics can justify any action, and House Intelligence Chairman Adam Schiff this week demonstrated where that mindset leads. In his rush to paint Donald Trump as a lawbreaker, Mr. Schiff has himself trampled law and responsibility.
"That's the bottom line in Mr. Schiff's stunning decision to subpoena the phone records of Rudy Giuliani and others. Mr. Schiff divulged the phone logs this week in his Ukraine report, thereby revealing details about the communications of Trump attorneys Jay Sekulow and Mr. Giuliani, ranking Intelligence Committee member Devin Nunes, reporter John Solomon and others. The media is treating this as a victory, when it is a disgraceful breach of ethical and legal propriety.
"If nothing else, Mr. Schiff claims the ignominious distinction of being the first congressman to use his official powers to spy on a fellow member and publish the details. His report also means open season on members of the press. Mr. Giuliani over months has likely spoken to dozens of political figures and reporters — and the numbers, dates and length of those calls are now in Democrats' hot little hands. Who gets the Schiff treatment next?"
Prosecute Schiff.
I do not link pay sites.
ITEM 4
: Article LXI of Impeachment:
Business Insider reported
, "President Donald Trump displays his power with firm handshakes, a second scoop of ice cream, and towering salt and pepper shakers.
"Mark Knoller, CBS News' White House correspondent, pointed out how much bigger Trump's shakers were in a tweet on Thursday.
"Insider combed the photo archives and found that Trump more often than not gets much larger salt and pepper shakers than other foreign leaders or American politicians when dining at the White House. And we couldn't find instances of Trump's most recent predecessors using larger shakers than those of their guests.
"The large shakers might just be because he enjoys salty foods like KFC chicken, Big Macs, and bacon and eggs. But it could also be another power move, alongside his fierce handshakes and bulky suits."
Is there a serious journalist left in Washington?
Meanwhile, the Jeff Bezos Washington Post reported, "Republicans are dramatically outspending Democrats on impeachment-related ads on Facebook and television, illustrating how fully the GOP has embraced the issue as a political winner as public opinion remains split on the House effort to remove the president."
The RNC has money thanks to President Donald John Trump's success at raising money. The DNC is broke.
ITEM 5
:
The Washington Examiner reported
, "Biden Supported Welfare Work Requirements in 1996, Now Calls Them 'Morally Bankrupt.' Biden in 1996: 'The culture of welfare must be replaced with the culture of work.'"
Morally Bankrupt people are the first to cry "Morally Bankrupt."
And if Hitler came back, he would call his opponents Hitler.
Hmm. Maybe he is back.
ITEM 6
:
Breitbart News reported
, "U.S. Customs and Border Protection officers assigned to El Paso Sector found more than a half-pound of methamphetamine inside the vagina of an alleged drug smuggler."
Yuck.
The story said, "A search of the woman led to the discovery of two bundles of drugs 'partially concealed in her vaginal cavity,' officials stated. Officers also found two additional bundles during a subsequent search. Officers tested the drugs and determined it was methamphetamine, officials reported. The officers determined the bundles of methamphetamine weighed in excess of a half-pound."
Another woman degraded by illegal drugs.
ITEM 7
:
The Daily Wire reported
, "Rep. Al Green (D-TX) said on Saturday during an interview on MSNBC that President Donald Trump needed to be impeached 'to deal with slavery.'"
President Donald John Trump's ancestors did not arrive in America until 25 years after slavery ended.
ITEM 8
:
WBUR reported
, "President Nixon Never Actually Gave This Apollo 11 Disaster Speech. MIT Brought It To Life To Illustrate Power Of Deepfakes."
The only thing fake was saying Nixon did not say what he said. They recorded a speech to cover a tragedy that did not happen. Big deal.
The left obsesses with Nixon. They spend more time trying to tear him down than they spend promoting their own presidents. Marxism is built on hate. Christianity is built on love.
ITEM 9
:
News Busters reported
, " On Twitter, Jeryl Bier noted [Mexican billionaire Carlos Slim's] New York Times had to add an embarrassing correction to a two-month old story on Friday. Reporter Trip Gabriel did an entire story on a Trump voter in Erie, Pennsylvania changing his mind....except records showed the man never voted."
The correction read: "After this article was published, local news media reported that Mark Graham did not vote in the 2016 election. The Times has confirmed that Mr. Graham did not vote in the election. While Mr. Graham acknowledged misspeaking about his voting record, he said the article accurately reflects his feelings about the 2016 race and President Trump's performance in office."
Fake, but accurate.
ITEM 10
: Speaking of fake, but accurate, the organization that lowered the standard and coined the phrase -- Carlos Slim's Times -- moaned "Trump and Democrats Turn Impeachment Into a Partisan Brawl."
Sure, blame the victim of the Democrat Party's latest attempt to void the 2016 election.
The propaganda paper said, "While Democrats who control the House are focused on a swift impeachment vote by year's end, the White House is almost entirely consumed by the trial that would follow in the Republican-controlled Senate, where Mr. Trump's team believes he would have the chance to defend himself and where Democrats would almost certainly fall short of the two-thirds vote they would need to remove him from office."
The Times is upset that President Trump will have "the chance to defend himself."
Who does he think he is? Bill Clinton?
I refuse to link pay sites
ITEM 11
: Never again?
Angela Merkel visited

@AuschwitzMuseum

on Friday for the first time as chancellor and said admitting Nazi crimes was a key part of Germany's identity that could combat growing anti-Semitism.

https://t.co/iG6OS8ac8v @AFP

— Auschwitz Memorial (@AuschwitzMuseum) December 7, 2019
She has been chancellor for 14 years. Auschwitz should be the first place a German chancellor visits to stop history from repeating itself.
ITEM 12
: Melania Trump sets an example in many ways.
The Daily Mail story is here
.
ITEM 13
: Never Trump killed the neocon star.
Did the Internet destroy the National Review?

Or was it just the loss of Bill Buckley - who after all named Jonah Goldberg his successor despite the latter not only being no WFB but actually being Jonah Goldberg?

— Ron Coleman (@RonColeman) December 8, 2019
Like the Weekly Standard and Grandma's couch, it will never recover.
ITEM 14
: High school track star. Sailor. Hero.
'I knew my baby was gone' 💔

Evelyn Brady welcomed me into her home & we spoke about her son. Mohammed "Mo" Haitham was 1 of 3 killed at the Naval Air Station

#Pensacola

on Friday. Brady tells me he tried to stop the shooter & died a hero. Their story tonight on

@10NewsWTSP

at 11

pic.twitter.com/JAraGfFcZ2

— Angelina Salcedo (@AngelinaWTSP) December 8, 2019
RIP, Mohammed.
ITEM 15
:
The Miami Herald reported
, "Someone ate a really expensive snack at Art Basel Saturday afternoon — to the tune of $120,000. For one banana.
"By now you have probably heard of the now world-famous banana duct-taped to Emmanuel Perrotin's outer gallery wall at Art Basel Miami Beach. The piece that sold to an art collector for $120,000.
"The $120,000 banana — a real, rather ripe and edible one — is the work of Italian artist Maurizio Cattelan and titled Comedian. The work comes with a Certificate of Authenticity, and owners are told that they can replace the banana, as needed."
When you duct tape a banana, they call it a work of art, but when you duct tape your kid they call Child Protection Services.
ITEM 16
: It is about time.
So, apparently, it was OK with some people when Twitter banned thousands of conservative accounts, it was OK to ban Meghan Murphy, and it was OK when Twitter banned political ads. But now Twitter is banning porn and -- suddenly -- everyone's screaming "But muh First Amendment!"

— The Patriarch Tree (@PatriarchTree) December 8, 2019
Twitter is run by twits.
ITEM 17
:
Via Citizen Free Press
, Ted Cruz called out Chuck Todd on his own show.
Cruz told the woodchuck, "Any president, any administration is justified in investigating corruption. There was serious evidence of real corruption concerning Hunter Biden. [He] was on the board of Burisma, the largest natural gas company in Ukraine. Do you know how much he was paid every month? $83,000 — that's a million dollars a year."
"Because Russia interfered, the media pretends nobody else did. Ukraine blatantly interfered in our election. The sitting ambassador from Ukraine wrote an op-ed blasting Donald Trump during the election season. … It's hysterical two years ago there was article after article after article in the mainstream media about Ukrainian interference in the elections, but now, the Democrats have no evidence of a crime. No evidence of violating the law. And so suddenly Ukraine interference is treated as the media clutches their pearls, oh my goodness, you can't say that! Last week, Chuck, you called Sen. John Kennedy basically a stooge for Putin."
Some readers have wondered why I want an impeachment.
Because this is the only way to get the message to the people.
ITEM 18: Happy 103rd birthday, Spartacus.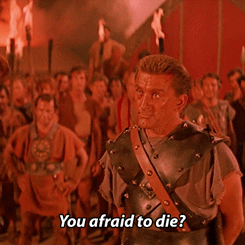 He ended the movie studio factory system, which treated actors as chattel, with his film Spartacus. That was not ironic. That was the purpose of the film.
The good die young. They also die old as Mister Douglas shows.