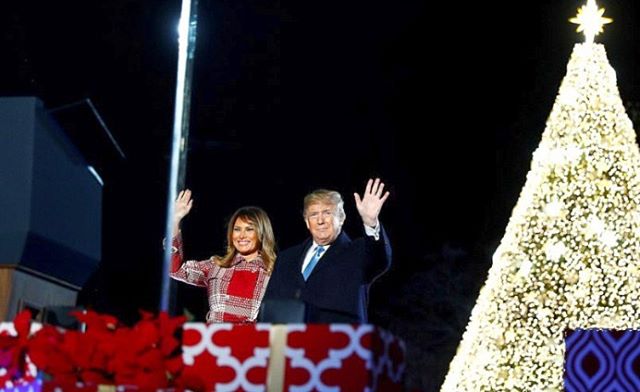 'Tis the season to be jolly.
ITEM 1
:
Yahoo News reported
, "An emissary for two wealthy Arab princes boasted to unnamed officials of a Middle Eastern government about his direct access to Hillary and Bill Clinton while funneling more than $3.5 million in illegal campaign contributions to the former secretary of state's 2016 presidential campaign and Democratic fundraising committees, according to a federal indictment announced by the Justice Department this week.
"'Wonderful meeting with Big Lady. … Can't wait to tell you all about it,' George Nader allegedly wrote to an official of one of the foreign governments he advises in the Middle East after attending a political fundraiser with Hillary Clinton on April 16, 2016. Nader, a lobbyist, convicted sex offender and key cooperating witness in the Robert Mueller investigation, was brought to the Clinton fundraiser as the guest of Ahmad Khawaja, the founder and CEO of Allied Wallet, a Los Angeles payments processing company.
"Nader would soon be directing millions to Khawaja's accounts in order to gain entry to similar events without disclosing his involvement or the source of the funds, according to the indictment's charges."
Democrats offer the best government money can buy.
ITEM 2
:
The Washington Times reported
, "A student working for a multicultural community center at the University of Wisconsin-Madison is on paid leave after reportedly making white students feel unwelcome.
"Chuefeng Yang, who works as a house fellow for Witte Residence Hall at the university's Multicultural Learning Center, is on leave pending an investigation after telling other students not to bring too many white people to the dorm, Yang told a local NBC affiliate.
"'I say things like, 'Don't bring too many white students around,' Yang told the station. 'It's not to say white students are not allowed here. But it's just to say, 'Let's make sure we're protecting the intentionality of this space.'"
Multicultural diversity is a polite way to tell white people to go to hell.
ITEM 3
:
The Blaze reported
, "Iran has been taking advantage of recent political unrest in Iraq by secretly stockpiling short-range missiles inside the country, the New York Times reported Wednesday.
"The buildup is part of Iran's widening effort to assert dominance in the Middle East and could pose a threat to American troops as well as allies in the region such as Israel and Saudi Arabia, U.S. sources told the Times.
"Both Iraq and Iran have been gripped by deadly protests in recent months, with more than 1,000 people reported dead as a result of protests in Iran. But public unrest has not seemed to slow Iranian leadership down from engaging in what the Times calls a "shadow war."
"Iran has been attacking countries in the Middle East of late but disguising the origin to diminish the chances of counterattacks. Iran's stockpiling of short-range missiles in Iraq also serves as a strategic deterrent. If Iran were to face an attack, it could potentially strike back with the missiles stored outside its borders."
This is what Obama purchased for $170 billion when he tried to pay off Iran.
Given that Obama spent nearly 2 decades in the church run by the anti-Semitic Jeremiah Wright, I wonder if Obama isn't secretly happy.
ITEM 4
:
Jack Brewer of Fox News reported
, "James Prince, the most respected man in hip-hop, is among the growing number of black Americans – including me – who are recognizing that President Trump has accomplished some very good things for the African-American community.
"We also recognized that while Democrats make big promises to black voters in the run-up to every election, too often those promises are forgotten once the polls close. In part that's because Democrats take our votes for granted – they just assume the vast majority of black people will vote Democratic. If more of us voted for Republicans, candidates in both parties would do more to compete for our votes
"President Trump can take credit for many achievements that have benefited the black community.
"The president's tax cuts, elimination of unnecessary government regulations, and other policies have driven black unemployment and the black poverty rate to record lows. These policies have sparked a renaissance in manufacturing and other jobs that has benefited not just black Americans, but all Americans.
"And the many Opportunity Zones the president has created in low-income and predominantly black areas have revitalized areas neglected under Democratic administrations.
"The president has also advocated for school choice that has given students in underperforming public schools the option of attending schools where they can get a better education. Many of the students benefiting from school choice are black.
"In addition, President Trump has increased support for the nation's historically black colleges and universities, which continue to play an important role in the education of young black men and women."
But if Obama had a son he would look like Trayvon, right?
ITEM 5
:
Reuters reported
, "General Motors Co (GM.N) and South Korea's LG Chem (051910.KS) said on Thursday they will invest $2.3 billion to build an electric vehicle battery cell joint venture plant in Ohio, creating one of the world's largest battery facilities.
"The plant, to be built near GM's closed assembly plant in Lordstown in northeast Ohio, will employ more than 1,100 people, the companies said. Construction is to begin in mid-2020 and the plant will have an annual capacity of more than 30 gigawatt hours with the flexibility to expand.
"At a media briefing, GM Chief Executive Officer Mary Barra said the 50-50 joint venture with LG Chem is aimed at 'dramatically enhancing electric vehicle affordability and profitability.'
"Barra said the Ohio battery plant will accelerate the automaker's initiative to introduce 20 new electric vehicles globally by 2023."
What?
It won't be built in Red China?
ITEM 6
:
The Hill reported
, "Congress is racing the clock as they rush to prevent another shutdown poised to start in two weeks.
"Though lawmakers have until December 20 to get a funding bill to President Trump's desk, negotiators say they really have just a matter of days to reach a deal on the fiscal 2020 bills to prevent having to approve another stopgap measure, formally known as a continuing resolution (CR).
"Senate Minority Leader Charles Schumer warned Republicans that a wall was a 'non-starter for Democrats' and that drawing red lines on the border could result in 'another Trump shutdown.'
"'We had hoped the president had learned his lesson, but it appears a year after losing the same battle, the president is considering a repeat of history,' Schumer said.
"Republicans, however, say Democrats are trying to break a two-year budget deal by including restrictions on Trump's ability to shift money to the wall in the spending bills."
The wall continues to rise despite Chuck and Nancy.
They cannot stand it.
ITEM 7
: Nancy said Democrats will impeach.
— John Ocasio-Nolte (@NolteNC) December 5, 2019
I don't think so. The votes aren't there to impeach.
ITEM 8
: One more thing...
— Benny (@bennyjohnson) December 5, 2019
Nancy knows she won't be speaker after January 3, 2021.
ITEM 9
:
Fox News reported
, "President Trump on Thursday challenged House Democrats to impeach him fast and ship the process over to the Senate, where he threatened to seek testimony from top Democrats including House Intelligence Committee Chairman Adam Schiff, former Vice President Joe Biden and his son Hunter, and Speaker Nancy Pelosi."
I have been saying this for some time: put them on the stand.
If you make fighting subpoenas a charge (as Schiff threatened to do), you cannot fight a subpoena.
However, the decision will be up to McConnell. If he tells the president Republicans won't go along with an actual trial, President Donald John Trump will not pursue one.
ITEM 10
:
Breitbart News reported
, "Former New York City Mayor Rudy Giuliani, who is also acting as President Donald Trump's personal attorney, reportedly met and interviewed former Ukrainian prosecutor Viktor Shokin in Kyiv, Ukraine, on Thursday.
"Giuliani traveled to Ukraine to meet with Shokin and other former prosecutors, according to the New York Times. He was reportedly filming a documentary with the One America News Network (OANN), according to ABC News."
If Shokin testifies, that impeachment could lead to Biden's indictment.
ITEM 11
:
The Daily Caller reported
, "The Trayvon Martin case was built on a fraud, with a key witness being swapped out with an imposter when the real witness wouldn't testify, George Zimmerman said in a lawsuit Wednesday.
"The lawsuit says Martin was on the phone with his girlfriend, a vivacious 16-year-old named Brittany Diamond Eugene, when Zimmerman killed him on Feb. 26, 2012. At trial, prosecutors produced the plump, slow-spoken 18-year-old Rachel Jeantel as the girl who had crucial insight into his final moments by being on the phone with him.
"The lawsuit says Eugene refused to provide the version of events used to build a narrative of racism at trial, so Jeantel, who reads at a fourth-grade level, was pressured into pretending to be Diamond."
Zimmerman is the Hispanic Richard Jewell.
ITEM 12
: Quid Pro Joe goes loco.
He is and he should.

Voter attacked by Biden calls him 'senile' and says he should drop out of 2020 race

https://t.co/7LYjl27Hhq

— Arthur Schwartz (@ArthurSchwartz) December 5, 2019
Which is worse, a senile old man or a squaw who contantly lies?
This is the choice Democrats have in 2020.
ITEM 13
: Britons vote in a week.
For the first time in a General Election, many of us are not voting for a party we want to win.

We are voting Tory to keep Jeremy Corbyn out.

pic.twitter.com/GfzWmrynIf

— Katie Hopkins (@KTHopkins) December 5, 2019
Many Americans in 2016 felt their pain.
Not so much now.
It will all work out fine and dandy.
ITEM 14
:
The Hill reported
, "Democratic presidential candidate Pete Buttigieg is facing criticism online from some members of the LGBTQ+ community and gay rights advocates after images of the South Bend, Ind., mayor volunteering with the Salvation Army resurfaced online Tuesday.
"LGBTQ+ publication Out published a story Tuesday with some of the critical tweets, which spurred more pushback from some activists who called out the Democrat for volunteering with an organization that has a history of opposing gay rights."
And.
— Gabriel Hays (@GabrielJHays1) December 5, 2019
You must always bear in mind that these rights groups only use the people they pretend to represent.
When was the last time Al Sharpton did anything for the black community? What have feminists done for women? Why would anyone expect the LGBT to support a gay presidential candidate?
ITEM 15
: Never let facts get in the way of a good story.
The story today that we are sending 12,000 troops to Saudi Arabia is false or, to put it more accurately, Fake News!

— Donald J. Trump (@realDonaldTrump) December 6, 2019
Who knows what motivates them to lie all the time? Crazy.
ITEM 16
:
Fox News reported
, "Fox News legal analyst Gregg Jarrett dismissed reports downplaying Justice Department Inspector General Michael Horowitz's forthcoming report on potential FBI and DOJ surveillance abuses against the Trump campaign in 2016, calling them "hearsay."
"'Well, it's [the reports are] based on leaked information from people who didn't read the Horowitz report, but were told about it from people, other people who were briefed on it who didn't read the report,' Jarrett said on Thursday. 'So we're talking about multiple hearsay. It's unreliable.'
"The Washington Post reported Thursday that both Horowitz's report and a separate investigation into the origins of the FBI's Russia investigation by Connecticut U.S. Attorney John Durham 'are not endorsing Trump's chief conspiracy theory: that the probe of Russian interference in the 2016 presidential election was an unfounded witch hunt.'"
Emails from Nigerian princes are more credible than the Jeff Bezos Post.