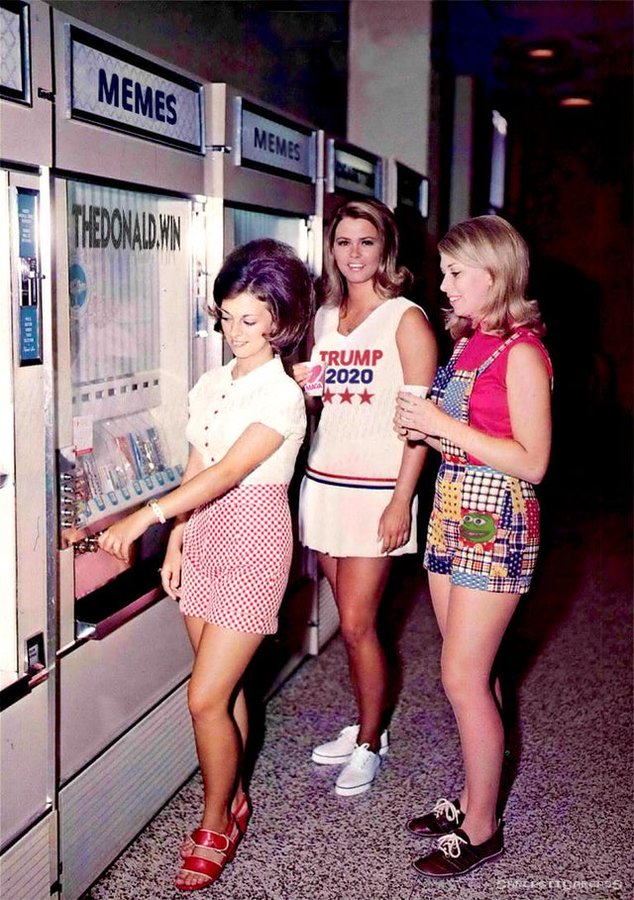 Some photos at
Reddit_the_Donald
seem photoshopped. Anyway, Donald John Trump is still our president.
ITEM 1
: Sometimes I just get fed up with it all.
I wish both Bushes and Obama were as skeptical. Many American lives were lost at the hands of bad intell

https://t.co/HoWzhCBnn6

— Don Surber (@donsurber) December 4, 2019
Reporters should be skeptical as well. Alas, not in DC.
ITEM 2
:
The Washington Examiner reported
, "Senate Majority PAC, a Democratic group affiliated with allies of Senate Minority Leader Chuck Schumer, accused Republican Sen. Joni Ernst of not 'serving the needs of domestic violence victims' despite the Iowa Republican herself being a victim of domestic violence.
"Ernst worked with Democratic Sen. Dianne Feinstein on a bipartisan Violence Against Women Act, but the efforts fell apart, and Senate Democrats now back their own version. House Democrats previously passed a version of the bill, but it has stalled in the Republican-controlled Senate.
"Ernst does not support the Democrats' bill because she said it would retroactively and improperly apply restrictions on those convicted of domestic violence or stalking from owning firearms. And she accused Schumer of blocking her bipartisan efforts in order to hurt her 2020 reelection chances, according to Radio Iowa."
Oof.
Military veteran. Abuse survivor. Republican woman. No wonder Democrats hate her.
ITEM 3
:
The South China Morning Post reported
, "Beijing's decision to suspend US military port calls in Hong Kong has been greeted with a degree of derision in Taiwan, with many suggesting that the Americans would be welcome to come to the island instead.
"Although the United States is unlikely to risk angering Beijing further by sending warships on a port call to the self-ruled island, many Taiwanese Internet users said the southern port city of Kaoshiung would "win big" if the Americans did decide to visit.
"One comment on the PTT terminal bulletin board system joked those visits would happen only when 'US-China talks fall apart or reach a standstill.' A Taiwanese blogger wrote on Facebook that such a move could 'stimulate spending in Kaoshiung by US naval officers and elevate Kaoshiung's skills in naval vessel repairs.'
"Chen Fang-yu, a former visiting fellow at the Global Taiwan Institute, joked to more than 19,000 followers on Facebook that the US military should come to Taiwan to have fun."
They can go to Taipei to Taiwan on.
ITEM 4
: The Obama administration is shocked -- shocked! -- that the Iranian regime is acting like the brutal cowards that they are.
Everyone must hear about this. Every outlet in the world should publicize how the murderous Iranian regime is mowing down protesters.

https://t.co/v9YGu6HInr

— Samantha Power (@SamanthaJPower) December 2, 2019
Tammy Bruce reported
, "Where was Samantha Power when an unarmed Iranian young woman, Neda Soltan, was shot by Iranian troops, and bled to death in the street?
"As a member of Team Obama, does anyone recall Power saying anything critical of Iran?
"Does anyone recall Barack Hussein Obama commenting on that horrific assault on human rights?
"Oh wait, he did say something: 'We're still waiting to see how it plays itself out.'"
We saw how that played out. Iran used that $170 billion Obama gave them to attack Israel and pursue a nuclear arsenal.
In other words, just how Obama wanted it to go down.
ITEM 5
:
The Washington Examiner reported
, "House Intelligence Committee Chairman Adam Schiff hired a former National Security Council aide who worked with alleged Ukraine whistleblower Eric Ciaramella at the NSC during the Obama and Trump administrations the day after the phone call between President Trump and Ukrainian President Volodymyr Zelensky.
"It was previously reported by the Washington Examiner that public records indicated Sean Misko, 37, started work on Schiff's committee in August as a professional staff member. A specific start date was not available until this week when the latest congressional quarterly disbursements were released.
"The new records show that Misko's official hire date was July 26.
"Misko was the director for the Gulf States at the NSC between 2015 until the first half of 2018. The Washington Examiner has established that the whistleblower is a CIA officer who was on the NSC during the Obama administration and worked on Ukrainian issues with Joe Biden, the 2020 Democratic candidate, when he was vice president.
"Ciaramella, 33, is a career CIA analyst and was the Ukraine director on the NSC from 2016 until the summer of 2017. In October 2016, he was Biden's guest at a State Department banquet."
The presidential call was made on July 25. Democrats hired Misko the next day, wrote a whistle blower complaint, and started this impeachment circus. If Misko is the whistle blower, a special counsel should investigate Adam Schiff and the rest of his party.
ITEM 6
:
Breitbart News reported
, "During an appearance on Huntsville, AL radio WVNN's The Jeff Poor Show on Monday, Republican National Committee national spokeswoman Elizabeth Harrington explained how fundraising and activism for Republicans are on the upswing in the wake of the House Democrats' impeachment push against President Donald Trump.
"'It's incredible,' she said. 'We have an amazing grassroots army of volunteers, and that's only skyrocketed since the impeachment charade. We have thousands sign up to get involved off the sidelines. Every single month, we've broken records on fundraising — our joint fundraising with the Trump campaign. We've just never seen an off-year election like this at the RNC. We're in a very strong position, and it is because the country is in a strong position, and the Democrats have all the losing arguments. So, we're really energized. We're really excited.'"
Meanwhile, Democrats are broke and getting broker.
Thank you, Adam Schiff.
ITEM 7
:
Fox Business reported
, "MMA legend Tito Ortiz is not afraid to sport his Make America Great Again headgear.
"'I walk with a Make America Great Again hat -- Latinos for Trump,' he said Monday during an appearance on FOX Business' Mornings with Maria.
"In fact, the former light heavyweight champion, known as The Huntington Beach Bad Boy, said there are so many Latinos that support Trump, but are afraid to come out and say it."
The story also said, "Ortiz said as people get more informed, Trump will muscle up more support from the Latino and black communities."
Remember when that autopsy of the 2012 election came out and said Republicans have to go Democrat-lite to get non-white votes?
Donald John Trump ran as a Republican and governs as a Republican, and is gaining non-white votes.
ITEM 8
:
The Federalist reported
, "Senator Elizabeth Warren reiterated her view that the Electoral College should be abolished and U.S. presidents should be elected by popular vote. 'My goal is to get elected — but I plan to be the last American president to be elected by the Electoral College. I want my second term to be elected by direct vote,' she tweeted.
"In the accompanying video clip, she said, 'Call me old fashioned, but I think the person who gets the most votes should win.'"
Democrats have been ignoring the Constitution since the
Trail of Tears
.
ITEM 9
: In Nort Spews (a nod to
Tank McNamara
):
— John Ourand (@Ourand_SBJ) December 3, 2019
Looks like many of their fans support Hong Kong more than they support LeBron James.
ITEM 10
:
The Washington Examiner reported
, "Immigrants who fled Central American countries to get away from transnational criminal organizations such as MS-13 have come to the United States only to find the exact same gangs terrorizing northern Virginia communities.
"Five federal and local officials who work on gang matters in the region told the Washington Examiner that while they do not have a way to calculate exactly how many people — asylum seekers, temporary protected status recipients, immigrants, and those without documents — have been victims of crimes committed by MS-13 and others, the immigrant community in Fairfax County, Virginia, is often on the receiving end of extortion, violence, and other crimes."
Democrats are deliberately importing MS-13.
If they weren't, they would shut down their sanctuary cities and protect their citizens.
ITEM 11
:
CNN reported
, "Two banks must turn over President Donald Trump's financial records to the Democrat-controlled US House of Representatives, dealing another blow to the President's efforts to block Congress' move to obtain his financial records, a federal appeals court in New York ruled Tuesday.
"The House Intelligence and Financial Services committees had subpoenaed the banks, Deutsche Bank and Capital One, for records including Trump's tax returns and those of his family members."
Next stop is the Supreme Court.
ITEM 12
:
Politico reported
, "Kamala Harris dropped her presidential campaign on Tuesday after months of failing to lift her candidacy from the bottom of the field — a premature ending for a California senator once heralded as a top-tier contender for the nomination.
"Harris told aides of her intentions in an all-staff call. A person familiar with the call said she sounded distraught. While Harris had qualified for the December debate in her home state, she was running dangerously low on cash — lacking the resources to air TV ads in Iowa — and her staff was gripped by long-running internal turmoil.
"Still, the news came as a shock to some of her biggest supporters. Just as Harris was announcing the news internally, a super PAC had cleared more than $1 million in TV ads in Iowa to boost her struggling campaign. The ad, which argued she was the best-equipped candidate to take on Trump, was canceled."
Willie Brown was right about his former paramour when he wrote in May
, "Harris needs to get back to who she is, remember where she is, and tell the support staff to chill out."
Translation: Take command of the campaign.
So much for Michelle Obama's candidate. Along with Cory Booker's campaign catching fire like a wet book of matches, Democrats are saying no to black candidates this year. The Obama Effect?
Timing is everything in politics and comedy.
— Gavin Newsom (@GavinNewsom) December 2, 2019
ITEM 13
: One of the most underappreciated people in American politics today is Corey R. Lewandowski, whom Donald Trump hired as his campaign manager to get him through New Hampshire. Mission accomplished.
— Donald J. Trump (@realDonaldTrump) December 3, 2019
Lewandowski is correct. Donald Trump made it look easy.
He busted his tail and eschewed TV ads in favor of good old-fashioned retail politicking. He hit the hustings daily to drum up support at rallies that kept growing and growing. He would have given Teddy Roosevelt and Harry Truman a run for their money had he opposed either one.
Or both.
ITEM 14
:
Gary Cohn, former economic advisor to President Trump, told David Axelrod
, "I am concerned that the atmosphere in the White House is no longer conducive, or no one has the personality to stand up to tell the president what he doesn't want to hear."
How ironic. Obama was the one who no one dared disagree with. His $787 billion stimulus shot unemployment past 10% for the first time in decades. His bombing of Libya unleashed millions of refugees upon Europe, and killed an ambassador. His $170 billion gift to Iran underwrote its nuclear program.
A Republican House protected America from further damage from the idiot.
But Donald Trump inherited a moribund economy and turned it quickly into the best economy in a half-century.
ITEM 15
:
Breitbart News reported
, "Hillary Clinton Says She's 'Deluged' with Requests to Run Again."
The calls are from Republicans.
ITEM 16
: Ho Ho Ho.
Senior Pelosi Staffer Reveals House Unlikely to Hold Impeachment Vote Before Christmas, "Too Complex" to Move That Quickly

https://t.co/peP8dJboUY

— BenTallmadge (@BenKTallmadge) December 4, 2019
It's beginning to look a lot like failure, everywhere you go.
ITEM 17
: The James Brown of politics. The hardest working man in presidencies.
Even Fox News is exhausted. Coming out of Trump-Trudeau livestream, anchor Bill Hemmer says: "Another 34 minutes. Three press conferences today." Trump has spoken to press at the three bilats for 125 minutes-- more than 2 hours.

— David Nakamura (@DavidNakamura) December 3, 2019
I feel good.
So good. So good. I got Trump.
(In person I do the horns, repeat the last line 3 times, and end with yeah!)
ITEM 18
: And after 2 hours wearing out the reporters...
December 4, 2019
Nice to see Her Majesty with the Queen of England.