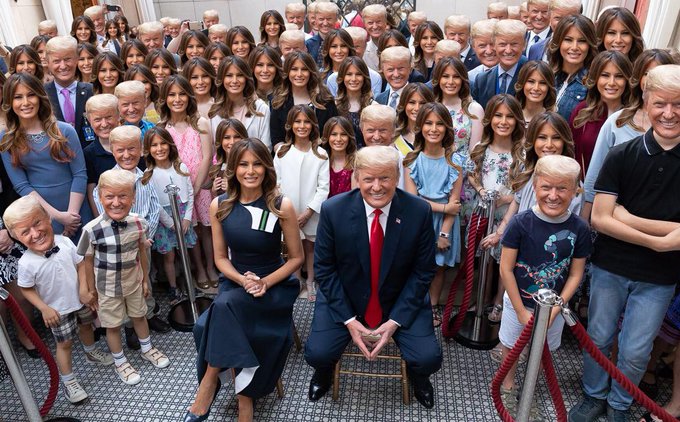 The above may have been photoshopped.
Or maybe the Trumps have been busy. Very, very busy.
ITEM 1
: Fresh Trumpenfreude to start the day. Remember Chicago Police Superintendent Eddie Johnson who refused to attend President Donald John Trump's speech to the nation's police chiefs at a conference in Chicago?
Mayor Lori Lightfoot fired Police Superintendent Eddie Johnson on Monday, just weeks before his scheduled retirement because the chief drove drunk and lied about it.
Reuters reported
, "In the early morning of Oct. 17, police officers found Johnson, 59, in his car. He initially said he had fallen asleep due to blood pressure medication, but local media later reported that he had told Lightfoot he had a couple of drinks before driving.
"At a news conference, Lightfoot refused to disclose details of her accusations against Johnson, saying only that there were inconsistencies between what he told her and what she saw on a video recording of the incident."
It's OK to drink Trumpenfreude. It never has any alcohol, just like the president.
ITEM 2
:
The Daily Caller reported
, "The Supreme Court heard arguments in a gun rights case for the first time in nearly 10 years Monday, involving a challenge to since-repealed New York City rules that greatly restricted the transportation of firearms.
"Though the case is closely watched as a possible bellwether for future disputes over the Second Amendment, several members of the court, including Chief Justice John Roberts, seemed ready to dismiss the case for procedural reasons, without a decision on the contested New York regulations.
"A decisive moment in Monday's arguments came when Roberts asked New York City lawyer Richard Dearing if the old rules will have any lingering effects on gun owners. Dearing said no and promised that New York officials will not use the old rules as a basis for any future licensing or enforcement decisions."
Sounds like City Hall got Jailhouse Religion on the Constitution. Justices should make it clear that Second Amendment rights are not confined to the closet.
ITEM 3
:
CBS reported
, "60 Minutes finds over 300 video ads for President Trump were taken down, mostly over the summer, for violating company policy."
The Federal Elections Commission should investigate Google and demand to know why it did this. CBS could not find any violations. Google presented none.
President Trump should sue.
And Republicans should stand up and regulate the Internet once and for all. The job of Congress is to protect our God given rights, including free speech. That is the only reason to have a government.
If they can do this to the president, they can do this to anyone.
ITEM 4
:
Breitbart News reported
, "Ukrainian President Volodymyr Zelensky said in a newly-released interview that he never discussed quid pro quo with President Donald Trump, once again denying any link between the release of U.S. military aid in exchange for investigations.
"'I never talked to the president from the position of a quid pro quo. That's not my thing,' Zelensky said in a wide-ranging interview with TIME magazine released Monday."
Not only can Democrats provide no witnesses, but it cannot provide a victim.
No crime, no impeachment.
ITEM 5
:
CNN reported
, "President Trump's 2020 campaign announced Monday that it will no longer credential Bloomberg News reporters for its events after the outlet said it would not conduct investigations into the Democrat presidential candidates, but would continue to probe the Trump administration.
"'The decision by Bloomberg News to formalize preferential reporting policies is troubling and wrong,' Brad Parscale, Trump's 2020 campaign manager, said in a statement.
"Bloomberg News announced last month that it would not investigate the Democratic presidential candidates after its owner, Mike Bloomberg, jumped into the race for the 2020 Democrat presidential nomination."
Ed Driscoll at Instapundit said
, "Finally, a Republican president is thinking of the media as Democratic Party operatives with bylines."
Why should the president give
the opposition a credibility the rest of the media no longer gives Bloomberg News
?
I would kick them out of the White House too.
The president may.
Mini Mike Bloomberg has instructed his third rate news organization not to investigate him or any Democrat, but to go after President Trump, only. The Failing New York Times thinks that is O.K., because their hatred & bias is so great they can't even see straight. It's not O.K.!

— Donald J. Trump (@realDonaldTrump) December 2, 2019
Mini Mike. That is going to stick.
ITEM 6
:
Hot Air reported
, "Jeff Sessions' path to regaining a place in the U.S. Senate may have gotten a little bit easier. Alabama Secretary of State John Merrill decided to end his own run for Senate yesterday specifically citing the ex-Attorney General's entry into the race in his campaign suspension announcement on Facebook."
The story also said, "Merrill's exit wasn't a shock as his polling numbers dropped 50% after Sessions got into the race early last month. The only candidates who stayed buoyant appear to be former Auburn coach Tommy Tuberville, who went from the upper 20's to lower 20's, and Roy Moore, who went from 13% to 11%. There's obviously still plenty of time left before the 2020 election so it's possible the poll numbers could shift around a bit. Sessions is angling for Merrill's supporters to drift towards his candidacy."
Sessions is a good man who was in way over his head as attorney general.
ITEM 7
:
The Associated Press reported
, "The execution of a blind man in Tennessee this week would mark only the second time in recent decades that a person without vision has been put to death in the U.S., the death row inmate's lawyers say.
"Lee Hall, 53, is scheduled to be electrocuted Thursday in a state that has accelerated the pace of its executions over the past year."
Is the ex-girlfriend he burned alive any less dead because he is blind now?
ITEM 8
:
Reuters reported
, "A U.S. appeals court on Monday dealt another setback to plans by President Donald Trump's administration to resume the death penalty at the federal level after a 16-year hiatus, denying a Justice Department bid to pave the way for four scheduled executions.
"A three-judge panel of the U.S. Court of Appeals for the District of Columbia Circuit denied the department's request to overturn a judge's decision that at least temporarily stalled plans for executing four convicted murderers. The first was scheduled to die on December 9."
If only the American judiciary treated babies in the womb with the same compassion they show ruthless murderers.
ITEM 9
: After those depressing items, we need a little Christmas, right this very minute.
— Melania Trump (@FLOTUS) December 2, 2019
Candles in the window, carols at the
spinet
.
ITEM 10
:
The Daily Mail reported
, "The lawyer representing Hunter Biden in his paternity case abruptly withdrew on Monday while his client blew off the hearing,
DailyMail.com
can exclusively reveal.
"Biden, 49, was not in the second-floor courtroom in Batesville, Arkansas, when his attorney former Arkansas Attorney General Dustin McDaniel quit.
"But Lunden Roberts, 28, the woman who claims the son of former Vice-President Joe Biden fathered her child, was seen for the first time since filing her paternity suit, sitting in the front row of the spectators' gallery wearing three-inch black heels.
"Biden is said to have met Roberts when she was working as a stripper in a 'gentlemen's club' in Washington D.C.
"In the hearing, Judge Don McSpadden said he would need at least three years of Biden's tax returns before he could reach a decision on monetary support for the child, whose sex has not been revealed.
"Earlier this week,
DailyMail.com
revealed Biden filed a request to seal all financial records to spare himself public 'embarrassment' amid claims of 'significant debts.'"
He blew the money on hookers and blow. He is congressional spawn. I'll bet daddy pressured many a prosecutor over the years to drop the investigation. That explains why Quid Pro Joe had no problem bragging about using our money to get Ukraine to fire a prosecutor.
ITEM 11
: Lefty tells the truth.
— The Daily Wire (@realDailyWire) December 1, 2019
That's the end of her career as a climate savant.
Thunberg wrote, "Fossil fuels are literally choking the life from us. That action must be powerful and wide-ranging. After all, the climate crisis is not just about the environment. It is a crisis of human rights, of justice, and of political will. Colonial, racist, and patriarchal systems of oppression have created and fueled it. We need to dismantle them all. Our political leaders can no longer shirk their responsibilities."
This is why 16-year-olds should never get the vote. In fact, raise the age to 25.
ITEM 12
:
Life News reported
, "Americans have another reason to give thanks this week. A new Centers for Disease Control report about abortion provides encouraging signs for unborn babies' right to life.
"Released Wednesday, the annual abortion report found that abortion numbers reached a historic low in 2016 across the United States, The Hill reports.
"The CDC reported 623,471 abortions in 2016, down about 13,000 from 2015. The abortion rate (number of abortions per 1,000 women of childbearing age) also declined from 11.8 in 2015 to 11.6 in 2016, as did the ratio of abortions per 1,000 live births at 186, the report found.
"The total number of abortions decreased by 24 percent in the past 10 years, according to the report.
"Tragically, the CDC found that 3 women died along with their unborn babies after legal abortions in 2015, the latest data available on maternal abortion deaths."
There is hope for the nation. In case you missed Item 17 yesterday,
it will make you happy today
.
ITEM 13
: Chad Pergram covers Congress for Fox News.
11) A member of Pelosi's leadership team today told Fox that the backlog of bills up this month in the House "works against" a December impeachment vote. And the Democrat noted that impeachment "doesn't fit the holiday spirit." That means impeachment could wait until 2020.

— Chad Pergram (@ChadPergram) December 3, 2019
Looks like Nancy does not have the votes.
The longer the delay, the greater the chance of inaction. Time + No Answer = No.
ITEM 14
:
Politico reported
, "President Donald Trump is winning at least one trade war: The one with his own party.
"Free-trading Republicans have feuded with the president for years now, and his decision on Monday to reimpose tariffs on Brazil and Argentina brought new criticism from GOP senators — right as he needs them to fend off the impeachment inquiry that threatens his presidency.
"Yet despite the complaints from Senate Republicans that Trump is eroding his party's free trade bona fides, the GOP seemingly can't — or won't — rally the votes to handcuff the president. Competing proposals that would give Congress more sway over certain tariffs have been languishing in the Senate Finance Committee, leaving more establishment-minded Republicans little option but to sit back and gripe and wonder what just hit them."
Every Republican president from Lincoln to Reagan supported tariffs.
Every single one of them.
Our economy flourished.
Then came George "Read My Lips" Bush who pushed against that. We wound up with NAFTA (under Clinton) and trading with Red China (under Bush v2.0).
President Trump is making the Republican party Republican again.
ITEM 15
:
Reuters reported
, "The World Trade Organization on Monday rejected European Union claims that it no longer provides subsidies to planemaker Airbus, prompting the United States to say it could increase retaliatory tariffs on a wider range of European goods.
"A new compliance report from the Geneva trade watchdog found that the Airbus A380 and A350 jetliners continue to be subsidised as a result of past European government loans.
"U.S. Trade Representative Robert Lighthizer said the decision affirmed that European subsidies to Airbus continued to harm the U.S. aerospace industry, and strong action was required to eliminate such market-distorting subsidies.
"It was the latest salvo in a record transatlantic trade dispute involving mutual claims of illegal aircraft subsidies, which comes to a head at a time of rising global trade tensions and has grabbed the attention of financial markets this year."
America First.
ITEM 16
:
Mini Mike's Bloomberg News reported
, "America Braces for Possible French Fry Shortage After Poor Potato Harvest."
The story said, "Potato processors are rushing to buy supplies and ship them across North America in order to keep French fries on the menu after cold, wet weather damaged crops in key producers in the U.S. and Canada.
"Cool conditions started to hit growing regions in October, lashing potatoes with frost. Farmers in Alberta and Idaho were able to dig up some damaged crops for storage. But growers in Manitoba, North Dakota and Minnesota received snow and rain, forcing them to abandon some supplies in fields.
"As the wild weather hurt crops, an increase in fry-processing capacity in Canada has boosted demand. The combination will lead to tight supplies, and it's likely that potato prices could climb this year across North America, Stephen Nicholson, a senior grains and oilseeds analyst at Rabobank, said in a phone interview. International costs may also rise as the U.S. won't be able to export as much."
The story went on and on, but ended with Kevin MacIsaac, general manager of the United Potato Growers of Canada, saying, "It's a manageable situation. Potatoes are going to have to move from one channel to another that they sometimes don't move in a normal year."
Clickbait.
ITEM 17
:
The Associated Press reported
, "The United Nations Security Council is set to meet President Donald Trump over lunch Thursday, then travel later this month to part of the U.S. that's off the beaten path for world diplomats: Kentucky.
"It's the home state of Ambassador Kelly Craft, who announced the plans in brief remarks to reporters Monday as the U.S. began a stint in the council's rotating presidency. She said the U.S. tenure would focus on how the council could gain "more credibility."
"'We're speaking to the world, and I think it's really important, that we owe it as a moral obligation, not only to speak about topics that are relevant but also to have an outcome,' Kraft said, calling for reflection on the council's work this year and how it might improve.
"Tasked with maintaining international peace and security, the council generally sets out for hotspots when it leaves headquarters."
In that case, take them to Pikeville where they can settle the Hatfield-McCoy feud once and for all.