Donald John Trump is still our president.
ITEM 1
: This is your life on President Donald John Trump.
Reuters reported
, "Ford Motor Co. said on Tuesday it plans to invest more than $1.45 billion at two of its manufacturing facilities in Detroit to make electric, autonomous and sports utility vehicles, and add 3,000 jobs.
"The No. 2 U.S. automaker said it would invest about $750 million at its Wayne facility in Michigan to make its Bronco and Ranger sports utility vehicles and pickup trucks, and hire 2,700 workers over the next three years.
"Ford also said it plans to invest about $700 million at its Dearborn plant to make electric and hybrid versions of the F-150 truck and will hire 300 people next year."
This was your life on Obama.
He said on June 1, 2016
, "Some of those jobs of the past are just not going to come back, and when somebody says, like the person you just mentioned who I'm not going to advertise for, that he's going to bring all these jobs back, well how exactly are you going to do that? What are you going to do?"
Any questions?
ITEM 2
:
The Washington Examiner
, "Stirred awake by Democratic proposals to take, register, and possibly seize their legally obtained weapons, Virginia gun owners in just 43 days have pushed 90% of the state's counties to become gun "sanctuaries," the latest three on Monday night.
"Since the Nov. 5 election that gave Democrats control of Richmond, an organic, pro-gun movement has prompted the governments of 86 of Virginia's 95 counties, as well as 15 towns and cities, to adopt some type of sanctuary language, putting Gov. Ralph Northam and other liberals on notice that their gun control plans aren't welcome.
"'I did not think it would be that high of a number,' said sanctuary advocate and Culpeper County Sheriff Scott Jenkins."
Sic semper tyrannis
, Democrats.
Molon labe
, too.
ITEM 3
:
CNN reported
, "A federal appeals court has found the Affordable Care Act's individual mandate unconstitutional but did not invalidate the entire law, which remains in effect.
"The 2-1 decision by the 5th US Circuit Court of Appeals likely pushes any Supreme Court action on Obamacare until after the 2020 election but again thrusts the issue of health care into the forefront of the campaign. The challenge was brought by Texas and a coalition of Republican states, then joined by the Trump administration -- which argued the entire law should be thrown out."
The bottom line was "Judges Jennifer Walker Elrod -- appointed by President George W. Bush -- and Kurt Engelhardt -- appointed by President Donald Trump -- were in the majority. Judge Carolyn Dineen King, an appointee of President Jimmy Carter, dissented."
Donald Trump promised sane circuit judges. President Trump delivered.
50 times so far, with Halil Suleyman Ozerden and Andrew L. Brasher awaiting confirmation.
ITEM 4
:
The Washington Examiner reported
, "Senate Judiciary Chairman Lindsey Graham announced that he wants all the signers of the Foreign Intelligence Surveillance Act applications and renewals targeting Carter Page to testify in January.
"The October 2016 FISA application and January 2017 FISA renewal to surveil the Trump campaign associate were both approved by officials at the highest levels — then-FBI Director James Comey and Deputy Attorney General Sally Yates. The April 2017 FISA renewal was approved by Comey and acting Attorney General Dana Boente, the only signatory still remaining in active government service. Boente began working as the Trump administration's top lawyer at the FBI starting in January 2018. The June 2017 FISA renewal was approved by FBI Deputy Director Andrew McCabe and Deputy Attorney General Rod Rosenstein, who also appointed special counsel Robert Mueller in May 2017.
"Graham said he also plans to call in FBI Director Christopher Wray, who took over in August 2017 — after the FISA approvals but whose bureau has come under harsh criticism not just from the inspector general but also from the Foreign Intelligence Surveillance Court itself."
The serious get serious, and the seditious better get good lawyers.
ITEM 5
:
Agence France Presse reported
, "France's financial markets watchdog on Monday hit Bloomberg with a $7.6 million fine for a report based on a fake news release that triggered a plunge in the shares of French construction giant Vinci and wiped billions off its market value.
"Vinci's shares tumbled by nearly a fifth on November 22, 2016, after several media issued reports based on what purported to be a press release from Vinci.
"The statement said Vinci had sacked its chief financial officer and was restating its accounts for 2015 and the first half of 2016 after the discovery of accounting errors amounting to several billion euros.
"The financial markets watchdog AMF said Bloomberg distributed information that it should have known was false.
"The AMF said Bloomberg did not respect journalistic ethics 'as no verification of the information was undertaken before publication.'"
Fake News is expensive in France.
But it cost a company billions in equity. That fine should be a thousand times higher.
ITEM 6
:
The Washington Free Beacon reported
, Red "China routinely broke federal law by not disclosing how much it spent to publish regime propaganda in the New York Times, the Washington Post, and other newspapers, an expert review of foreign agent registration filings concluded.
"China Daily, an official mouthpiece of the Chinese Communist Party, has published hundreds of propaganda articles designed to look like ordinary news stories in some of America's most influential newspapers. While foreign agents may place ads in the United States, the propaganda outlet has repeatedly violated the Foreign Agent Registration Act by failing to provide full disclosures about its purchases.
"China Daily has published propaganda in mainstream outlets for decades, but did not disclose its purchases of space in American newspapers to the Department of Justice until 2012. Even after it began acknowledging its relationship with the papers, the regime mouthpiece continued to violate federal disclosure requirements. China Daily has failed to provide breakdowns of spending activities and withheld copies of online ads, among other omissions that violate federal law, according to experts who reviewed years of its FARA filings.
"The Washington Free Beacon reviewed all of the physical copies of China Daily's ads filed with the DOJ, as well as online ads the propaganda outlet did not submit to the department. China Daily has run more than 700 online ads designed to look like news articles and purchased 500 print pages in six American newspapers over the last seven years. These propaganda articles frame state oppression in Xinjiang, Tibet, and Hong Kong in a positive light and run alongside actual news stories produced by reporters at the Post, Times, Wall Street Journal, and other outlets."
Why pay them to publish communist propaganda in a special ad section when they publish it in their news pages for free?
Oh, that's right, readers trust the ads more than they trust the news stories.
ITEM 7
: Ross Douthat of the Mexican Billionaire Carlos Slim New York Times, "An essential motion picture for the Trump era is one that I didn't particularly care for when it first came out. I speak, of course, of Burn After Reading, the Coen brothers' pitch-black comedy about morons attempting spycraft in Washington, D.C., which upon first viewing seemed too unremittingly misanthropic, too grimly contemptuous of its characters, without the flashes of grace that illuminate the darkness in most Coen depictions of human folly.
"That was in 2008; how young and naïve I was back then. Just over a decade later, the Coens' portrait of grasping fools and self-important Beltway nitwits trying to behave like characters in a John le Carré novel seems less like misanthropy and more like prophecy — a vision of amoral political buffoonery that's arguably the most realistic depiction of Trumpiness to date."
Oh, I get it.
Obama spying on Donald John Trump, journalists, and other political adversaries was just a harmless hijinks.
Committing perjury to get secret warrants from a federal judge was just for comic effect.
Every time the Carlos Slim New York Times prints an edition, it disgraces the memory of the trees pulverized to make newsprint.
I do not link pay sites.
ITEM 8
:
Matt Taibbi of the Rolling Stone wrote
, "Five Questions Still Remaining After the Release of the Horowitz Report."
The questions include "Who is Joseph Mifsud?" Indictments would clarify those matters. Just saying.
But the fifth one -- "Are media corrections forthcoming?" -- is the most important if we are to restore the credibility of the news media.
Taibbi wrote, "If reporters were burned, they should be angry, and corrections should be forthcoming. If there isn't an effort to reverse the wrong coverage, it will look like certain outlets (particularly cable channels) were complicit in knowingly giving oceans of airtime to shaky stories. It's a bad look either way, but door number two is worse."
Reporters never give up sources even when they lie because outing liars will cost reporters other sources -- who will lie knowing there are no consequences. As long reporters care more about access to sources than reporters care about the truth, I have no use for them.
ITEM 9
:
The Washington Examiner reported
, "Through months of impeachment proceedings, Democrats, with the help of a parade of witnesses, have hammered away at President Trump for abusing power. Yet as the House prepares to vote on impeaching him, Trump's approval rating is virtually unchanged from before the process started — neither cratering from the negative news or benefiting from any large-scale backlash against impeachment.
"This has become a pattern for Trump, whose approval rating (while historically low) is the most stable in history — or at least since Gallup started measuring presidential approval during the Harry Truman presidency. Since taking office, Trump has never polled higher than 46% or lower than 35%."
That is because our president has kept his promises. Those who love America love him; those who hate America hate him.
ITEM 10
:
The New York Post reported
, "The head of a Seattle-area nonprofit resigned this week after a video of a performer giving lap dances and kissing attendees at the organization's annual homeless conference went viral, according to new reports.
"Kira Zylstra, acting director of King County's coordinating agency for homelessness, All Home, stepped down after the clip — showing transgender performer Beyoncé Black St. James' provocative act at the Dec. 9 event — circulated, the Seattle Times reported."
The job paid $123,000.
What is creepy is most attendees were OK with it. The Rev. Bill Kirlin-Hackett said, "I just knew it was going to hit social media and when it hit social media, this is kind of like what every opponent of the collective work would wish for."
Love the sin, hate the tattle tale, eh?
ITEM 11
:
The London Times reported
, "United Nations peacekeepers fathered hundreds of babies in Haiti then abandoned young mothers to lives of single parenthood and poverty, the academic leading a research study has told The Times.
"Many of those impregnated were underage girls who traded sex for food or 'for a few coins' as they struggled to survive in wake of political upheaval and natural disaster.
"An extensive study into the impact of one of the UN's longest peacekeeping deployments, published today on The Conversation academic website says 'girls as young as 11 were sexually abused and impregnated by peacekeepers and . . . 'left in misery' to raise their children alone.'"
The United Nations Pedo Battalion.
Sick.
Drop out, kick them out, and turn the buildings into Trump Tower Turtle Bay, a token from a grateful nation.
ITEM 12
: Kathleen Parker of the Jeff Bezos Washington Post wrote, "Spoiler alert: The House is going to impeach President Trump, and the Senate will acquit him. But you probably already knew that.
"Unless we step into an alternate reality, in which Senate Majority Leader Mitch McConnell (R-Ky.) bursts into gales of laughter and begs Sen. Elizabeth Warren (D-Mass.) to please keep talking, it seems likely the Senate won't call any White House officials to testify during the trial.
"McConnell said as much on Tuesday in response to Minority Leader Charles E. Schumer's (D-N.Y.) request that the Senate call four witnesses — including acting White House chief of staff Mick Mulvaney and former national security adviser John Bolton."
The rotters are penning their alibi. It is, we would have convicted if Republicans had not stopped us from putting on witnesses whose testimony we did not use to impeach.
I do not link pay sites.
ITEM 13
:
The Daily Caller reported
, "Florida Democratic Rep. Alcee Hastings, the vice chairman of the House Rules Committee, delivered a bizarre, rambling line of questioning during Tuesday's impeachment hearing.
"Oddly enough, Hastings, while serving as a federal judge, was impeached back in 1988 and removed from office in 1989.Though the impeachment inquiry took place in 1988, the acts themselves – soliciting a $150,000 bribe in exchange for lightening sentences for two mob-connected individuals – took place in 1981. Hastings was acquitted of conspiracy and obstruction of justice charges in relation to the bribe, but new evidence later revealed Hastings had lied during his testimony and falsified evidence."
So much for the stain of impeachment.
ITEM 14
:
Axios reported
, "The Republican National Committee has seen over 600k new donors since the start of impeachment, deputy chief of staff Mike Reed tells Axios. 'Voters are consistently expressing how they want Washington to focus on real issues,' he said."
The stain of impeachment rains money.
ITEM 15
: Donald Trump, stain remover.
Trump will change what the word "impeachment" means to the country more than impeachment will change the Trump presidency. We are only days away from the word becoming meaningless.

— Scott Adams (@ScottAdamsSays) December 18, 2019
The history of his feuds show Donald Trump does not start the fights, but he sure as heck finishes them.
ITEM 16
: Democrats clapbacked themselves.
Speaker Nancy Pelosi warned the House may not immediately transmit articles of impeachment to the Senate out of concerns Republicans won't conduct impartial proceedings at a trial

https://t.co/mQXKFdrLVh

— POLITICO (@politico) December 19, 2019
This makes them look dumb, incompetent, and petty. But by all means, they should drag it out. News anchors and late-night hosts already have changed subjects.
ITEM 17
:
Reason magazine reported
, "On the campaign trail, Democratic presidential hopefuls are promising huge tax increases — primarily targeting wealthy Americans — to pay for a host of new government spending.
"Meanwhile, congressional Democrats are set to vote this week to restore a huge tax break that primarily benefits wealthy Americans — one that effectively shifts the federal tax burden onto middle- and lower-income earners.
"That tax break is known as the State and Local Tax (SALT) deduction and it does exactly what the name would suggest. Taxpayers are allowed to deduct payments of state and local income and property taxes from their federal taxes. (In states with no income tax, taxpayers can deduct sales taxes instead.)"
Loopholes.
There are always loopholes. Congressmen drill them into the tax code, which is why it is so thick. The power to tax is not as potent as the power to not tax, which generates those big fat campaign donations -- and donations to the politician's foundation, which just happens to have plenty of friends and family on the payroll.
ITEM 18
: Catty comment of the day.
I can't wait for the Cats movie to come out so I can stop seeing ads for the Cats movie.

— Aimee Giese (@Greeblehaus) December 18, 2019
She speaks for a nation.
ITEM 19
: I wonder if it took anyone 4 days to hitchhike from Saginaw.
It's 17 degrees in Battle Creek, Michigan as supporters line up for a

@realDonaldTrump

rally on Impeachment Day.

The sham impeachment is an attack on these hardy folks and 63 million other Americans.

pic.twitter.com/XDQdJFWxs7

— Tim Murtaugh (@TimMurtaugh) December 18, 2019
Incredible Rally tonight in Battle Creek Michigan!

✅ 20,202 voters identified (92.2% from MI)

✅ 15% haven't voted in last four elections, WOW!

✅ 15% have voted in only one of the last four elections

✅ 17% Democrats

Dems play theater while

@realDonaldTrump

is winning!

— Brad Parscale (@parscale) December 19, 2019
But they all came to look out for America.
Meanwhile in Washington, Rachael Bade is a "Congress reporter" for the Jeff Bezos Washington Post, and a political analyst for CNN.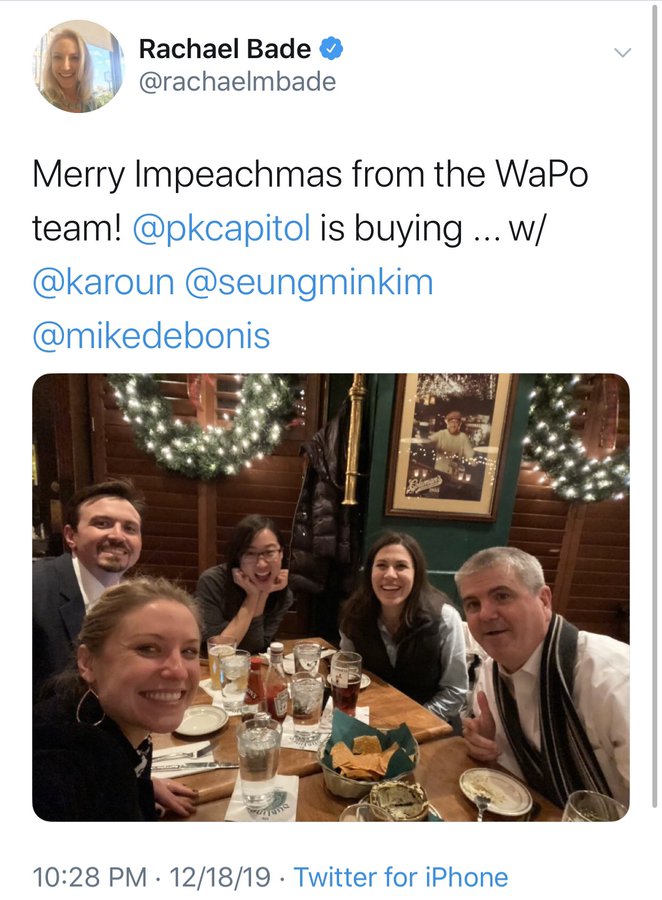 Impeachment is a such a solemn occasion.
She has since deleted the tweet.