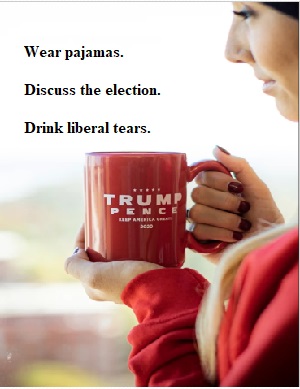 President Donald John Trump is the newsmaker of the year for the fifth consecutive year.
ITEM 1
:
Gateway Pundit reported
, "Drudge Report Has Lost 28% of Its Traffic in Last Four Months Alone As It Continues to Push Corrupt Anti-Trump News."
Readers are not surprised. I have complained about this for some time.
Many rivals are popping up.
Dan Bongino
and
Pro Trump News
are the latest to enter the picture as linkers of top stories and bloggers. Good for them.
My favorites remain
Instapundit
,
Lucianne
, and
Whatfinger
because they provide links to reliable stories. I trust them. They stay true to their readers. Matt Drudge hasn't. He came in with the Clinton impeachment, and he will go out with the Trump impeachment. Drudge had a nice run.
ITEM 2
:
Mike Cernovich reported
, "Nicholas Sandmann's lawsuit against CNN will proceed to discovery, a federal judge has ruled. This will be a devastating blow to CNN, which will now have all of its emails examined by lawyers for a severely wronged client.
"Sandmann was one of the the high school students falsely accused of a racially-motivated attack against Nathan Phillips in Washington, D.C. Phillips was called a Vietnam veteran by the media, when in fact Philips was stolen valor. He never served in the Vietnam War and he was discharged from the military under circumstances suggesting a poor service record.
"Sandmann sued CNN for lying about him."
His lawyers are led by Lin Wood of Atlanta, who successfully sued the media for railroading Richard Jewell.
ITEM 3
:
The Washington Times reported
, "Former FBI Director James B. Comey admitted Sunday that he was wrong — and Justice Department Inspector General Michael E. Horowitz was right — about the agency's sloppy handling of surveillance applications for warrants against a former Trump campaign official.
"'He's right, I was wrong,' Mr. Comey told Fox News Sunday. 'I was overconfident in the procedures that the FBI and Justice had built over 20 years. I thought they were robust enough.'
"In his report released last week, Mr. Horowitz said his investigation found 17 significant errors committed by FBI agents in the Foreign Intelligence Surveillance Act process, and Mr. Comey didn't challenge his findings."
It wasn't a bank robbery, your honor. It was sloppiness.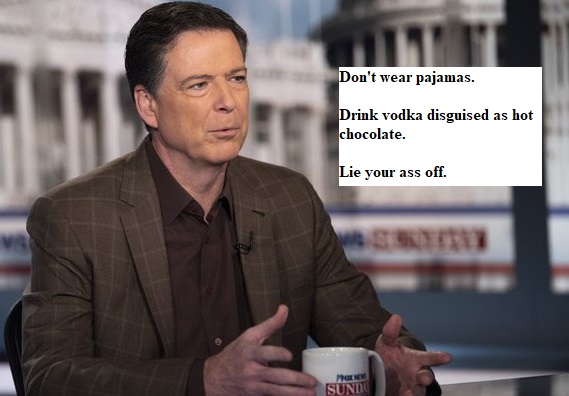 Comey's book may be the best evidence against him
.
But no excitement without an indictment.
ITEM 4
:
Via the Daily Mail
, Greta Thunberg said, "Unfortunately, we probably already know the outcome. World leaders are still trying to run away from their responsibilities but we have to make sure they cannot do that. We will make sure that we put them against the wall and they will have to do their job to protect our futures."
She later apologized for saying, "We will make sure that we put them against the wall."
She has Asperger syndrome. Shame on the Marxists for exploiting her and her disability.
ITEM 5
:
The Hill reported
, "Democratic Rep. Jefferson Van Drew (N.J.) will switch political parties after voicing opposition to impeachment, sources told The Hill.
"Van Drew has begun informing his staff and fellow New Jersey delegation members that he will leave the Democratic Party, Democratic aides said. His decision comes after a lengthy Friday meeting with President Trump.
"Van Drew is one of just two Democratic lawmakers who voted against launching an impeachment inquiry into Trump. He is a member of the centrist Blue Dog Coalition."
— DCCC (@dccc) November 7, 2018
It just flipped back.
Was it the Democrat Party's push for open borders, their call to confiscate guns, their wealth redistribution, or their attacks on free speech that caused him to switch?
Does it matter?
ITEM 6
:
The Daily Caller reported
, "Constituents ripped Democratic Oklahoma Rep. Kendra Horn on Sunday, saying Democrats focus too much on impeachment and too little on improving the lives of Americans.
"Horn, who represents most of Oklahoma, Pottawatomie and Seminole counties, spoke at a Sunday town hall meeting where voters angrily questioned her on why she continues to focus on impeachment. President Donald Trump won Horn's district in the 2016 presidential election, and eight Republicans announced they will run for her vulnerable seat in 2020, according to the Oklahoman."
If she votes to impeach, Republicans will cream Horn.
ITEM 7
:
Legal Insurrection reported
, "Some Buttigieg Donors Demand Refunds With #RefundPete After Deciding He Isn't Progressive Enough."
It cited a story at Common Dreams, a lefty site, which said, "If Pete Buttigieg fooled you into thinking he was a progressive at the beginning of his campaign and you donated what he thinks is pocket change, you can ask for a refund."
Lefties are homophobic. Once the left seizes absolute power, the executions begin. Gypsies, Jews, and gays are the first to go.
ITEM 8
:
The U.S. Department of Agriculture reported
the food stamp rolls have dropped 14% since Donald John Trump took office as President of the United States. The number of people on this welfare program fell by 6,393,538 from January 2017 to September 2019, the latest data available.
Democrats should be scared.
Self-reliant people do not need the government to eat. And self-reliant people tend to favor capitalism over socialism.
ITEM 9
:
NBC reported
, "Military investigates possible white power signs flashed by students during Army-Navy telecast."
Possible white power???
It was the OK sign.
Flashback to May 11, 2016,
when CNN reported
, "West Point clears black cadets over raised-fists photo."
Raised fists???
It was the black power sign.
The media is as useless as a screen door on a submarine.
ITEM 10
:
Via True Pundit
, Alan Dershowitz said the "obstruction of Congress" allegation is moot because the Supreme Court agreed to hear President Trump's challenge to congressional subpoenas.
Dershowitz said, "The Supreme Court of the United States absolutely pulled the rug out of part two of the impeachment referral by granting certiorari, by granting review in a case where Trump challenged a congressional subpoena. And the Supreme Court said we're going to hear this case.
"Think of what that message is: It's Trump was right. You don't have to comply with a subpoena of Congress unless a court tells you you have to comply."
I doubt Chief Justice John Roberts looks forward to presiding over an impeachment.
ITEM 11
:
Andrew Malcolm wrote
, "California is a wondrous place. I'm leaving."
Kinfolk said, move away from here.
Said California ain't no place you oughta be.
So they loaded up the truck and moved to Tennessee.
Hills that is. Fishing holes. Country stars.
ITEM 12
: If he ever combed his hair, I would not recognize him.
Is He Not ..THE COOLEST? 🤣😂🤣. "Here have a cup of tea because I'm not going to answer your questions" 🤣 I LOVE IT! 👏

pic.twitter.com/tcnVbSO8xJ

— Rose (@rosedixontx) December 14, 2019
He should have worn a burka. This was from the summer.
ITEM 13
: And now, 14 words from Bill Mitchell.
— Bill Mitchell (@mitchellvii) December 15, 2019
Marxism attracts the crazies.
ITEM 14
: Breaking news: They still make newspapers.
NYT editorial board supports impeaching Trump, joining WaPo,

USA Today, LA Times, Boston Globe, and others

https://t.co/f0yxgr66zg

— Michael Calderone (@mlcalderone) December 14, 2019
Only 20 of the nation's 1,500 or so newspapers at the time endorsed Donald Trump in 2016.
ITEM 15
: Some things really are hate crimes.
An Oregon man convicted of punching a transgender woman has been sentenced to probation. The man punched the victim in the face, splitting her lower lip open, as she stood in line for free coffee and food for homeless people.

https://t.co/4BpyRW25C8

— AP West Region (@APWestRegion) December 15, 2019
Despicable. He should be in jail.
ITEM 16
: Didn't we fight two world wars to prevent this?
Analysis: If Britain had Germany's electoral system, Boris Johnson may have lost the election

https://t.co/AL9mMrIQEM

— The Washington Post (@washingtonpost) December 13, 2019
The German system led to an actual Hitler.
ITEM 17
: Breaking Fake News.
— John Weaver (@jwgop) December 16, 2019
Ridge said
in 2016 he would never vote for President Trump
.
ITEM 18
: The latest opponent of Obamacare emerges.
Members of Congress also have to buy their plans off the exchange. They are Gold plans that are partially subsidized.

That means I get to "choose" btwn 66 complex financial products.

This is absurd. No person should go without healthcare, &no one should go through this, either.

pic.twitter.com/bIeD71CD5g

— Alexandria Ocasio-Cortez (@AOC) December 16, 2019
Remember when we said Democrats designed Obamacare to fail, which would pave the way for socialism?
We were right.
ITEM 19
:
The Washington Examiner reported
, "As Todd Raffensberger and his family walked by the graves at Arlington National Cemetery on a wet and foggy Saturday morning, they took a moment to pay special attention to one marked with the name Cole Spennati. They saw that a wreath was on the soldier's grave, reverently placed by a volunteer.
"The Raffensberger family was among 38,000 people who laid wreaths on headstones today at Arlington, according to Wreaths Across America, which each year holds the event at Arlington and at military cemeteries nationwide. Throughout the United States, some 3 million people volunteered to lay more than 2.2 million wreaths at 2,100 locations."
3 million volunteers.
That's about 1,000 times the size of a resistance rally.
38,000 at Arlington alone.
As long as our nation has patriots, I fear not our future.