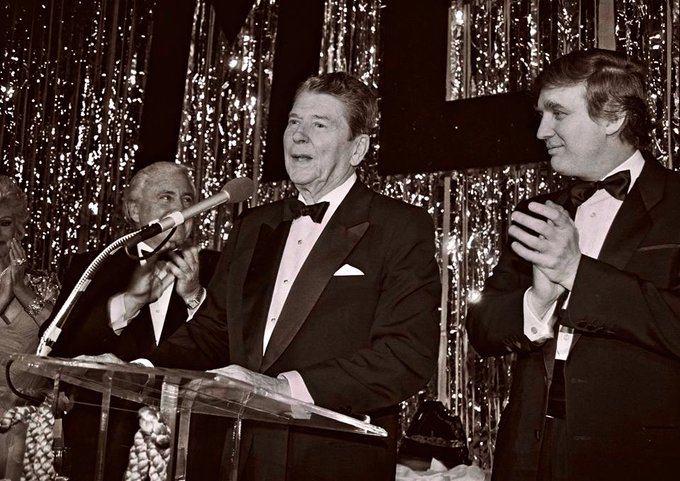 Good news. Ronald Wilson Reagan was once our president. We now have one worthy of his legacy.
ITEM 1
: Squint and you can see Margaret Thatcher without a purse.
Thank you to everyone across our great country who voted, who volunteered, who stood as candidates. We live in the greatest democracy in the world.

pic.twitter.com/1MuEMXqWHq

— Boris Johnson (@BorisJohnson) December 12, 2019
But Boris Johnson is as Thatcher as they can get these days, and so the Brits re-elected him as prime minister. It was a blowout.
Now he must make Brexit a reality, and fix her one mistake: joining the EU.
Market Watch reported
, "The pound is surging after exit polls suggested an 86-seat majority for Boris Johnson's Conservative Party. The poll, which is still only a prediction, has the Conservatives winning 368 seats and Labour suffering heavy losses and being left with 191 seats."
BoJo found Britain's mojo.
ITEM 2
:
The Associated Press reported
, "The House Judiciary Committee abruptly postponed a historic vote late Thursday on articles of impeachment against President Donald Trump, shutting down a 14-hour session that dragged with partisanship but had been expected to end with the formal charges being sent to the full House for a vote next week.
"Approval of the two charges against the president is still expected Friday in the committee. But the sudden turn punctuated the deep split in the Congress, and the nation, over impeaching the president. The committee, made up of some of the most strident lawmakers, clashed all day and into the night as Republicans insisted on lengthy debate over amendments designed to kill the two formal charges against the president but with no hope of winning votes from the majority Democrats."
Jerry Nadler does not have the votes on his own committee.
He is amazingly lame. He is so useless that it is a wonder he can feed himself, even though it is quite obvious he has been fed.
ITEM 3
:
Forbes reported
, "The U.S. and China agreed upon terms for the so-called phase one deal, with Trump signing off on the deal later in the day, leading Wall Street investors to rejoice.
"After months of drawn out negotiations to hammer out the terms of the phase one deal, first announced in October, the news sent the stock market surging to new records: The S and P 500 and Dow Jones Average were both up by around 0.80% on Thursday.
"The deal reportedly includes promises by China to buy more U.S. farm goods, Bloomberg reported.
"According to a report from the Wall Street Journal, U.S. negotiators have offered to slash existing tariffs, which cover roughly $360 billion of Chinese goods, by 50%.
"The U.S. will also cancel the next round of China tariffs, planned to take effect on another $156 billion of Chinese goods on December 15, the report said.
"Included in the deal is a promise made by China to do more to stop intellectual property theft, and both sides agreed to refrain from purposely manipulating their currencies."
I'm so excited, I can hardly yawn.
But we are winning the trade war. Reducing the trade deficit takes time, but we will.
ITEM 4
:
Business Insider reported
, "The House on Wednesday overwhelmingly passed a $738 billion defense bill that funds the US-Mexico border wall, the Space Force, and continued US support for the Saudi-led war in Yemen, handing President Donald Trump a big win.
The story also said, "The bill provides for a massive boost in military spending compared to 2019 — an increase of $22 billion — and authorizes the creation of a Space Force, a sixth branch of the military that Trump has pushed for.
"The final draft of the legislation also excluded language progressive Democrats like Congressman Ro Khanna have championed, including measures aimed at ending US support for the Saudi-led coalition in the Yemen war, placing restrictions on the use of military funds for the president's border wall project, and requiring congressional approval for any military action against Iran, among other provisions."
The Senate takes it up next week.
And the House passed the NAFTA replacement.
And the House is about to pass the impeachment, aka the Re-Elect the President Act of 2019.
President Trump is getting more from Nancy than he got from Paul Ryan.
ITEM 5
:
Reuters reported
, "After three interest rate cuts and a fresh round of record highs for U.S. stock markets, has President Donald Trump lost interest in the Federal Reserve?
"A count of tweets from Trump about U.S. monetary policy suggest a detente may have taken hold between an elected leader who has lambasted Fed officials with insults like clueless and boneheads and a central bank whose rate cuts have helped buffer the economy from the administration's own unpredictable trade and tariff policies.
"On Wednesday, the Fed left interest rates unchanged at the end of a two-day policy meeting, and signaled it was likely to keep them at the current level until at least 2021 -- after the Nov. 3 presidential election in which Trump hopes to win a second term."
We elected as president Donald John Trump, not Jerome Powell.
ITEM 6
:
U.S. News and World Report reported
, "Some 1,800 people packed a high school auditorium in Virginia's Augusta County for a recent special county board hearing – a sky-high turnout for a local government meeting.
"The observers – most of whom were sporting bright orange stickers emblazoned with the slogan guns save lives – attended the Dec. 4 hearing to convince the board to vote to approve a resolution declaring the county a so-called Second Amendment sanctuary. By the end of the raucous, 2 1/2-hour meeting, they had succeeded, according to the Staunton News Leader.
"The vote made Augusta County one of the latest on a growing list of jurisdictions in Virginia that have declared themselves Second Amendment sanctuaries in anticipation of gun control laws Democrats in the state's General Assembly have pledged to pass.
"Similar movements have sprung up in the last year in states like Colorado and Arizona, largely around opposition from some residents and elected law enforcement authorities to red flag measures that allow authorities to obtain a court order to seize the guns of persons determined to be a danger to themselves or others. The sanctuary resolutions range from symbolic to more stringent – while some simply state an area's opposition to gun laws residents believe are unconstitutional, others promise not to use county funds to enforce such laws."
The excesses of Democrat majorities in Colorado and Virginia in 2019 will put those Hillary states in play in 2020.
President Trump carried 30 states in 2016, and narrowly lost Nevada and New Hampshire. His campaign said Minnesota and New Mexico are in play. With a Senate race in Maine, President Donald John Trump certainly will visit the the Pine Tree State, which could mean a 5-state pickup.
If he were to carry 35 states, that would be the best showing by anyone since Bush took 40 states in 1988, when Reagan was president.
The media will tell you President Trump is weak in Michigan and Arizona.
I will tell you the truth: he had enough voters to win them in 2016, and Democrats have failed to convince even one to abandon him. I just don't see him losing one state from his 2016 tally.
ITEM 7
:
CNN reported
, "Senate Majority Leader Mitch McConnell is expected to hold a final vote to acquit President Donald Trump, should he be impeached, when a majority of senators believe his trial has run its course instead of holding a vote on dismissing the articles of impeachment, two Republican senators told CNN on Wednesday."
"Republicans want to have a vote on acquittal -- to clear the President of the charges against him -- not simply rely on a 51-vote threshold procedural motion to dismiss the hotly disputed case. The Constitution mandates 67 votes are required to convict the President and remove him from office, a barrier widely considered too high to be reached in this case."
Impeachment places the ball in President Trump's court. He calls the shots. He has several avenues available. One is an outright dismissal because the impeachment is unconstitutional because it will cite no actual crime. The other is a weeklong quick trial. The third is a battle royale that takes no prisoners.
Donald Trump knows politics better than anyone else in America. He will make the correct call.
ITEM 8
:
John Nolte reported
, "Antisemitic Rep. Rashida Tlaib (D-MI) falsely blamed white supremacy for Tuesday's heinous murders in Jersey City that targeted Jews.
"'This is heartbreaking,' Tlaib tweeted, a little before 7 a.m. on Thursday. 'White supremacy kills.'
"Tlaib then deleted her tweet without comment and without explaining what made her believe this lie and then spread it a full day after the actual attackers had been identified as 47-year-old David Andersen and 50-year-old Francine Grahm, both of whom were black.
"Tuesday's rampage resulted in four murders. After killing Anderson and Grahm in a massive gun battle, police say they found antisemitic posts written by the suspects online. There was also a manifesto left in their car."
The 24 Hour Rule won't save you if you are stupid. We knew it was a black couple the day before Tlaib tweeted.
Why didn't she use the opportunity to call out black supremacy?
ITEM 9
:
Fox News reported
, "A CNN producer abruptly resigned, according to a Thursday report, just weeks after he was implicated by another network staffer of sexual misconduct, in leaked videos from the controversial conservative watchdog group Project Veritas.
"In October, Steve Brusk, CNN Politics' supervising producer, was accused of making advances at female employees at social gatherings. He allegedly would put his arms around them and try and touch their leg as well as being flirty and inappropriate in email exchanges, according to Rick Saleeby, whom Project Veritas identified as a senior producer for The Lead with Jake Tapper."
The departure was November 26 but only now is it being made public.
Not exactly Matt Lauer-Charlie Rose-Roger Ailes territory, but it is another example of a frat boys mentality at network television.
ITEM 10
:
Jake Turx, the White House correspondent for Ami, reported
, "According to a survey conducted by the American Jewish Committee, 54% of Orthodox Jews said that they voted for Trump in 2016. One year into his presidency, 71% of Orthodox Jews supported him, and that was before he commuted the sentence of Sholom Mordechai Rubashkin and recognized Jerusalem as the capital of Israel.
"Then in 2018, in a Tri-State-area poll commissioned by Ami Magazine, 82% of respondents said that they would vote for Trump in 2020. And as this year's Ami poll reveals, support for the president has now hit a whopping 89%. What this upward trajectory makes abundantly clear is that more and more Orthodox Jews are fans of the 45th president of the United States."
Mark Levin called him the first Jewish president.
ITEM 11
:
The Daily Mail reported
, "A San Francisco Bay Area city official wants to explore the possibility of using a cruise ship to house up to 1,000 homeless people as the state continues to struggle with the homelessness crisis.
"Oakland City Council President Rebecca Kaplan told a council meeting on Tuesday that the ship would be brought to the Port of Oakland, but port officials said Wednesday the move would be 'untenable'.
"'We respect President Kaplan's desire to address homelessness but Port of Oakland docks are designed to work cargo ships, there isn't the infrastructure to berth a cruise ship,' port spokesman."
Be homeless, win a vacation cruise?
Why are all the solutions to "the homelessness crisis" designed to attract even more of them?
ITEM 12
:
Sinclair Broadcast Group reported
, "It's a rare occasion in Washington when Democrats, Republicans and the White House can share a victory on any policy issue. But both sides are poised to pass legislation that will guarantee 12 weeks of paid parental leave for all federal employees.
"The House approved the provision Wednesday as part of a must-pass defense authorization bill and Senate Republicans appear to have the support to send it to President Donald Trump's desk next week. Though it only applies to 2.1 million federal employees and only covers time off for the birth or adoption of a child, proponents of the legislation have described as a first step toward paid family leave and paid medical leave benefits for all American workers."
Sigh.
ITEM 13
:
The Washington Examiner reported
, "Joe Biden's son Hunter was arrested on Jersey Shore drug charges in 1988 and had his record expunged at a time when his father was pushing for the incarceration of drug offenders drawn disproportionately from minority groups.
"Congressional records reveal that Hunter Biden, now 49, was arrested in Stone Harbor, New Jersey, where the Biden family has often holidayed over the years, in June 1988. Hunter Biden, then 18, had just graduated from the prestigious Archmere Academy prep school, which his father had also attended. The former vice president and his wife Jill have often been spotted on trips to Stone Harbor.
"The arrest has not previously been reported. Republicans have recently highlighted Hunter Biden's drug abuse, questioning why it was not taken into account when the lobbyist was appointed to a $50,000-a-month post on the board of the Ukraine oil company Burisma in 2014, when his father, as vice president, was the Obama administration's lead official on Ukraine."
And I am supposed to cheer Lori Loughlin going to prison for trying to get her kid into a good college?
ITEM 14
:
Bearing Arms reported
, "A woman in Decatur, Illinois who shot her ex in self-defense after he attacked her in her vehicle is now behind bars on $75,000 bond, while her abuser is already back out on the streets.
"According to the Herald-Review newspaper, police say the woman was defending herself when she fired the shot from her legally owned firearm, but because she doesn't have a concealed carry license, she's now facing a felony charge."
Illinois is the California of the Midwest. Avoid.
ITEM 15
:
The Sun reported
, "Dozens of new branches on Earth's tree of life were discovered this year thanks to a team of researchers that scoured the globe for new species. Mediterranean ants, goblin spiders, sea slugs, flowering plants and coral were just some of the 71 new species researchers at the California Academy of Sciences uncovered this year."
Carbon dioxide is not killing species. It is promoting new ones.
ITEM 16
:
Agence France Presse reported
, "A Christmas satire on Netflix depicting Jesus in a gay relationship has sparked a backlash in Brazil, where hundreds of thousands signed a petition calling for the film to be axed."
Now do Mohammad.
ITEM 17
: Articles of Impeachment travel to the House.
This is too big a Schiff show to be a mere Dumpster fire.