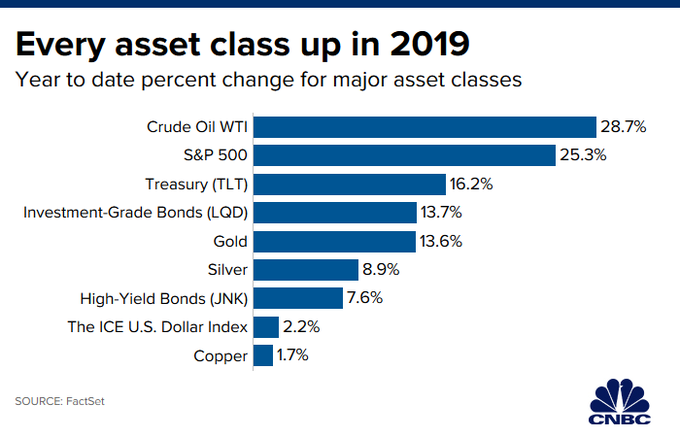 2019 is the most remarkable year I can remember for the U.S. economy.
CNBC reported, "In 2019, almost every investment worked."
With a month to go, all this optimism may be jinxing the year. But what a sharp contrast to the gloom and doom the media relished a year ago when the stock market was in a correction after a 2-year explosion following our election of Donald John Trump as our president.
Mini Mike Bloomberg's news service reported on December 10, 2018
, "Donald Trump Owns This Stock Market. It wasn't smart to dump a dovish Fed chief, run up the deficit, and start a trade war. Trump did all three."
One year later, the S and P 500 is up 25% and rising.
You would think a business news service would understand how the stock market works.
But nevertheless, the column ended, "we are nearing the halfway mark of Trump's presidency. Those waiting for that pivot toward his being presidential have been disappointed. Instead, they are now extrapolating his policy errors forward, and finding a significant and negative affect on the U.S. economy and stock markets.
"I'm not in the business of making forecasts, so I will pose a question: Does anyone think it gets better from here?"
Hahaha.
And the kicker is, on December 26, 2018, the president said buy and that is when the correction ended. Just like that. This guy is so smart, he should be a billionaire.
And he is.
But this is not about the president. This is about making money, and most investors will this year.
CNBC reported
, "From stocks to government debt to corporate bonds to commodities, no matter where you went, you reaped a profit this year. The S and P 500 is up more than 25% and counting. Treasurys, which tend to fall when risk assets rally, also gained in 2019. Oil, gold and corporate bonds all scored double-digit returns.
"For stock investors specifically, it was hard to guess wrong. A look at the S&P 500 companies' internal performance shows only 64 names, or 12%, are down this year."
That is 436 winners, 64 losers.
The story went on to say, "Wall Street's equity strategists are generally more cautious about 2020, with the average S&P 500 target of 3,272 implying a little more than 5% gain."
Gee, only a 5% gain.
I will take it. Let us not act spoiled. Good years financially are rare. Savor this one.