— The White House (@WhiteHouse) November 26, 2019
The Secretary of Poultry just resigned.
ITEM 1
: The president said at the pardon ceremony, "Thankfully, Bread and Butter have been specially raised by the Jacksons to remain calm under any condition, which will be very important because they've already received subpoenas to appear in Adam Schiff's basement on Thursday.
"True. Hundreds of people have. It seems the Democrats are accusing me of being too soft on turkey. But Bread and Butter, I should note that unlike previous witnesses, you and I have actually met. Very unusual. Very unusual. In any event, I expect this pardon will be a very popular one with the media. After all, turkeys are closely related to vultures."
NPR decided to make this silly pardon a scandal.
It reported
, "First, understand, this event has been sustained by a special interest group — the turkey lobby. The National Turkey Federation, whose website is literally EatTurkey.org, sponsors the event and has spent almost $3 million on lobbying efforts since 1998, according to a search of the Center for Responsive Politics' lobbying database."
Eyeroll. Our press needs a laxative so it can clear its mind.
ITEM 2
: Schiff is hitting the fan.
BREAKING:

New reports discovered that a SECOND Adam Schiff staffer served on the Atlantic Council—a Burisma funded European think tank

Staffer Sean Misko is also reportedly "close friends" with the so-called "whistleblower"

Adam Schiff needs to come clean

This is outrageous!

— Charlie Kirk (@charliekirk11) November 26, 2019
Biden's family enriched themselves every place he was "point man."

A $1.5B housing deal in Iraq, a massive partnership with the Bank of China, and much more!

This has been in front of the swamp press for years! Where has the coverage been?

— Rudy Giuliani (@RudyGiuliani) November 26, 2019
Democrats forgot Republicans can investigate and leak, too.
ITEM 3
: Girl fight.
Zero chance this is accurate. Zero. The poll must have only been conducted in the homes of Ben Carson, Kanye, that sheriff guy with the hat and those two Cubic Zirconia & Polyester-Spandex ladies.

https://t.co/vsmXJBY1KB

— Ana Navarro-Cárdenas (@ananavarro) November 25, 2019
Beware of Deep State Snakes like Porky The Pig masquerading around like a Republican but acting like a Democrat rat. Shame on her for insulting black people because they choose to think for themselves & make their own decision to ditch the Democrat Plantation.

#StopbeingARacist

— Diamond and Silk® (@DiamondandSilk) November 26, 2019
Come on. Enough with the insults. Porky almost had a waist.
ITEM 4
: The sisters also dabble in journalism.
— Diamond and Silk® (@DiamondandSilk) November 26, 2019
My Trumpenfreudey sense is tingling.
ITEM 5
: More tingling.
A New Sworn Testimony alleges that "Ilhan Omar the crown jewel among US politicians recruited by Qatar." and claims that the Congresswoman is a foreign agent on a Qatari payroll.

These allegations are serious and they deserve to be investigated.

https://t.co/QXg25cyqGv

— Benny (@bennyjohnson) November 26, 2019
It is pretty bad when marrying your brother is the least of your sins.
ITEM 6
:
USA Today reported
, "The engine that powers the world's most potent economy is dying at a worrisome pace, a distinctly American phenomenon' with no easily discernible cause or simple solution.
"Those are some of the conclusions from a comprehensive new study by researchers at Virginia Commonwealth University showing that mortality rates for U.S. adults ages 25-64 continue to increase, driving down the general population's life expectancy for at least three consecutive years.
"The report, Life Expectancy and Mortality Rates in the United States, 1959-2017,' was published Tuesday in the Journal of the American Medical Association. The study paints a bleak picture of a workforce plagued by drug overdoses, suicides and organ-system diseases while grappling with economic stresses."
The downturn began in 2009 when Obama's regime began. Something tells me life expectancy increased again upon his departure in 2017.
We shall see.
ITEM 7
:
The Hill reported
, "President Trump is donating his third-quarter salary to help fight the nation's opioid crisis.
"The president gave the $100,000 he would have been paid during the third quarter to the Office of the Assistant Secretary of Health, which oversees a number of the Department of Health and Human Services's programs, the White House said, according to The Associated Press."
This brings to $1.1 million in salary President Trump has returned to the government. He has accepted $0 as president.
But Democrats want the public to believe renting a room will influence him. That is how stupid Democrats think we are.
ITEM 8
: Lefties and other Obama supporters booed Melania Trump at an opioid conference.
.

@FLOTUS

responds to the loud booing reception she received in Baltimore this morning: "We live in a democracy and everyone is entitled to their opinion...I remain committed to educating children on the dangers and deadly consequences of drug abuse."

— Annie Karni (@anniekarni) November 26, 2019
Democrats won't put politics aside to fight drug abuse. They want us dead.
ITEM 9
:
Godfather Politics reported
, "Teachers across America are admitting that they are working to undermine America's traditional ideas about Thanksgiving, according a report by Education Week.
"According to the education magazine, teachers are working to force students to 'unlearn' the traditional ideas about Thanksgiving.
"'Thanksgiving became a national holiday during the administration of President Abraham Lincoln, and the myth of familial relations between colonial settlers and Native Americans has persisted in American culture ever since,' the magazine reported."
I am beginning to see the point of the bloggers who say sending your kids to public schools is child abuse.
Parents should read to their schoolchildren Lawrence W. Reed's "
Why the Pilgrims Abandoned Common Ownership for Private Property.
"
ITEM 10
: Government of the government, by the government, and for the government.
— The Washington Times (@WashTimes) November 26, 2019
"Buy more guns and ammo" -- Kurt Schlichter.
ITEM 11
:
American Military News reported
, "The United States Supreme Court is preparing to hear one of the first major gun cases in nearly a decade, the case of the New York State Rifle and Pistol Association v. City of New York, New York.
"The case follows the complaints of licensed gun owners, backed by the New York State Rifle & Pistol Association, who have challenged a since-repealed ban on transporting their firearms. According to SCOTUSblog, the ban prevented gun owners with licenses to keep firearms in their homes from taking them to local shooting ranges and competitions or to residences outside New York City.
"A federal district court initially ruled in favor of New York City's travel restriction. The U.S. Court of Appeals for the 2nd Circuit also upheld the prior ruling of the district court. Now the case is set to appear before the Supreme Court for oral arguments on Dec. 2, SCOTUSblog reported.
"The city and state of New York had, in fact, changed their laws to repeal the firearms transportation ban at the heart of the complaint. They, in turn, requested the 2nd Circuit Court's decision be invalidated and the case rendered moot. Five Democratic U.S. Senators also filed a friend of the court brief advising the Supreme Court to disregard ruling on the merits of the case, under the concern the court may adopt a partisan appearance."
Democrats continue to try to overturn Heller.
President Trump should make Heller a litmus test for judicial appointments because Democrats will for their appointments.
ITEM 12
:
Quinnipiac University announced
, "Former Vice President Joe Biden has retaken the lead in the Democratic primary race for president as Senator Elizabeth Warren's numbers have plummeted, according to a Quinnipiac University national poll released today. Biden receives 24% of the vote among Democratic voters and independent voters who lean Democratic, while South Bend Mayor Pete Buttigieg gets 16%, Warren receives 14%, and Sen. Bernie Sanders gets 13%."
Warren's support is half what it was last month. Bernie is down 2 points.
Bu-bu-but the Drudge Report told us thousands were showing up for their rallies.
Quid Pro Joe is up 3 points from last month. Democrats love corruption.
ITEM 13
: This is perfect.
Difference between Mike Bloomberg and Elizabeth Warren/Bernie
Sanders is that Bloomberg is trying to buy the election with his money and Warren/Sanders are trying to buy it with yours.

— Brit Hume (@brithume) November 26, 2019
I bow to a master.
ITEM 14
: This is a trainwreck. Walsh is a talking head on TV.
This is terrifying. Trump and Melania exude coldness to Conan the hero dog. Melania, whose coat is slightly macabre (to me, but others may find it lovely), moves away from Conan multiple times. 1/3

https://t.co/s9T3Y4ZYTn

— Joan Walsh (@joanwalsh) November 25, 2019
We used to put loony people in asylums. Now we put them on CNN.
ITEM 15
:
The Associated Press reported
, "A U.S. judge in Oregon on Tuesday granted a preliminary injunction blocking a Trump administration proclamation that would require immigrants to show proof of health insurance to get a visa.
"U.S. District Court Judge Michael Simon said in a written opinion that the proclamation could not take effect while a lawsuit challenging its constitutionality makes its way through the courts.
"The proclamation issued by President Donald Trump in October would only apply to people seeking immigrant visas from abroad — not those in the U.S. already."
Obama judge.
ITEM 16
:
The New York Post reported
, "Hunter Biden was suspected of smoking crack inside a strip club where he dropped thousands of dollars during multiple visits — at the same time he held a seat on the board of a controversial Ukrainian natural-gas company, The Post has learned.
"The incident, which took place at Archibald's Gentlemen's Club in Washington, DC, late last year, represents the most recent alleged drug use by Biden, 49, who has acknowledged six stints in rehab for alcoholism and addiction that included a crack binge in 2016.
"Workers at Archibald's, located about three blocks north of the White House, said Biden was a regular there, with two bartenders and a security worker all instantly recognizing his photo and one worker identifying him by name."
Hey, Ukraine, your energy bills paid for this.
ITEM 17
:
Fox News reported
, "The Social Security Administration paid $1 billion in benefits to individuals who did not have a Social Security Number, according to a new audit.
"The agency's inspector general found errors in the government's documentation for representative payees, otherwise known as individuals who receive retirement or disability payments on behalf of another person who is incapable of managing the benefits themselves.
"The audit released Friday found thousands of cases where there was no SSN on file.
"Over the last decade, the agency paid $1 billion to 22,426 representative payees who 'did not have an SSN, and SSA had not followed its policy to retain the paper application.'
"'Furthermore, unless it takes corrective action, we estimate SSA will pay about $182.5 million in benefits, annually, to representative payees who do not have an SSN or paper application supporting their selection,' the inspector general said.
"The inspector general also found the agency paid $853.1 million in benefits since 2004 to individuals who had been terminated as representative payees by the agency."
How?
I mean how?
Social Security is supposed to go to those who paid into the system, and you cannot pay into the system without a number.
ITEM 18
: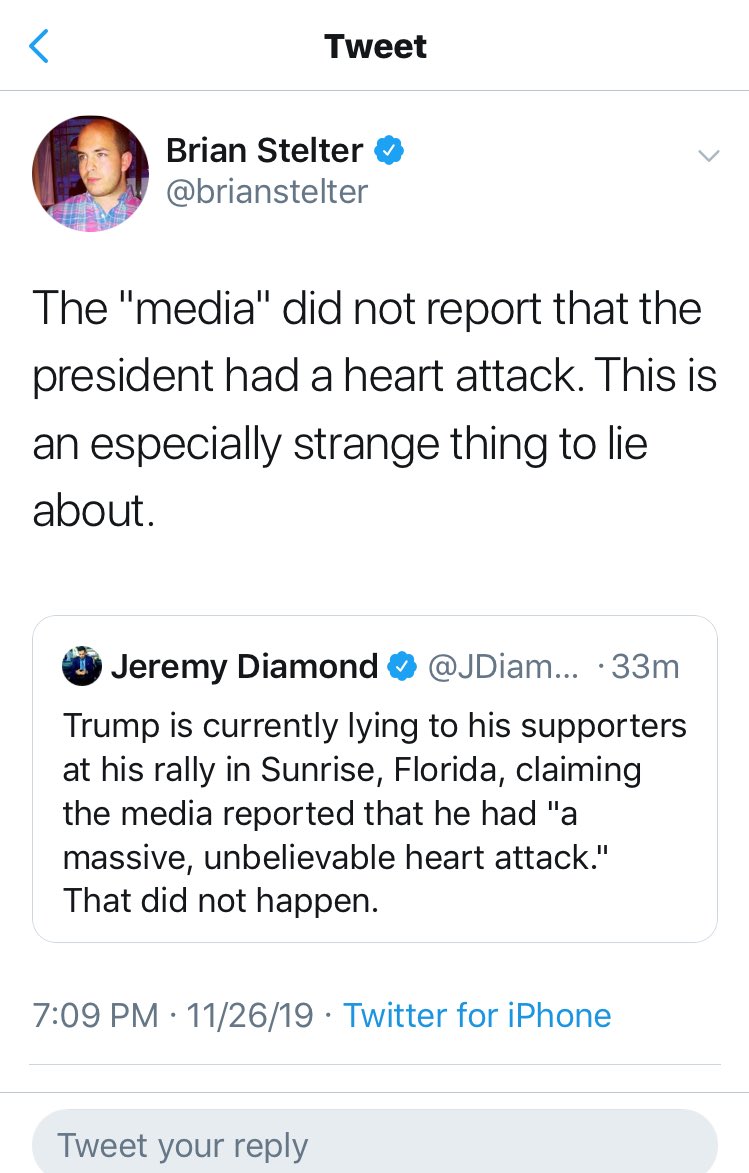 The Guardian reported on November 19
, "As speculation over Donald Trump's unscheduled trip to the hospital last weekend continued, the president denied he had suffered a heart attack."
The story also said, "When Trump returned to the White House, he said, 'My wife Melania said, 'Darling, are you OK? … They are reporting you may have had a heart attack.'"
— Trump War Room (Text TRUMP to 88022) (@TrumpWarRoom) November 27, 2019
Next CNN will deny ever saying Donald Trump colluded with Russia to win the presidency.
ITEM 19
: Jeff Bezos's Washington Post reported, "Lech Walesa faced down an evil empire and freed his country from the yoke of Communist domination. Now, three decades later, the former Solidarity leader, Polish president and Nobel Peace Prize winner says he is ready to go to Hong Kong and stand with protesters there who are trying win a similar victory for freedom.
"The circumstances the Hong Kong protesters face today are eerily similar to those Walesa faced in Poland. In Hong Kong, as in Poland, a grass-roots movement has risen up against a communist puppet government. In Hong Kong, as in Poland, they are menaced by a totalitarian empire across their border that threatens to invade and crush them. In Hong Kong, as in Poland, the puppet regime has cracked down on the protesters, firing at marchers in the streets and arresting opposition leaders. And in Hong Kong, as in Poland, few believe the democratic forces can prevail against the massive powers arrayed against them."
Communism lasted 74 years in Russia.
It is in its 70th year in Red China.
When Walesa flies there, he will carry the spirit of Pope John Paul II, Reagan, and Thatcher.