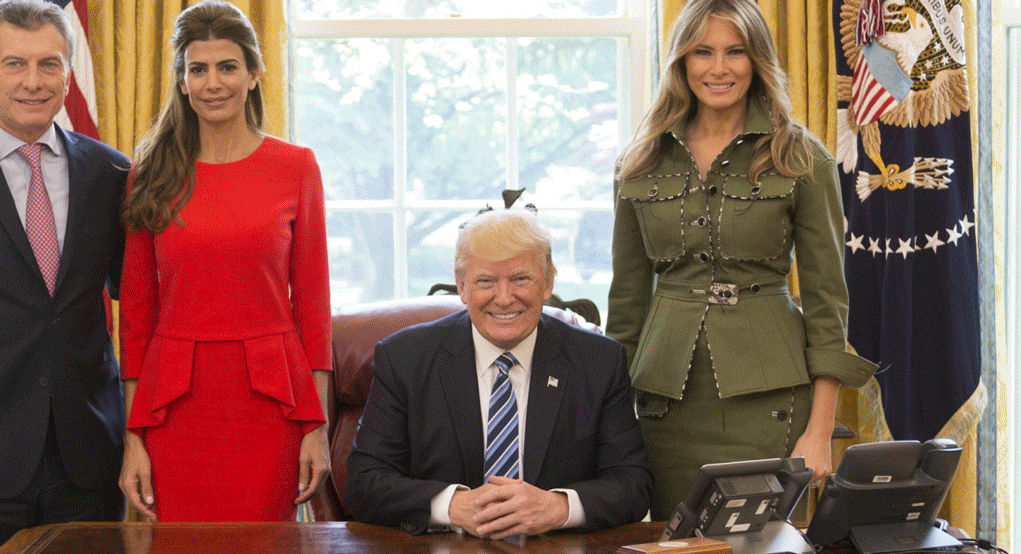 Donald John Trump is still our president.
ITEM 1
:
Fox News reported
, "Progressives unleashed on Immigration and Customs Enforcement (ICE) Wednesday over reports that the agency arrested 90 foreign-born students who had enrolled in a fake university, but someone forgot to tell them that the sting operation predates their favorite target, President Trump.
"Rep. Alexandria Ocasio-Cortez, D-N.Y., and others reacted to news of the arrests by accusing ICE of entrapping students and implying that the tactic was new under the Trump administration. As it turns out, former President Obama's administration not only founded the fake university, it engaged in a similar operation in New Jersey in 2016."
Once again, Obama's immigration policies -- such as caging children -- are attacked when idiot lefties think President Trump did it.
Hey, let's tell them President Trump gave $170 billion to Iran and watch them demand the money back.
ITEM 2
:
CBS reported
, "President Trump signed an executive order establishing a task force to address the rash of violence against missing and murdered American Indians and Alaska natives, an issue the administration has been focusing on in recent months. The executive order comes after Attorney General William Barr's rollout of a nationwide plan on Friday."
Oh?
The story said, "Native American women experience some of the highest rates of domestic violence and murder in the country. Over 5,700 American Indian and Alaska Native women and girls were reported missing as of 2016, according to the National Crime Information Center, but only 116 of those cases were logged with the Department of Justice. 84% of Native American women experience violence in their lifetime, according to the National Institute of Justice. A 2008 study found that women in some tribal communities are 10 times more likely to be murdered than the national average."
This is sad.
This action shows the remarkable breadth of this administration.
ITEM 3
:
The Daily Wire reported
, "DC Comics is the latest entertainment company under fire for submitting to the will of the Chinese government after they pulled a promotional poster for a new Batman run after the Chinese complained that it showed support for the pro-democracy protests in Hong Kong.
"Variety reports that DC Comics 'yanked a poster for a new Batman title' by Frank Miller that showed Batman 'throwing a Molotov cocktail against a backdrop of hot-pink words spelling out the new comic book's tagline, the future is young.' The DC Black Label comic, 'Dark Knight Returns: The Golden Child,' is slated to hit shelves December 11th and is hotly anticipated."
I don't want a Batman who throws Molotov cocktails.
But I really don't want an American company that capitulates to communist regimes.
ITEM 4
:
Reuters reported
, "British Prime Minister Boris Johnson said on Friday he would not say how many children he had, saying that he would not 'put them on the pitch' ahead of the December 12 election."
Good answer. Always keep them guessing.
Out: "God Save The Queen."
In: "Papa Was A Rolling Stone."
Let's run Johnson in 2024. He was born in New York City.
ITEM 5
:
The Hill reported
, "House Judiciary Committee Chairman Jerrold Nadler (D-N.Y.) has informed President Trump that he has until December 6 to let the committee know whether his counsel will participate in upcoming impeachment proceedings.
"'I am writing to determine if your counsel will ... participate in the upcoming impeachment proceedings. In particular, please provide the Committee notice of whether your counsel intends to participate, specifying which of the privileges your counsel seeks to exercise, no later than 5:00 p.m. on December 6, 2019,' Nadler wrote to Trump in a letter dated Friday.
"The notice follows a Monday letter from House Intelligence Committee Chairman Adam Schiff (D-Calif.) to Democratic lawmakers saying that the committees leading the impeachment inquiry are putting together a report for the Judiciary Committee that they hope to send after members return from Thanksgiving."
When invited to a kangaroo court, decline the invitation.
ITEM 6
:
The Associated Press reported
, "Celebrations have erupted in Iraq's Tahrir Square, where anti-government protesters have been camped out for nearly two months following an announcement by the Iraqi premier that he would be resigning.
"The square in central Baghdad has been the epicenter of protests that began Oct. 17 to decry corruption, poor services and lack of jobs.
"Shortly after Prime Minister Adel Abdul-Mahdi announced his intention to resign Friday, protesters in Tahrir broke out in song and dance in celebration."
Who is funding the protest was not disclosed, but the news agency said police killed 400 protesters in the last 2 months.
ITEM 7
:
Breitbart News reported
, "Climate change alarmists are pushing for a change in vocabulary to scare people into taking global warming more seriously, starting with terms like 'global meltdown' and 'climate collapse.'
"Writing for AdAge this week, Aaron Hall argues that in order to get people to 'take action' against climate change, 'rebranding' is crucial, since people have gotten too used to the idea that climate is changing and need to be shocked into the notion that the world as we know it is ending.
"'Is there a better way to convey the urgency of the situation, while also encouraging folks to take action? Could the tools of branding and brand naming create a more resonant, powerful name?' Mr. Hall asks."
Climate Trumping!
ITEM 8
:
Fox News reported
, "Twitter bans Rep. Omar challenger for saying Omar should be 'tried for treason and hanged.'"
Let her live, but deport the brother marrying fake.
CNN reported it as
"Republican running to challenge Rep. Ilhan Omar has Twitter account permanently suspended."
No, she did not have it suspended. They suspended her account on their own.
ITEM 9
:
The Sun reported
, "SHOCKING statistics reveal that not enough babies are being born to replace the US population -- as birth rates plunge to a 30 year low.
"The report revealed that the fertility rate dropped to a record low last year and there were 2% fewer births."
3 kids. I did my part. Besides if I impregnated my 66-year-old wife, the birth would have to be in prison because she would kill me.
ITEM 10
:
The Hill reported
, "State lawmakers in New York have introduced legislation that would ban physicians in the state from performing 'virginity checks.'
"A bill that was introduced in the New York State Assembly on Monday seeks to prohibit physicians in the state from 'performing or supervising virginity examinations,' a memorandum for the legislation states. A companion bill was also introduced in the state Senate later this week.
"If the legislation is passed, physicians who perform virginity examinations, which the bill text describes as procedures designed to determine whether a woman has had sexual intercourse, would be subjected to professional misconduct penalties and possible criminal charges."
Liberals are terrible at fixing real problems, but they are terrific at fixing imaginary ones.
ITEM 11
: Kevin Dowd (brother of Maureen) wrote, "Trump came from the roughest job training in the world: the New York construction trade. His manners are sometimes missing. He can be coarse and a bully. But I've been pleasantly surprised that he has done exactly what he promised despite a hostile press."
And Mister Dowd wrote, "The Democrats have never recovered from the 2016 election when they nominated the worst candidate in political history and lost to a political novice. Their horror at Trump conjures Lady Macbeth crying in agony, 'Out, damned spot.'"
And he wrote, "The mainstream media has reached a new low. It is not even pretending to be objective as it relentlessly batters the president daily (putting Trump just ahead of Harvey Weinstein and trailing only Satan). Reporters write opinion columns packed with innuendo and anonymous sources — not to mention what Anonymous is cooking up."
I don't link the New York Times because it is a pay site. My rules, my exception.
Here 'tis
.
ITEM 12
: Kevin Dowd also summarized the Democrat presidential folly:
"Warren/Sanders: If you combine the support of the two billionaire-bashing socialists, they lead the field. You might consider vacationing in Venezuela before committing to them or they could run together as the End of Days ticket.
"Biden/Bloomberg: Like Bloomberg, Biden has been forced to grovel and renounce all past career accomplishments on crime prevention.
"Harris/Booker: They're having trouble lighting the spark, even with some black voters.
"Klobuchar/Buttigieg: They are the two least crazy people in the field, which means they have absolutely no chance.
"The Martin O'Malley Award to Beto O'Rourke for thinking a vague resemblance to the Kennedys, an Annie Leibovitz Vanity Fair cover and a 214,000-vote loss to Ted Cruz could carry him to the nomination."
Spot on.
As an aside, Maureen Dowd is the youngest of 5 kids of a DC cop. While they disagree with her politics, I am sure her siblings are proud of her. National columnist, Pulitzer winner, best-selling writer, toast of the town -- who wouldn't be?
And by publishing her brother's column each Thanksgiving, she shows the feeling is mutual.
ITEM 13
: Touchdown of the year.
— UTPB Athletics (@utpbfalcons) November 17, 2019
The
story behind that touchdown
.
ITEM 14
: Before there was President Trump, we had this man standing up to the mob.
#NEW

: Supreme Court Justice Clarence Thomas doesn't blame white supremacists for trying to derail his career — he points his finger at "the modern-day liberal," a group that includes former Vice President Joe Biden.

https://t.co/FZfLmqr1V0

— Jennifer Franco (@jennfranconews) November 29, 2019
We are a fortunate people.
ITEM 15
: Hmm.
As a Special Olympics Athlete

My question for everyone

I love Christmas Music

What your Favorite Christmas Song ❤️

— Tank Schottle (@TankSchottle) November 29, 2019
I suppose the "Theme to Die Hard" is not an option.
ITEM 16
: That's DOCTOR Bialik.
TOO MUCH GIN, BLOSSOM? Big Bang Theory Star Mayim Bialik: 'I don't like Thanksgiving' -- 'European invaders' unleashed 'one of the grossest examples of genocide in recent history' (via

@descarteslover

)

https://t.co/wQsPnm2JSQ

— NewsBusters (@newsbusters) November 20, 2017
3 of her 4 grandparents were European invaders.
ITEM 17
: Liberal tolerance.
An Oklahoma police officer working on Thanksgiving night stopped for a coffee from Starbucks - only to have the barista write the word 'Pig' on the cup.

https://t.co/SFszfT9AEL

— FOX 11 Los Angeles (@FOXLA) November 29, 2019
For a group that wants laws covering every aspect of life, they sure dislike law enforcement.
ITEM 18
: Jihadist killed trying to Jihad.
— jord (@jordansjungle_) November 29, 2019
British media citing security sources report that the attacker who fatally stabbed two people in London was an ex-prisoner with links to Islamic extremist groups.

https://t.co/cdKx1si3oO

— The Associated Press (@AP) November 29, 2019
I visited London in 1977. Planned to go back when I retired. 5 years into retirement, I have not and will not.
ITEM 19
: Megyn Kelly is losing her looks.
It's handy to compare "Bombshell's" box office chances to "Vice," another film excoriating conservative interests

Anti-Fox News 'Bombshell' Set to Bomb at Box Office?

https://t.co/wRArReg0Hq @ScottPresler

— Christian Toto (@HollywoodInToto) November 29, 2019
Who is the movie for? Fox fans won't watch it and no one else cares.