Cigna expanding Bloomfield training facility amid $90M campus renovation
Greg Bordonaro
s Cigna Corp. preps for a major $90-million renovation of its Bloomfield campus, it's adding yet another construction project to the mix.
The health insurer is planning to double the size of its training and learning center at 1350 Boulevard Rd., a little-known facility -- known as "Cigna University" -- that is taking on added importance following the company's $67 billion purchase last year of pharmacy-benefits manager Express Scripts.
Cigna is asking the Bloomfield planning and zoning commission permission to add a 5,310-square-foot addition to the 5,900-square-foot building, which formerly housed a daycare center, along with 49 parking spaces.
Cigna's combination with Express Scripts doubled the size of the company and is driving the need for more training space, according to Cigna spokesman Mark Slitt.
It will also feature improved technology in each of the rooms to deliver a better learning experience, Rindell said. The property sits on 3.36 acres and is assessed at $400,680, town records show.
Slitt said the Cigna University expansion is an entirely separate project from the health insurer's $90-million Wilde Building renovation, at 900 Cottage Grove Rd., but the aim is the same: to create a world-class, 21st-century campus that will enhance the insurer's ability to serve its global customers.
Earlier this year
, Cigna won town approval for a tax abatement tied to its main campus renovation.
Slitt declined to disclose the price tag of the Cigna University renovations.
CVS Health last November
also completed its $69 billion buyout of Aetna, Hartford's 165-year-old health insurer.
Based in St. Louis, Mo., Express Scripts administers drug plans for patients with employer and government health insurance. Cigna on Thursday said it will leverage Express Scripts to add to its expanding care network, creating more "value-based relationships."
The combined companies had 73,800 employees as of Dec. 31, 2018.
Fairfield Board of Finance: Contract practices are inconsistent with charter
Rachel Scharf
FAIRFIELD — A heated meeting of the Board of Finance revealed a need to review the town's policies on contracts and emergency purchases.At a special meeting Monday night to go over finances related to the Public Works pile, it became clear that there's been a lack of consistency in following the Town Charter.
The fill pile is the subject of an ongoing criminal case that has led to the
arrests of two town employees and Julian Enterprise's co-owner
.
Joseph Michelangelo
, who served as the town's public works director since 2012, is accused of conspiring with
Scott Bartlett
, the town's superintendent of public works and
Jason Julian
to allow the company to dump truck loads of contaminated waste into the pile.
Julian then resold some of the contaminated soil as clean fill for construction projects in the town. After testing 60 sites at parks, fields and playgrounds, the town identified eight areas that need to be cleaned up.
The Board of Finance discussed the details of various contracts the controversy has incurred, including those with Julian Enterprises, communications consultant Chris Gidez and licensed environmental professional Tighe & Bond. In each of these processes, First Selectman Mike Tetreau and the Purchasing Department executed contracts unilaterally. Removing the materials, including arsenic and asbestos, is expected to cost the town millions.
Per the Town Charter
, any contract greater than $10,000 and lasting longer than one month requires Board of Selectmen approval. According to town Chief Fiscal Officer Bob Mayer, however, this procedure has not been followed for decades, with few non-lease contracts going through the Board of Selectmen since 1975.
Numerous Board of Finance members expressed a desire to clarify this policy and delineate which contracts do and do not require Board of Selectmen approval.
There were also questions about the requirements for emergency purchases, under which Gidez and Tighe & Bond's contracts were both completed. According to a 2011 Board of Finance ordinance, emergency purchases that require immediate attention can occur without public bid.
The document, however, states that "emergencies" are defined as instances in which the purchase is required to abide by federal or state laws, a standard met by neither Gidez's nor Tighe & Bond's contract.
November 2018 flood at Main Library
and an oil spill at the fire department.The Board agreed that the ordinance should be altered to reflect a broader scope of emergencies. They disagreed, however, about what would fall under that new definition.
While most acquiesced that Tighe & Bond's services were warranted given the urgent need to test and clean up Fairfield's contaminated soil, there was a division over the use of Gidez's consulting services. Again, Mayer said, the exact letter of this law has not been followed by the town for many years. He cited numerous examples of no-bid emeregency purchases that had no legal elements, such as the
Gidez's employment has been a subject of contention between both officials and the public
, with Selectman Chris Tymniak and others saying it was an inappropriate use of taxpayer money, while Tetreau said Gidez performed much-needed services to keep residents informed during an uncertain time.
Gidez was paid a total of $19,600 over three months to draft communications, review media coverage and maintain a special webpage.
Republican Board of Finance members Christopher DeWitt and James Walsh were both vocal that the consultant was an inappropriate application of the emergency purchase policy, while Democrats Elizabeth Zezima, Sheila Marmion and John Mitola disagreed, saying it was warranted given the intensity of the situation.
Things got heated when Walsh suggested that Gidez's work was in service of political intent by Tetreau to "go after the people who had made the initial complains" such as
Republican RTM candidate Dana Kery
, citing a draft presentation by Gidez that suggested the town "through surrogates, call out those who irresponsibly raised public fears."
Tetreau objected to this accusation, saying he did no such thing and that this was just one of many suggestions in Gidez's draft that was rejected. He heatedly asked the Chair to shut down speculative and personal attacks, which he said were in violation of Robert's Rules of Order.
"He's making a careless, reckless speculation that is uncalled for and is not worthy of this board, sir, not worthy of this Board!" Tetreau exclaimed.
The Board of Finance will next meet for their Capital Planning Workshop on Oct. 29.
Stamford finance board hopefuls talk road repair, infrastructure funding
Angela Carella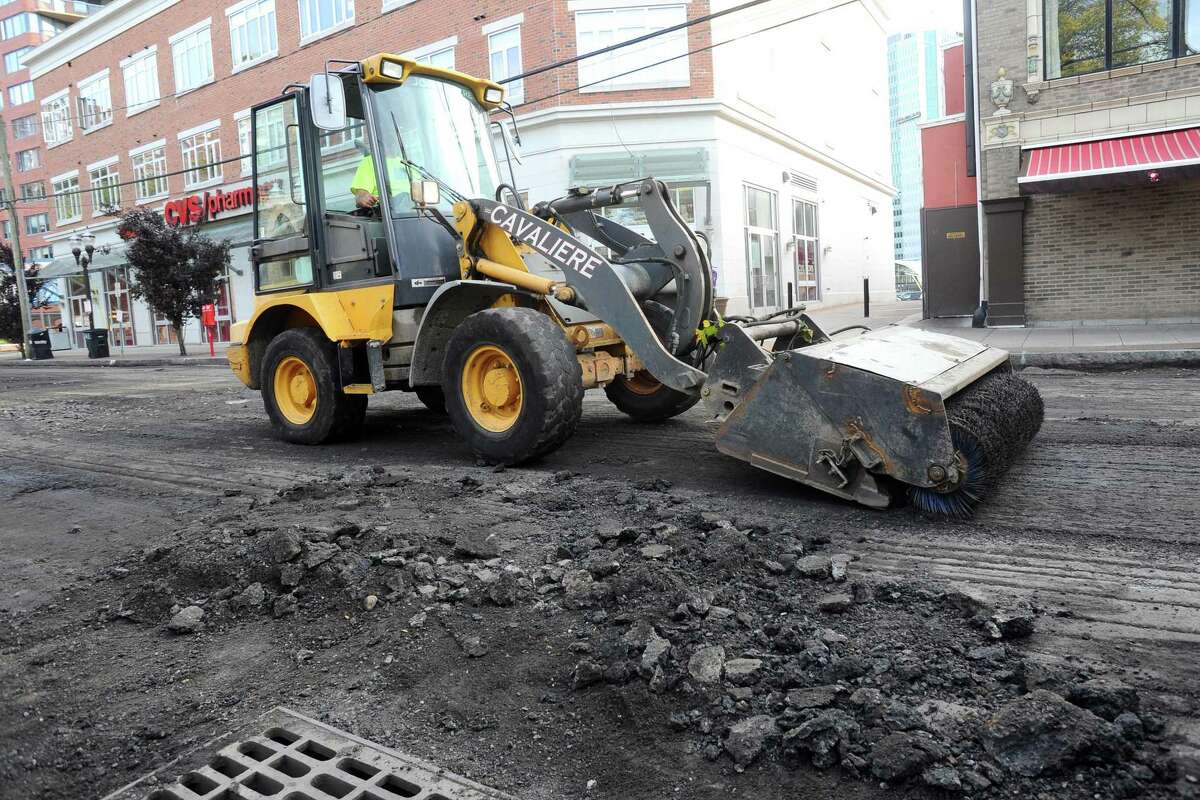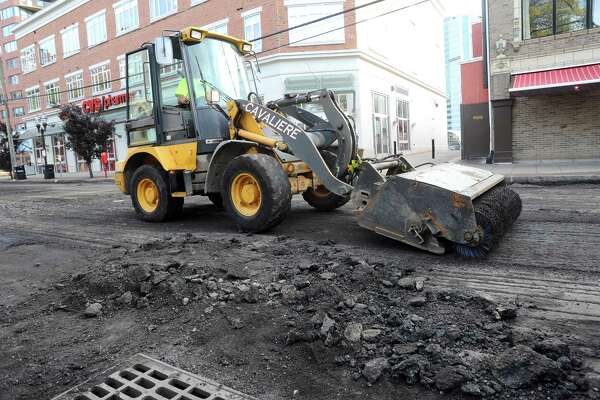 STAMFORD — Mold in school buildings has monopolized much money in the last year, leaving other infrastructure problems to languish.
Roads are bumpy, cracked, eroded and heavily patched. Catch basins are crumbling. Sidewalks are broken. Bridges must be replaced. Parks need upgrades. Other public buildingssuch as firehouses and community centers have to be made water-tight to prevent mold growth, like the school buildings now under repair at a cost of tens of millions of taxpayer dollars.
On Nov. 5, Stamford voters will choose from among six candidates vying for three open seats on the Board of Finance, which decides how dollars are spent. Residents who have griped, with reason, about the city's infrastructure needs will have a chance to choose some of the people who will decide where the money goes for the next four yearsDemocrats
David Kooris
and
Mary Lou Rinaldi
are running to keep their finance board slots. Another Democrat,
Geoff Alswanger
, served for seven years on the Board of Education and now seeks to switch to the board that controls the purse strings.
A seat on the Board of Finance would be a first for all three of the Republicans running —
The candidates cited a need for more infrastructure spending.
Kooris: Several successes
"The Board of Finance has done everything in its power to maintain the capital projects, for roads in particular, and we have dedicated surpluses in the four years I've served to even more repaving," said Kooris, 39, an urban planner who works as deputy commissioner of the state Department of Economic and Community Development.
Mayor David Martin's hiring four years ago of a
contractor to assess road conditions
resulted in a priority list for projects, and some of the city's busiest roads, including Broad Street, Newfield Avenue and Hope Street, have been fixed, said Kooris, who was a city representative for two years before winning a spot on the finance board.
"We needto apply a similar approach to our parks and ensure that each and every capital investment in these important quality-of-life amenities reduce long-term cost obligations through low-maintenance approaches to landscaping and recreation equipment," Kooris said.
Woodside: City can't shirk
Woodside, a 25-year-old teacher at Trinity Catholic High School in Stamford, said the city must work closely with the Connecticut Department of Transportation on some projects, such as a new garage for the train station, which is state property. But the city has to better tackle projects under its purview, Woodside said.
"A lot of infrastructure projects have been pushed off," said Woodside, who ran unsuccessfully for a seat on the Board of Representatives two years ago. "I have not heard a sensible road-paving strategy."
It's a reference to Martin's decision to tweak the contractor's list of roads most in need of paving by accounting for traffic volume and utility digs. Projects have been delayed by that and by decisions to seek state funding first, Woodside said.
"The city's long-term plan for infrastructure is to push it off on the state as much as possible, rather than put money into projects the city can actually manage," he said.
Alswanger: Inaction costs
Alswanger, 53, a former Board of Education president, said infrastructure repairs mustbe considered in two ways — the cost of undertaking them and the cost of not.
"Delaying work often costs much more than merely an increase in inflation," said Alswanger, who worked as chief financial officer for various tech companies and now runs the longtime family business, Long Ridge Camp. "For example, catch basins which might need a minor repair move to requiring a complete replacement if action is not taken soon enough and therefore, in the medium term, we now have cost the city more by not addressing issues sooner."
Alswanger said that, if elected, he "will support fully funding these projects and would encourage the mayor to accelerate the city's plan to address road work."
Blau: Paying for things
Blau, 52, who manages an auto repair business in Stamford and heads the city's Republican Town Committee, said the important thing about infrastructure repair is figuring out how to pay for it without crippling homeowners.
"Tax property equally. Assess, value and appropriately allocate valuation to more equitably account for large commercial property," Blau said. "Development is vital to our community, but once the project is done it needs to be valued in accordance with balancing the needs of the city and those of the homeowner."
Blau said he believes commercial properties are often under-assessed, resulting in a loss of tax revenue.
"We've all seen the massive amounts of commercial development and it just doesn't make sense that residential homeowners are made to disproportionately foot the increased tax burden," he said.
Rinaldi: Just not enough
Rinaldi, 66, who has sat on the finance board for 24 years and now is vice chair, said she and her colleagues have fulfilled "the mayor's requests for funds to fix our dilapidated roads, better maintain our city parks and accelerate storm drain repairs."
But, Rinaldi said, "the current allocations are just not enough to make a significantdifference. Even though I and other members of the finance board have repeatedly expressed the need for more funding in these areas, by Charter the board cannot add to the mayor's budget."
She would like to see taxpayers pressure the administration, said Rinaldi, a semi-retired human resources professional who was a city representative for 16 years.
"Our citizens must demand that more funds be allocated to these areas through letters, emails, neighborhood meetings" and more, Rinaldi said. "I would certainly support that funding."
She believes that, with pressure, the administration could make "reasonable adjustments in other parts of the budget" and "expend funds for infrastructure improvements without a tax increase," Rinaldi said.
Krill: Cyber structure
Krill, 60, a sales trader, said his formula for amassing funds to spend on infrastructure — digital, in particular — is "A divided by B equals C."
"Grand List divided by budget equals mill rate. Grow the Grand List and hold down the spending," Krill said.
Much can be done grants, such the installation of fiber optic now underway, Krill said.
"This is the beginning of the city's move into the digital age," he said. "I'm also hearing from Washington that there's going to be large amounts of money coming next year to get 5G up and running fast — a game-changer for Stamford and many of our non-school problems."
Finance board members hold office for four years on a staggered schedule. This year terms for Rinaldi, Kooris and Democrat Dudley Williams are up, but Williams is not running. The terms of incumbents Richard Freedman, a Democrat, and Sal Gabriele and Kieran Ryan, both Republicans, are not up this year.
Joy of 6: Long-awaited completion of Route 6 construction in Bristol is near
BRIAN M. JOHNSON
BRISTOL - The state Department of Transportation's long-running construction project on Route 6 is in its final stages, according to City Engineer Ray Rogozinski, with road paving complete and final details wrapping up in the next few weeks.
"They're just doing the punch-list items," said Rogozinski. "It's 97% done."
The work that still remains includes paving driveways and parking lots that were disturbed by the project and repairing their curbing where needed, re-curbing local roads, applying loan and seed to areas that were affected so that grass will grow again on the side of the road, planting trees and shrubs and getting the traffic signals synchronized. Construction crews will also be putting down permanent pavement markings.
"The permanent markings will be applied by epoxy and that work will be done Wednesday, Thursday and Friday night," said Rogozinski.
Cindy Bombard, president and CEO of the Central Connecticut Chambers of Commerce, said the project is finishing just in time for the holiday season.
"Everybody had been trying to avoid that stretch of road for a long time, but we don't want them to because our commerce is there," she said. "It is now going to be so much easier going up toward Dee's Cleaners and Laundromat. I'm sure Stephen AutoMall Centre will be thrilled now that there will no longer be construction in that intersection."
The $12.87 million state project, which runs from the intersection of Carol Drive and Route 6 in Bristol to the intersections of Peggy Lane and Route 6 in Farmington and is contracted to Empire Construction, originally began in April 2017.
The purpose of the project was to add an eastbound lane between the two intersections to reduce congestion, gridlock and safety concerns. The pavement cross slope was adjusted and draining modifications and upgrades were made. Traffic signals are being changed to fit with the alterations and sidewalks are being planned along the corridor in addition to bicycle lanes.
The project faced delays due to utility relocation. Juan Ruiz, project engineer with the Department of Transportation, said utility lines were buried too shallow and not properly protected so they had to be moved deeper.
The water main around Camp Street had to be relocated as well as a portion of the gas main around ShopRite.
Planning for the Route 6 project was based on input from an online community study conducted in 2016.
Only 1% of those who filled out the survey said they felt the corridor was fine as is. Seventy percent said there should be additional turning lanes and half said travel lanes should be added. Thirtyfive percent said improvements to sidewalks and crosswalks were needed in some areas.