Here's what Lamont should do to fix CT transportation issues: Getting There
Atlantic Street reopens as bridge repair finishes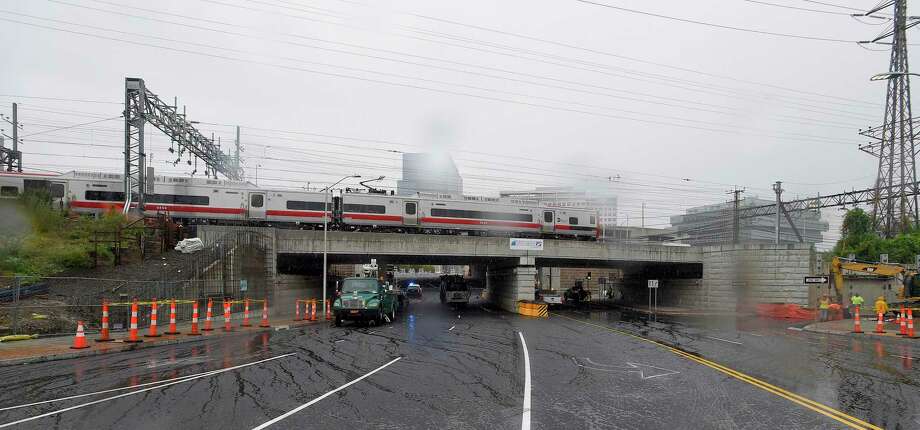 STAMFORD — Over the weekend, traffic was allowed back on Atlantic Street near Interstate 95, as a multi-month construction project is set to wrap up soon.
Back in February, the street was closed between the south side of South State Street and Dock Street. The first four months or so of the work involved installing a new center pier on the road and widening Atlantic Street to three lanes in each direction.
During the 4th of July week, the old bridge, which carries five tracks for Metro-North Railroad and Amtrack trains, was taken down and a new one put in place over the course of roughly 10 days. As portions of the old one were demolished, new pieces — constructed off site in movable portions — were wheeled in and installed, under a method called Accelerated Bridge Construction.
The new Atlantic Street Bridge is wider and will allow for an additional train track to serve the stations at Glenbrook, Springdale, New Canaan and Danbury.
The last couple of months of the project involved lowering Atlantic Street to accommodate a new clearance of 14 feet, 6 inches. The projects to replace the railroad bridge and improve the adjacent Exit 8 ramp are expected to cost a total of $100 million to $120 million and are entirely state funded.
Pedestrians may now access the Atlantic Street sidewalks under the new bridge.
Drivers should still expect occasional lane closures as work will continue to "complete and stain the retaining walls on South State Street which are being constructed to permit additional upgrades to the Stamford Train Station," according to a press release from the state.
East Lyme home builder proposes affordable housing development
Mary Biekert
East Lyme — After being granted a request for sewage capacity in late August, a local home builder can now pursue the additional town approvals he needs to construct an 108-unit affordable housing development off North Bride Brook Road.
Jason Pazzaglia, owner of the custom homebuilding company Pazz & Construction, LLC, was granted 35,400 gallons of daily sewage capacity from the Water and Sewer Commission after he submitted a request for the proposed development earlier this year.
Receiving the allocation was the first of many approvals Pazzaglia will need from the town to build the development. But now that he has the allotment, he would be able to tie into a sewer line that runs by the proposed property, Utility Engineer Brad Kargl said by phone Monday.
As of last week, Pazzaglia had not yet submitted plans for the development to the town's land use department, according to Director of Planning Gary Goeschel, and has not yet gone before planning and zoning boards, or the Inland Wetland Agency.
Goeschel said last week he believes Pazzaglia intends to go before the Inland Wetland Agency with his plans in October.
Pazzaglia, who is a member of the Board of Finance but is not running for re-election this year, did not return messages.
In his application for the sewage capacity, Pazzaglia outlined plans to build 108 multi-family units on the eastern end of an approximately 20-acre property located at 90 North Bride Brook Road. The property, which sits nearby Bride Lake, abuts the southern side of Interstate 95 and the eastern side of the Rocky Neck Connector.
In 2017, Pazzaglia purchased the property from its estate owner Edward H. Dzwilewski for $450,000.
According to Pazz & Construction website, Pazzaglia, who grew up in East Lyme, has been in business since 2002 and specializes in building single-family homes throughout southeastern Connecticut, as well as septic system repairs, home renovations and additions, and excavations.
"It is not clear whether he is planning to move forward with the plan, or his timeline," said First Selectman Mark Nickerson, who also chairs the Water and Sewer Commission, by phone Thursday. "He had not communicated with me his plans in the least."
Nickerson noted that Pazzaglia would need to abide by new policy changes that the Water and Sewer Commission adopted in January, but which have been appealed in court by Landmark Development Group — the same developers proposing an 840-unit housing development in the Oswegatchie Hills area of town. The case is still pending.
The policy changes, if upheld in court, dictate how long a developer can hold on to allotted sewage capacity, ensuring that developers move forward with a proposed development in a "timely manner," Nickerson said. As part of those provisions, developers who have received a sewage allotment from the Water and Sewer Commission have approximately five years to obtain necessary land-use permits and tie in to the town's sewer system before the allotment expires. In certain instances, a developer can apply for a time extension with the Water & Sewer Commission.
Study recommends new hotel, outdoor space to spur Hartford's convention center
Joe Cooper
consulting firm hired to examine and recast future opportunities at the Connecticut Convention Center listed a new downtown hotel among its recommendations to spur activity at the nearly 15-year-old meetings-events facility.
Construction of a new 300- to 500-room, $120 million hotel near the convention center is among Johnson Consulting's recently released list of eight recommendations to boost marketing the 540,000-square-foot facility over the next five to 10 years.
The study targets a five-year period for development of a new hotel, which would be funded in part by public subsidy. A new hotel could generate an estimated $25 million a year in sales as it would help the convention center secure national events, and add to the facility's adjoining 400-room Hartford Marriott Downtown.
The consultancy also recommended adding 1,500 new hotel rooms within a mile of the convention center over the next 15 years.
The study also recommended the establishment of a new convention bureau focused on marketing the venue and downtown Hartford, and creating a new state-funded budget of about $3 million to $5 million to guarantee marketing for convention and leisure tourism downtown.
"Compared to competitive destinations, there is virtually no outbound sales function marketing the CTCC (Connecticut Convention Center) and Hartford," the study said. "This effort will significantly enhance the penetration of citywide events and provide a consistent resource for selling the destination."
Other recommendations include modifying the convention center's meeting room concourse and exhibit hall areas to provide networking and collaboration spaces; establish a customer advisory board consisting of national meeting planners that provide feedback and input; and invest in new high-speed internet access, among others.
The Connecticut Convention & Sports Bureau (CTCSB) is currently tasked with marketing conventions and sporting events across the state, especially in downtown Hartford. CTCSB, however, has been pinched in recent years by state budget cuts, as its funding has declined from $1 million in 2012 to $450,000 in the current and future fiscal years.